Technology
WovenSkin: weaving electronics with culture
The soft wearable forms of WovenSkin extend the functionality of traditional textiles by incorporating interactive elements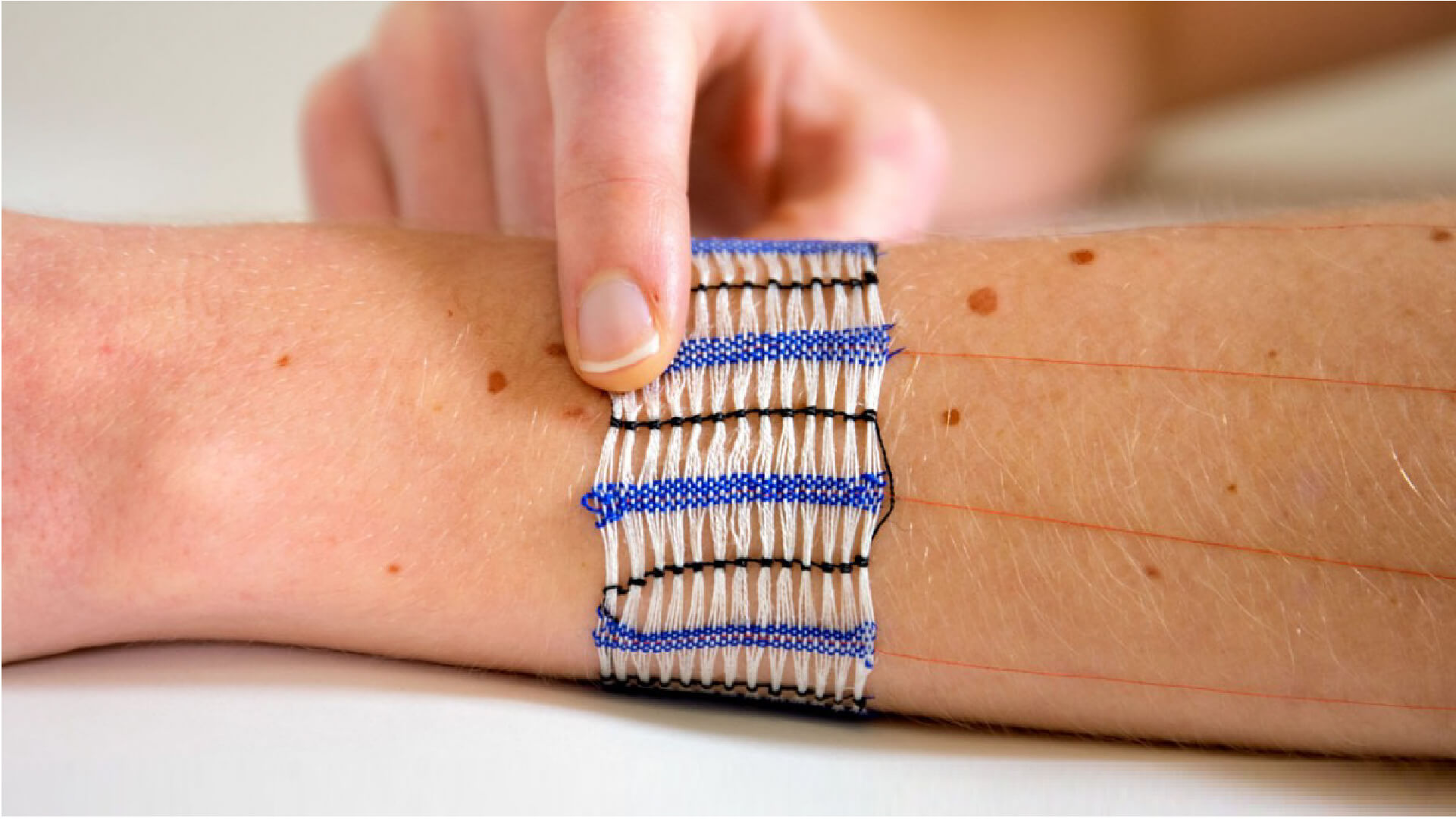 WovenSkin explores woven textiles as a new method for creating on-skin interfaces and new forms of human-computer interaction
At first glance, the world of human computer interaction and the world of textile arts might not appear to go together.
Human-computer interfaces have typically been developed by engineers who focus on usability and efficiency.
They can reject traditional forms of materiality, and neglect cultural histories and individual expression.
WovenSkin takes a different approach.
The research was presented during the recent virtual Association of Computing Machinery Designing Interactive Systems Conference (DIS'20).
The minds behind WovenSkin – Hybrid Body Lab
Hybrid Body Lab is a research lab within Cornell University, Ithaca New York.
The Lab's research is focussed on the design of on-body electronic interfaces that incorporate culturally-inspired materials and processes.
Research is spread across wearable computing, digital fabrication, body art, and human-computer interaction.
The Lab continues the research of Lab founder and Director, Cindy Hsin-Liu Kao.
Dr Kao explored Hybrid Body Craft during her PhD at MIT Media Lab, and is now Associate Professor, Design + Environmental Analysis at Cornell.
Previous projects have explored various techniques for placing interactive and responsive items directly on the skin.
EarthTones are cosmetic powders which respond to environmental pollution by changing color.
DuoSkin is a process which uses gold metal leaf to create jewelry-like skin ornaments that allow wearers to control their mobile devices.
They are enabled for sensing touch input, displaying output, and wireless communication through NFC.
Dr Kao's work has been presented and exhibited widely, including at the Pompidou Centre and Ars Electronica. DuoSkin was recognised with a A'Design Award in 2017.
The WovenSkin research team is Ruojia Sun, Ryosuke Onese, Margaret Dunne, Andrea Ling, Amanda Denham, and Cindy Hsin-Liu Kao.
Curious to know more about wearables for your skin, don't miss Would you digitalize your skin? ElectroDermis says yes.
Materials & Techniques – Weaving of traditional and electronic fibers
WovenSkin is a fabrication process that combines traditional yarns with conductive fibers, threads, and wires.
The materials are woven together using various traditional looms—handlooms, table looms and Jacquard looms.
The structural form of weaving offers some technical advantages over other processes like laser cutting and 3D printing being used for wearable technology.
Woven textiles are able to support multiple functions in a single device, can include novel materials, and bridge various elements across layers.
To attach the pieces of woven textile to the skin, the researchers identified skin-friendly Polyvinyl alcohol (PVA) as the best method.
A thin film of PVA is applied to the completed woven device.
When the device is placed on the skin it is dampened with a sponge to dissolve the PVA and adhere the textile to the skin.
So far, there are four case studies that demonstrate the functional capacities of WovenSkin.
These successfully show capacitive touch input, pressure sensor input with haptic feedback, 3-dimensional connectivity between layers, and response to bending.
Thermochromatic yarn, optical fibers, shape memory alloy and LEDs are additional materials incorporated in the devices to facilitate various functionality.
Style & Aesthetics – Borrowing from tradition
Aesthetically, WovenSkin borrows from the rich and varied cultural traditions of textile production.
Textile weaving is both functional and decorative. It is also more human and has a personal quality which contrasts with the more prevalent 'technology aesthetic' of wearable tech devices.
WovenSkin has generated four case studies which explore the aesthetic possibilities of the process.
Devices can be made that are aesthetically driven, colorful, and include rich textures and complex patterns.
The use of upcycled plastic bags as an alternative fiber source demonstrates another direction that expands aesthetic options for WovenSkin.
The woven nature of the devices also allows space to be created within the designs. Wearers can leave their skin showing under the device.
There is no need for devices to be a large opaque block of electronics.
A new hybrid form with intimacy and closeness
A number of WovenSkin prototypes were fabricated which showcase the creative aspects of the process.
One weaver created a patterned textile device to be placed over the heart. When touched by the wearer, it sends a message to a loved one.
Another is an on-skin safety blanket of fringed fabric, designed to soothe and reassure the wearer when touched.
A third prototype worn on the back is inspired by a childhood game.
These prototypes were observed to create greater intimacy between textiles and the body.
WovenSkin was viewed as a new hybrid form between textiles and body art.
Design memento – Research through design
Hybrid Body Lab uses a "research through design" approach. New solutions and new knowledge are generated specifically through the process of designing.
An exploratory workshop study was conducted to probe the WovenSkin process. Textile practitioners were given the opportunity to create a personalized device and provide feedback on their perception of WovenSkin.
The prototypes created through the workshop provided new insights into how weaving can be adapted for on-skin interfaces.
Following the successful inclusion of the textile artists, Dr. Kao is now collaborating with knitter and senior lecturer in fiber science and apparel design (FSAD), Melissa Conroy.
They have received funding to explore and develop responsive knitted braces for injury recovery.
WoveSkin– The importance of touch
The WovenSkin prototypes conceived by the textile weavers all highlight how important touch and haptic experiences are for humans.
The hands-on process of weaving and soft textile forms prompted functionality which focussed on and enhanced this human sensory quality.
The prototypes also suggest a path for human-computer interactions that are more tactile, directly respond to bodily inputs, and provide a more intimate, human quality of feedback or output.
If you want to know more about wearables, don't miss The Emoji jacket by Ford allows cyclists to share their moods and movements.