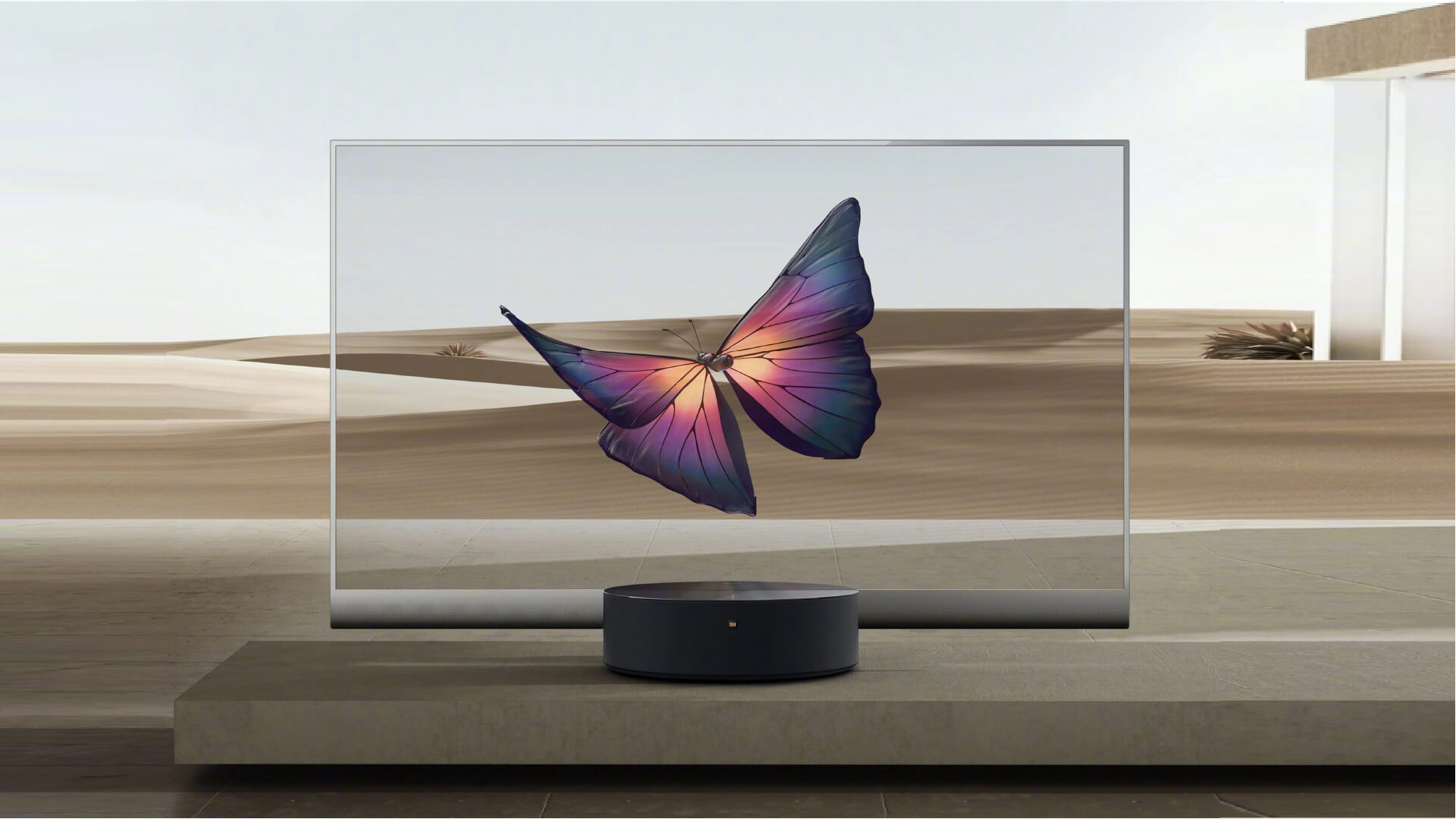 Xiaomi announces the release of the first mass-produced see-through OLED television screen to mark its 10th anniversary.
TV manufacturers have recently played with various strategies to improve the look of TVs when not in use. These include a fold-away screen, covering it with aesthetically pleasing sculptural elements, or mimicking the wall behind. Almost completely disappearing may be the next best thing.
Why Mi TV Lux Transparent Edition? To bring transparent screen technology to high-quality mass-produced standards for a wider range of uses
The basic technology for transparent display screens is not completely new. However, until now it has been mainly applied to more expensive commercial signage options or seen as demo models.
The minds behind Mi TV Lux Transparent Edition – Xiaomi
Xiaomi is a Chinese based consumer electronics company founded in 2010. Founder, Chairman, and CEO Lei Jun was previously the founder of Kingsoft, and co-founder and Vice-Chairman Lin Bin has worked for Microsoft and Google.
The firm commenced by producing mobile phones, where it rapidly gained market share. It is currently one of the top mobile phone manufacturers in the world, and the youngest company to make the Fortune Global 500 list in 2019.
Xiaomi now manufactures a wide range of electronic goods including computer accessories, TVs, scooters, earphones, smart light bulbs, and watches. Xiaomi is the highest volume TV manufacturer in China.
Curious to know more about innovative TV designs? Don't miss Samsung Sero: A rotating TV that looks like a giant smartphone.
Materials & Techniques – OLEDs and high performance
The Mi TV LUX Transparent Edition makes use of organic light-emitting diodes – OLEDs – which unlike LCDs don't require a backlight to generate the screen image.
To fully realize the transparent effect, Xiaomi still had to accomplish the technical feat of shifting all the image processing components away from behind the screen. They sit now neatly tucked into a base stand. No black panel covering the rear.
It is not only the transparency technology which stands out. The Mi TV LUX Transparent Edition also boasts top sound and image capabilities.
The crystal clear screen of the Mi TV LUX Transparent Edition is an impressive 55″ and only 5.7mm thick. The 10-bit display can render 1.07 billion color combinations. It claims to give excellent rich blacks and a bright, clear image. Static contrast ratio is 150000:1, whilst the dynamic contrast ratio is unlimited.
Cinephiles and gamers will also appreciate the smooth images of the Transparent TV. The 120Hz refresh rate is in line with other high-end television models. And, the response rate of 1ms takes advantage of the latest gaming technologies. Its AI Master Smart Engine along with the MediaTek 9650 custom-made TV chip offers multiple customization options and will intelligently optimize the image resolution.
In terms of audio performance, the Mi TV LUX Transparent Edition supports Dolby Atmos®️. It will also detect the audio type and select the best settings for a range of genres, using AI Master for Audio.
The user interface has been designed to show off the capabilities of the screen. An always-on feature really allows the owner to take advantage of the unique look of the Transparent TV. Custom text or images to be displayed for maximum flexibility of uses.
Style & Aesthetics – Minimal art
The Mi TV LUX Transparent Edition has been designed with a sleek and minimal look. The screen is clear all the way to the edges. Its ultra-thin clear rectangle sits wedged into a simple circular base stand. This grey base features on top a "millimeter-grade finish that resembles compact discs".
It is pitched as a work of art. And, has the possibility of creating displays that blend the real with the virtual. When not turned on, the transparent TV looks like a minimal glass sculpture.
A vision from the future
Transparent display screens are something one imagines from the worlds of science fiction. We are used to seeing them on screen, not being the screen we are viewing. So they immediately imply an air of impossibility. Of being not from our current time or place.
They have turned up in Star Trek for years, and Minority Report stands out as an early film example of a transparent live data screen.
Yet in reality, they have been used in various forms for a while now. LG, Samsung, Pro-display are all companies which have produced some form of transparent display to date. They are also touted as ideal for augmented reality uses.
Design memento – Take advantage of your unique capabilities
Xiaomi is China's top OLED Basic Module (OBM) manufacturer. This puts it in the perfect position to develop and manufacture this transparent OLED television.
They are the only TV company in China that would be able to individually complete production of this complex screen.
The writer's comment – A novelty in the home, but many more possibilities exist beyond
There are going to be people who cannot wait to get their hands on this transparent screen. As a vision of the future finally materialized in the present, it is enticing. It will delight and entertain in the home.
Outside of the home, the Mi TV LUX Transparent Edition will also certainly find a place. Mass production puts it in reach of many more businesses including galleries, museums, and retail centers. As its creative possibilities are explored, it is likely to turn up in art and theatre presentations as well.
If you want to know more about electronics for the home, don't miss Lenovo Smart Frame displays your memorable moments and favorite art pieces on a digital canvas.