Architecture
YoDezeen transforms any space into a lifestyle experience
YoDezeen's tour de force is a powerful tool used to aesthetically transform a space into a lifestyle. All their projects feature bespoke furniture and state of the art aesthetics, with a sense of opulence experienced at every step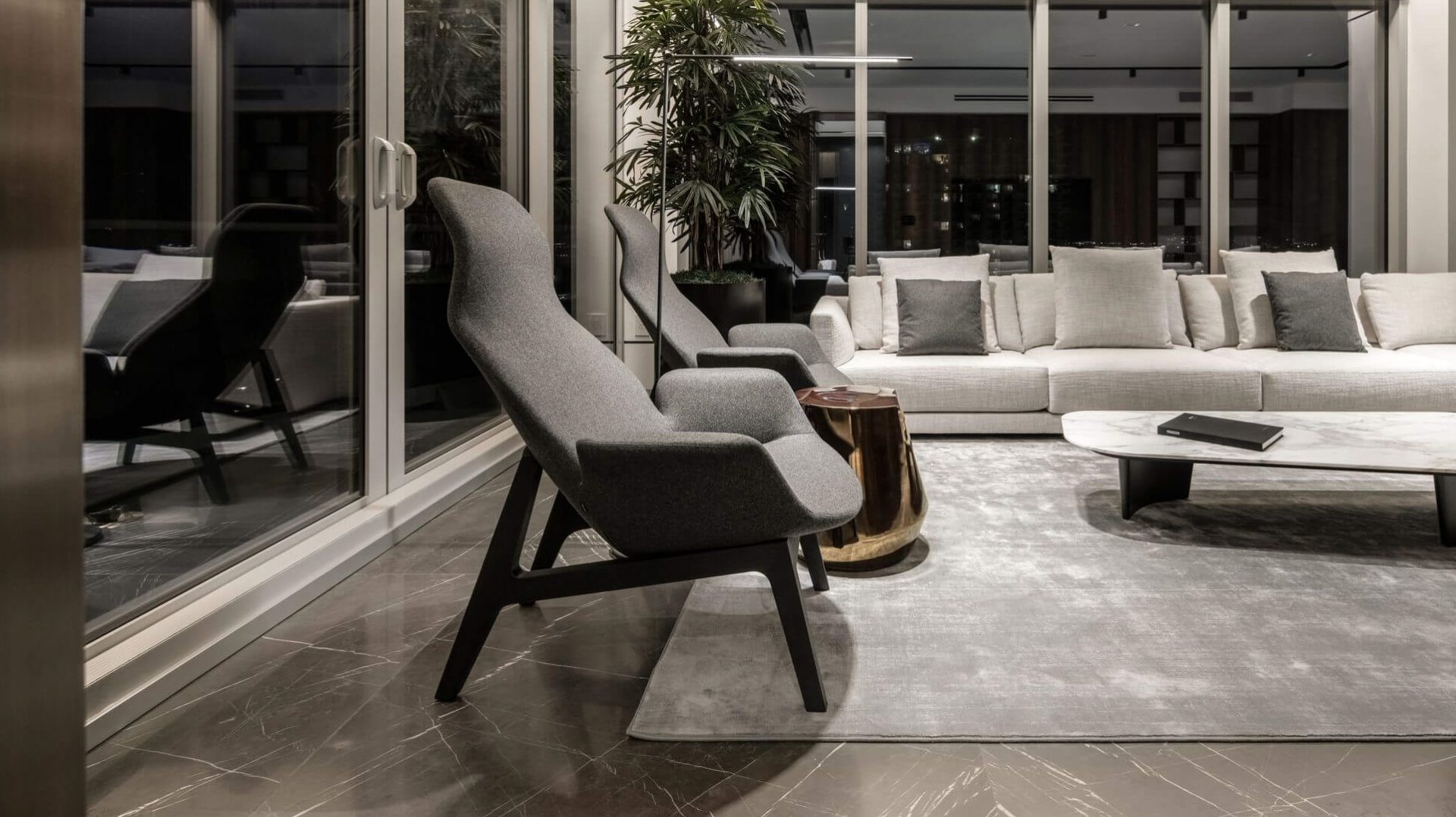 This year YoDezeen studio is celebrating their 10th anniversary. This is not too much and not a few, for someone it is just a matter of time, but for the studio, it is the conscious experience devoted to the YoDezeen brand creation and development, just as it is known to thousands of people in the world.
During these 10 years, they have learned a great deal, and have created more than 800 projects via residential and commercial real estate in 127 cities, along with a great team and invaluable experience, partners and friends around the world.
Who is Artem and Artur? Could you tell us more about your background and how did your journey with design begin?
Artur Sharf:
"We met with Artem at the Kiev National University of Construction and Architecture more than 10 years ago. After taking a closer look at each other, we became not just partners, but friends who share a common goal – to create high-quality design and architecture around the world.
We started YoDezeen studio at the age of 20. When we started, we had nothing: no orders, no team, and no office. We were just young people, dreamers who wanted to create outstanding designs. 10 years have passed, and we are still dreamers, but with good rear and history behind us."
Artem Zverev:
"We have never been court architects who can be told what to do and how to do it. Among our customers there are those who deeply understand design and architecture, and there are those who clearly understand what they need, and we can only guide them. With each of them we go through a difficult path of collaboration, we rub ourselves in, we argue somewhere, we insist.
We are not flexible – we are about the result. That is why, if we are talking about something significant that can affect the result, here we are trying to persuade. Sometimes you have to spend an enormous amount of time on this.
Sometimes at some stage, you have to turn the project in the opposite direction, because it does not add up. You clearly understand – no, you need to do it differently, despite the fact that everything has already been printed and the builders have already come to the site."
With over 300 luxury projects completed worldwide, how would you describe your design style? Could you walk us through your creative process when you approach a new project?
Artem Zverev:
"As for our style – it has some kind of seasonality, a trick, inherent in our combination of materials. We use them for two or three years, then we refuse and find something new. Earlier we were told that we have dark interiors only. Now we have cool light projects coming out."
Artur Sharf:
"We have smooth shapes now; therefore recently, simple geometry could be seen in our projects. Today we feel that the trend has changed. We bring this feeling into our work."
Artem Zverev:
"Decisions are constantly changing. For two years now, we have constantly used brass in various finishing solutions – from gold to dark bronze. We have already used up this resource and now we want to refuse it, despite the fact that it is a noble and flexible material. We have a certain understanding of how we see the interior – in layout, in volume, in decoration.
Today we try to use only natural materials. Three years ago, we worked with large-format porcelain stoneware. Now about 80% of our projects are finished with natural stone. Even if the customer can afford only 80 Euro per square meter, then we will deliver the stone from Iran or Turkey, but we will eventually get the energy we need, the result of a different quality."
Over the years you have had numerous collaborations with different brands. Which are some of your favorite projects?
Artem Zverev:
"This is always one of the most difficult questions. There are many favorite projects, but no unloved ones. Of the recent projects, I would like to mention a project called Triumph, an apartment in the historical part of Kiev and the last two completed restaurants in Kyiv – Follower and Par Bar 3. Triumph is a tribute to the eclectic style, combined with premium furniture brands and high quality of finishing.
The State-of-art Edition project in the historical part of Kyiv is an example of high aesthetics in the interior, complemented by objects of modern Ukrainian art. The last two realized restaurants are very different from each other. Follower is a vibrant, eccentric millennial destination; Par Bar 3 is a jungle in the middle of a concrete urban area. Each project is special, filled with meaning and a part of our life and the life of our team."
[ Read also A warm industrial restaurant inside a Soviet building in Kyiv ]
As people today are reinventing their way of life, what are some of the changes that you are implementing to increase creativity and productivity?
Artem Zverev:
"Of course, the crisis caused by the pandemic influenced the work of YoDezeen studio. We very quickly transferred everyone to a remote mode of operation, provided everything necessary, slightly changed the interaction processes. For many projects, the implementation deadlines were postponed, but this did not reduce the work and tasks. We focused on project work and on the opportunity to hone many processes, bring them to perfection."
Artem Zverev:
"A phone in hand has long been enough to manage many issues, so I don't feel any changes or any particular discomfort in terms of organizing the workflow. We always work hard without specifying the time of day or location (home, office or business trip), often 14 hours a day for the last 10 years. Therefore, in this case, nothing has changed."
What according to you is the future of interior design? How do you think future home-owners will perceive their ideal home?
Artur Sharf:
"The area ratio in terms of functionality will change. We will begin to design more storage areas for storing things and their subsequent disposal. In public places, rooms for checking the health of people, disinfecting outerwear, as well as areas for first aid will become necessary. In apartment buildings, exploited roofs will take over the higher functionality. The zoning of spaces in apartment buildings (residential, non-residential areas and technical premises) will also be revised.
We will observe the increase of projects with a free layout of non-residential areas, where flows of people will be distributed so as not to unite a large crowd of people, projects with 2-3 entrance groups, projects with all kinds of balconies and terraces, with additional landscaping of facades and roofs, as well as projects using renewable energy sources. In apartments, preference will be given to clear zoning according to the purpose of the premises."
Artem Zverev:
"New projects will enter the market, offering innovative approaches to purify water, air, external parts of windows, entrance lobbies, building facades and elevator shafts. Much attention will be paid to artificial air purification in premises, which will require the installation of additional systems and the allocation of additional technical areas in buildings. In apartment buildings, special attention will be paid to the cleaning of elevators and elevator shafts."
Artur Sharf:
"We predict that each person will critically begin to review their living space, house, apartment. The main task in the design of a residential interior will be multifunctionality, the ability to effectively place the whole family under one roof with various activities. Big changes await the real estate and investment market.
The foreground for investors will come to projects in the field of health care, production, logistics and warehouse complexes, hypermarkets selling offline and online, country and cottage complexes, recreational complexes outside of megacities. The residential segment, in our opinion, will continue to actively develop, but taking into account the revision of the zoning."
Unlimited budget and resources, what is that one dream project you would design?
Artem Zverev:
"It will be a hotel. The hotel is a symbiosis of accommodation, restaurants and commerce. Such projects set the highest level of responsibility: you are not implementing an object for any one customer – each of the guests will evaluate and discuss it. We would like to find a cool investor who is ready to create something new, unique, one of a kind, an investor who is ready to invest money, energy and soul. Then it will be the perfect collaboration."
Artur Sharf:
"We have a vision of how to create a quality product and how to use design to increase the value of a property in any segment. As for the hotel sector, we have been studying this segment of real estate for a very long time and thoroughly – in terms of design, functional use, creation of unique concepts, and I am sure that we already have something to offer a potential investor."
What are the next steps for YoDezeen?
Artur Sharf:
"Today we are confidently moving towards architecture. Our best project has not yet been implemented, we have not yet done everything, we are at the very beginning of our journey. We create an architectural team inside YoDezeen studio and target the global architectural market. Our ambition is to leave iconic architectural objects after us."
Artem Zverev:
"We want to design hotels. We want to create unique, unrepeatable concepts for hotel operators, boutique hotels or point investors around the world. The accumulated experience, project portfolio and our vision allow us to assert with confidence: we can create truly iconic and demanded projects in the field of commercial real estate.
We are attracted by the sphere of development. We want to design and build unique projects on the suburban real estate market, with a new concept, the right strategy and the embodiment of the vision of a real home. The houses in which our clients will create families, start and continue traditions, plant trees and raise children."
[ Read also Throwing the status quo out the window with DesignAgency ]