Architecture
The colorful & engaging street architecture of 100Architects
Shangai-based architecture studio, 100Architects, creates colorful and playful urban interventions that encourage social dynamics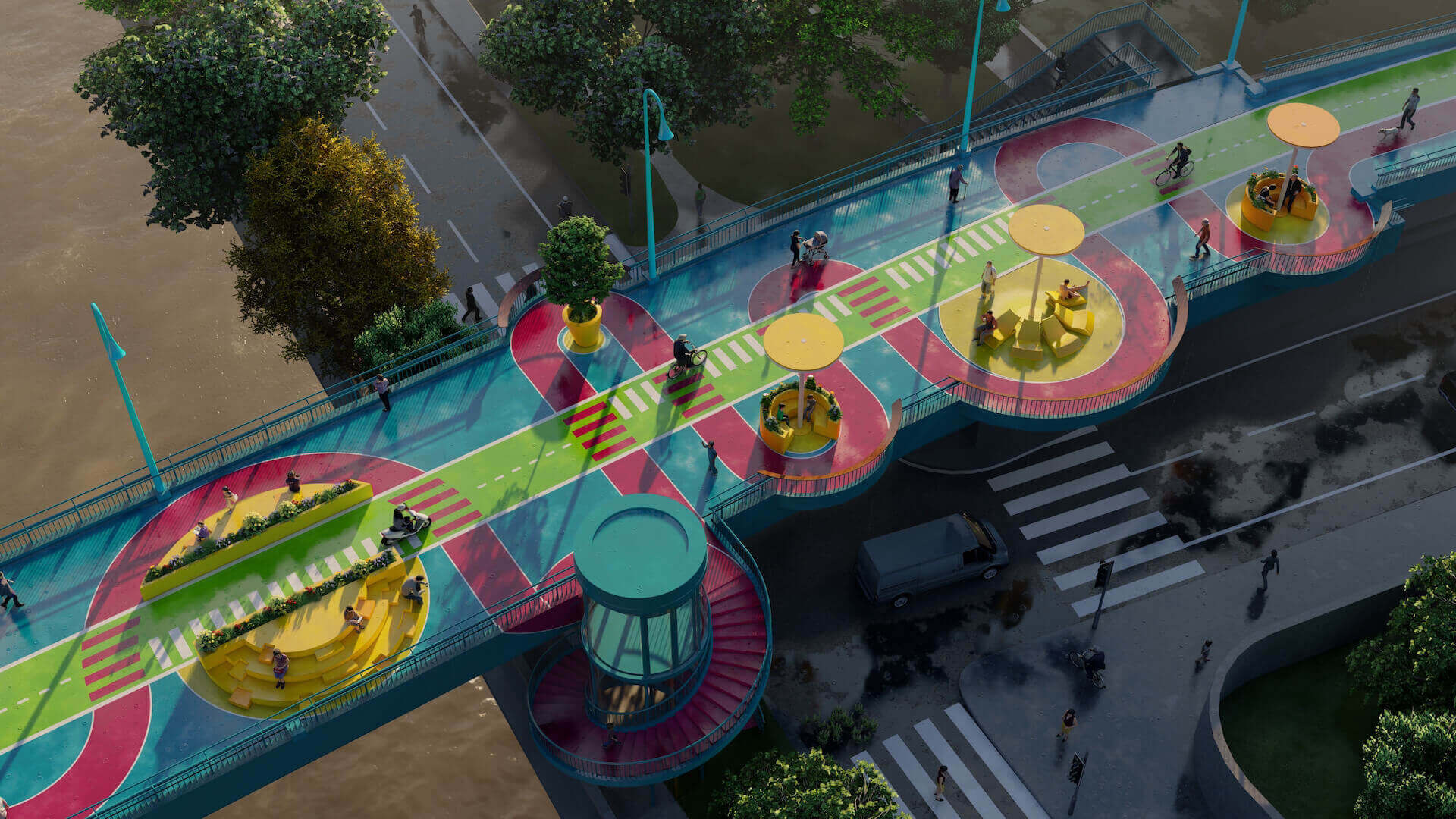 Urban interventions can bring vitality to any place, they create new spaces that enrich everyday life in the ever-complex organisms that cities are. While we see many interventions each and each day, few are as successful, playful, and engaging as the urban interventions designed by 100Architects.
Founded in 2013 by Chilean architect Marcial Jesus and later joined by Javier Gonzalez Rivero and Jenny Fan, Shangai-based studio 100Architects is an unconventional architecture studio focusing on the public realm, public spaces for leisure, recreation, and entertainment in all their typologies and variations.
Weather ephemeral or permanent, 100Architects specializes in street architecture, urban interventions, and architectural objects that encourage social dynamics through the creation of human-scale landmarks.
Each of their projects is destined for public use providing colorful landscapes and intricate topographies that invite users to interact in a variety of ways.
With the singular vision of designing architectural objects that attract and encourage social interaction, DesignWanted interviewed 100Architects founder, Marcial Jesus, and learned more about their creative process, inspiration, and what is next for the incomparable studio.
Who are Marcial Jesus, Javier Gonzalez, and Jenny Fan? How did the journey for 100 Architects begin?
Marcial Jesus:
"The story of 100architects began with our arrival to China. I am Marcial Jesus, an architect from Chile. I graduated from the Universidad of Chile in 2010 and arrived to Shanghai in 2011, after working briefly in Europe (I worked at Fuksas in Rome in 2009 and at OMA in Rotterdam in 2010).
The company that brought me to Shanghai was called Hassell, a distinguished Australian company that gave me a solid platform to develop my career in those early years. Hassell developed big mixed-use projects, shopping malls, towers, etc. 
After working in Shanghai for about 2 years I was leading the design of big mix-use projects with offices like HASSELL (AU) and later on BENOY (UK), however despite the great opportunity I just wasn't happy designing big towers or shopping malls. Somehow it wasn't meaningful to me. I wanted to work in something that matters more to the people. 
I had the revelation that I should create my own company since. I realized that I didn't need to wait until I was an expert in architecture to do so; I could learn on the way. I also recognized that Shanghai and the Asian markets in general had plenty of room for new ideas.
These were markets that were less developed and less consolidated than the European one; therefore, there was space for new ideas that were not conventional."
[ Read also Ancient Xi'an is playfully transformed by Cheng Dong: A Coherent City ]
100architects had its official beginnings in February 2013, when the concept and idea were born. I was 26 by then and, in order to undertake this mission, I partnered up with different friends, co-workers, and architects who were interested in this collaboration. However, none of these initial partnerships really flourished. 
There was a series of revelations that motivated and sparked the dream of creating this unusual architecture company, which would focus on projects that attracted people and fostered interactions. The early years of 100architects were dedicated primarily to building our website, content, and concepts, and secondly on developing a set of projects that could help us back up our commercial proposals.
We wanted to develop a portfolio that showed concrete experience and could be distributed online in order to "spread the word" and attract possible clients. 
From the first set of 5 projects we conceptualized, only one was built. The other 4 remained as concept proposals. The project we built was self-managed and self-financed. In other words, there was no client involved and we had to ask the municipality ourselves for permission to use the public space to build our ephemeral installation.
Most notably, we had to produce the entire creation ourselves in the timespan of a single night. The project was called Huellas Artes and was built temporarily in Santiago, Chile in May 2014. It remains one of the dearest projects I have ever built.
100architects was in its beginnings. We now had one project built and a well-functioning website. But we were still struggling to find clients and become financially independent. 
Then, in 2015, Javier Gonzales joined 100architects as a partner. Prior to joining 100, Javier worked many years in China, leading projects as Project Manager at RTA-Office (Shanghai) and ADOS (Shanghai)."
Javier gained international working experience at GENETIC DESIGN in Copenhaguen, Denmark (2012), FabLab Tenerife & LPA (Lab for Planning & Architecture) in the Canary Islands, Spain (2008-2012). He holds a Master's Degree in Advanced Architecture from IaaC (Institute for Advanced Architecture of Catalonia), Barcelona (Spain), where he specialized in Computational Design and Digital Fabrication. 
During 2015 and 2016, 100architects comprised solely of Javier and myself. During this time, we participated in many small events, arts fairs, and design weeks, in which we produced a few small installations and pieces of furniture that enabled us to explore shapes, colors, techniques and also increase our portfolio experience.
These years were burdened by financial struggles and many difficulties since 100architects was only a two-person company trying to break into the very competitive Chinese market. 
It was in October 2016 when Jenny Fan joined 100architects. Jenny is Chinese and graduated from the Eastern Science & Technology University with Major in the Chinese Language. Jenny started freelancing for the studio, assisting us in all presentations to clients. 
After establishing a trustworthy relationship with 100 Architects, Jenny became a key member of the company's structure, taking care of all the Administration, and progressively taking care of Project Management and Client's Communications. By the end of 2016, we were confident about bringing her on as a partner in charge of office administration. 
By early 2017, the base of our team was solid and the foundations of our concepts and core values were grounded. We were now ready to undertake the mission of bringing 100architects to the next level."
Why 100 Architects, why focusing on the Public Realm, Public Spaces for leisure, recreation, and entertainment in all their typologies and variations?
Marcial Jesus:
"This realization came many years ago. During the development of 100architects as a professional architectural company, we passed through a period of research in which we sought to answer 2 fundamental questions regarding our brand's identity: where should we focus our practice, and what architectural or design style should we embrace?
First of all, at 100 we believed that working in the Public Realm is a privilege. This is where our design would have the biggest impact on the largest quantity of people. We also believed it was a very relevant and meaningful realm of action, where we could produce a direct impact on the citizens and users of determined urban spaces. 
Therefore, we developed a singular vision: designing architectural objects that attract people and encourage social interactions. Within that range of action, we developed projects that served as "interventions" in existing urban enclaves and projects that were more closely aligned with landscape architecture – all of which we created with our special twist and approach as "street architecture" rather than traditional landscape architecture design."
Secondly, we addressed the aspect of the architectural design style (and there were many factors that played a defining role in that). As young architects trying to set up a business in China that targets the global market, we figured that we were facing many challenges.
We questioned ourselves about how to call attention and make our projects remarkable in this culture of 'disposability', wherein art is forgotten as quickly as it is celebrated. Ultimately, we came to understand that architectural objects for social interactions alone were not enough to attract attention on a global scale.
Rather, we had to play according to the rules of this culture of overstimulation, in addition to having a functional purpose and a meaningful narrative.
Our projects had to be pop & controversial, eye-catching, and contrasting from their surroundings – hence our particular use of color and iconic shapes. But our projects also had to offer an interesting program of functions to be easily used and enjoyed and displayed as open platforms for social interactions.
In short, we needed a striking and eye-catching style that would call the attention of citizens, stimulating them, and encouraging the occurrence of social dynamics.
At this point, our design approach was distanced from traditional landscape architecture, which historically blends its context with its surroundings. However, this doesn't mean our projects are not tailor-made for a particular space or that they don't meet the needs of their surroundings.
Our projects in public spaces provide colorful landscapes and intricate topographies that seek to stimulate users and allow them to interact in a much closer way with the objects and the space."
Providing colorful landscapes and intricate topographies, 100 Architects' projects invite the user to interact with the objects and the space itself. Which architects are you inspired or influenced by?
Marcial Jesus:
"I think there are many architects out there doing outstanding work who influence our practice.  From my personal point of view, I am very inspired by Bjarke Ingels Group (BIG) and the particular brand and business they have put together in the past decade.
I really admire the way they have developed a company with architectural products that are so out of the box, and I like how their projects are always colorful, eye-catching, and also very functional. At 100, we are also impressed by their ability to insert "new" urban programs in the city that would otherwise have just been a dream – or, in some cases, just a joke. 
Another company I admire is MVRDV. Every project they do takes public space into consideration and always features an unusual colorful approach. I appreciate their understanding of architecture as a combination of different programmatic functions that can be arranged in different ways and sometimes used to create new architectural urban artifacts.
At 100, I believe we follow a similar process on a different scale but focused on the leisure and public spaces."
Which are the main values, core concepts or style inclinations that, above all, will always represent the studio and yourself?
Marcial Jesus:
"At 100 we have several guiding principals that influence our project designs. Firstly, we make a point of designing architecture and spaces for the purpose of hyper-stimulation. Our projects have the main objective of attracting and entertaining users from a wide range of age groups.
We have developed a singular vision: designing architectural objects that attract people and encourage social interactions. 
Secondly, our projects need to be pop and controversial, eye-catching, and contrastive to their surroundings – hence our particular use of color and iconic shapes. At the same time, our projects must also provide an interesting selection of functions to be easily used and enjoyed by people for social interactions. 
Thirdly, our projects provide colorful landscapes and intricate topographies that seek to stimulate users and invite them to interact with the space. We want passersby to form an intimate link with the space and feel encouraged to slide, climb, lay down, play, hang, take a selfie, rest, exercise, etc."
With creative project proposals like 'The Ring River Park' for Seoul or the 'Garden of Delights' for Dubai. What process do you follow when designing a project?
Marcial Jesus:
"In our design process we look for striking and eye-catching shapes that will call the attention of users, stimulating them and encouraging the occurrence of social dynamics.
For us to consider a project remarkable, contemporaneous and successful, it must include the following key attributes:
Contrast: the project must contrast with its surroundings to become iconic, colorful, and eye-catching.
Aesthetic Independence: the project must never mimic its surroundings; rather, it should possess aesthetic independence and contrast to context.
Pop & Controversial: the project must be colorful, eye-catching, and disruptive.
Instant Functions: the project must offer an interesting selection of functions to be openly used from the exterior by passersby.
As we like to say, we sell happiness. Over time, our office has specialized in conceptualizing interventions that bring joy and entertainment to the citizens in the public realm through fantasy and surprise – two attributes we always try to implement in our proposals.
The fantasy factor seeks to boost the imagination and creativity of the users (no matter their age), while the surprise factor refers to the feeling of encountering completely unexpected spaces when walking through a city. In other words, our design process always seeks to produce a WOW effect."
The shower' intervention on the central plaza of Life Hub @ Daning fosters social interactions and quality time outdoors during the summer months. How do you choose the type of client and project to work on?
Marcial Jesus:
"Working in such a specific niche has many benefits for our business. The main benefit is that our projects call attention and distinguish themselves from the huge overwhelming sea of "new" architecture flooding the social media and the architectural channels every day by simply being different.
Our creative production is extremely unique, and this is an attribute that helps us get published more easily – not only on social media but also in printed and online magazines. Ultimately, this widespread exposure brings clients to us without us having to find them first.
In other words, we are lucky because we have been growing steadily in all regards throughout the past three years. At first, our projects were mostly ephemeral installations, but now we are mainly doing permanent large-scale landscape architecture.
When have also seen a change in the type of clients we attract and their locations; lately we are doing projects not only in Asia but also in Miami, Dubai, Abu Dhabi, France, and a variety of other places.
I think that in the moment of analyzing a project request we have different criteria depending on the context and objectives of the project. Normally, there are 2 options: the project is either meant for financial revenue or for exposure and social interaction.
We have worked with many different types of projects and clients, but find it is most important to deal with serious clients who have realistic timelines and budgets."
Having created the longest playscape promenade of 350 meters, 'Creek Play' became an intervention for entertainment for the joy of kids and adults alike. What kind of feedback do you receive when people pass by your creations?
Marcial Jesus:
"Well, I guess this is one of the most fulfilling aspects of our profession. We work with the dreams of people. Every time we build a project, it becomes a huge hit with the public and this is the ultimate reward for us as designers. 
It's an incredible feeling to walk up to one of our projects and – before you can even see it – you can already hear sounds of excitement from people enjoying the site. Our projects are often so crowded that we can't even take proper pictures!
In the case of the Creek Play in Dubai, it has become such an integral part of the urban landscape and has established itself as an urban attractor that enhances the experience of the Creek Marina. It helps to designate the entire area as an urban destination to be visited in Dubai.
Many of our clients in the Middle East have mentioned that, according to them, it is in fact one of the greatest public spaces of its type in the area. 
Due to their attracting nature, our projects become an instant catalyst for surrounding commercial areas. They generally increase the flow of people from 30% to 60%. Also, it is highly rewarding for us to see the satisfaction in our clients' faces when our projects ensure the success of their commercial schemes." 
Continuously exploring the possibilities of the public spaces of tomorrow. What is the next step for 100 Architects?
Marcial Jesus:
"During the past four years, 100architects has undergone a huge transformation. We grew from being a company of two foreign architects trying to convince Chinese people to build our crazy ideas, to being a very well-established company with a team of over 15 architects developing experimental projects in Asia, the Middle East, USA, and Europe.
We have solidified the core values of our company and helped foster talent from within. The junior architects who started with us four years ago have now become senior architects and team leaders. I regard these last four years as a formation period for 100architects – a period that transformed us into a robust company ready to undertake bigger projects and bring our practice into the international sphere.
At this very moment, we have the power to expand our business and open offices in key places outside China. I cannot say much more at this point since it's confidential, but we are already working on international expansion.
On the other hand, we are also developing a series of urban artifacts as "products" for different group ages that will be available on our website soon. This is because, during all these years working on our experimental creative process, we developed many urban artifacts along the way that are already designed and available for use. 
Our main focus will always be the custom-made architectural design; however, this is one of the positive externalities of always being creating -inventing- new artifacts. And we want to make it available worldwide."
[ Read also Tainan Spring – An urban pool in a deconstructed mall ]