Architecture
An innovation centre for health and life science companies in Stockholm
3XN Architects aim for a LEED Platinum certificate for Forskaren. They are always creating outstanding sustainable architectural designs that push the boundaries of modern architecture.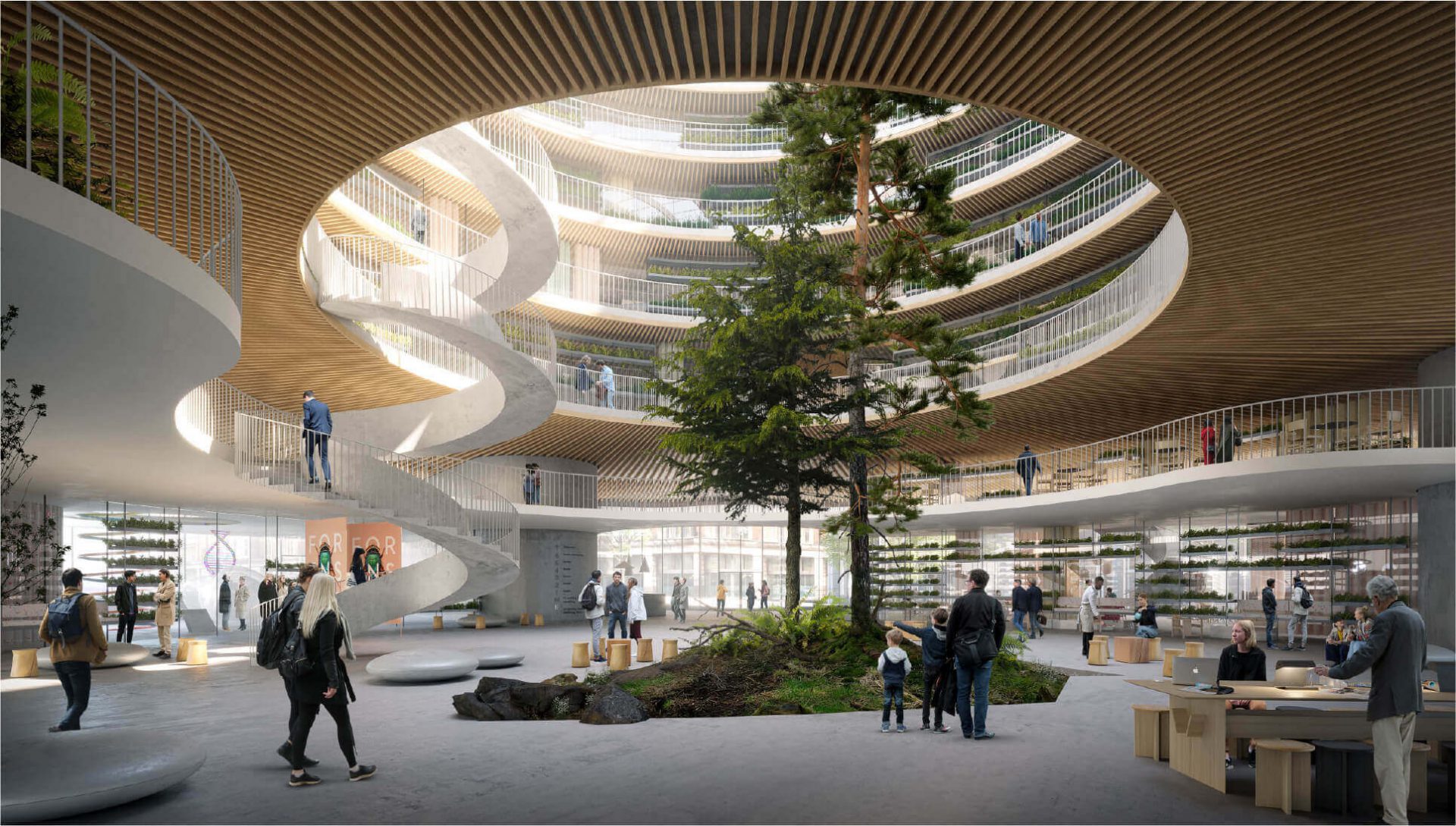 Forskaren is a sustainable health and life science innovation centre in the new Stockholm district of Hagastaden that 3XN Architects won the design competition for. It's planned to be constructed in the new Hagastaden district near Stockholm. A 24,000sqm building which has the expected completion date of 2024.
The Forskaren project blends world-class research in health, life science and treatment with residential areas, a new subway station and green recreational spaces.
3NX Architects are renowned for their sustainable architecture that first and foremost focuses on benefiting the users of their buildings. The architects designed Forskaren with the highest sustainability standards which aim to pursue a LEED (Leadership in Energy and Environmental Design) Platinum certification. 
The mind behind Forskaren – 3XN Architects
3XN is an architecture practice that center their designs around enriching the lives of the people that will work, visit, or live in or around their buildings. They believe that architecture shapes behaviour, so when designing buildings, they ensure that they are light and connected for the positive well-being of their users.
Headquartered in Copenhagen, 3XN Architects have taken their vision across the world with offices in Stockholm, New York, and Sydney. They apply the latest technology and materials in their architectural designs, and established the innovation unit GXN to continually research new architectural processes that positively affect people and the world we live in.
Materials & Techniques – Light and tactile 
The overall design concept has a strong Scandinavian tone that utilises light, fresh and natural materials to result in a bright and open space that's easy to navigate. Light and tactile materials such as wood, natural stone, concrete, and glass are used throughout the building (both inside and out). 
On the external façade of Forskaren, wooden slats provide a rhythmic accent to the building. The wooden slats emphasize the circular design and draw attention to the balconies set within each floor level, offering outdoor spaces on every level. 
Curved minimally framed glass surrounds the base of the building that offers a transparent and inviting glimpse of inside, especially when passers-by walk past the large entrance.
Style & Aesthetics – Open and inviting 
Forskaren has been designed to provide optimal daylight, social zones, and green amenity areas for the users of the centre. Internally, the main atrium features a distinctive spiral staircase that is situated off centre and winds its way up the 6-storey building.
On the ground floor there are open and inviting workplaces, interactive exhibition areas (displaying work that has been carried out at Forskaren), restaurants, and publicly accessible cafes. In these open spaces staff and the public can meet and admire the displays of work carried out here.
Hagastaden is an important part of Stockholm's progress in creating a cohesive development of homes and workplaces in strategic locations
In and around Hagastaden there's a strong concentration of scientific research and entrepreneurship within the life sciences field. Some of the world's leading life science research is carried out at the Karolinska Institutet, the Royal Institute of Technology, Stockholm University, and the New Karolinska Solna University Hospital. This makes Hagastaden the ideal location for 3XN's Forskaren.
Design Memento – Pursuing the highest standards of sustainable architectural design
As Forskaren is designed by 3XN Architects of course we expect every aspect of their design to be carefully considered for sustainability. Forskaren effectively uses solar energy that is connected from the solar panels on the roof to the ventilation system, heating, and air conditioning. 
Rainwater is also collected and filtered to be used for flushing toilets and watering the plants scattered through the centre. Also, the temperature within the building is regulated using circulating recycled water. The circulating water is cooled and then pumped around Forskaren, providing the building with an appropriate indoor climate.
The writer's comment – Revolutionary architectural design for sustainability
3XN Architects are always creating outstanding sustainable architectural designs that push the boundaries of modern architecture. It would be nice to see more and more architecture practices utilising sustainable materials and techniques more often so we can have more buildings like Forskaren that's sole focuses are people and the earth.