Architecture
Innovative and sustainable architecture rooted in Scandinavian traditions
With a strong belief that research is essential to design, 3XN pushes the boundaries of functionality and aesthetics in every one of their projects.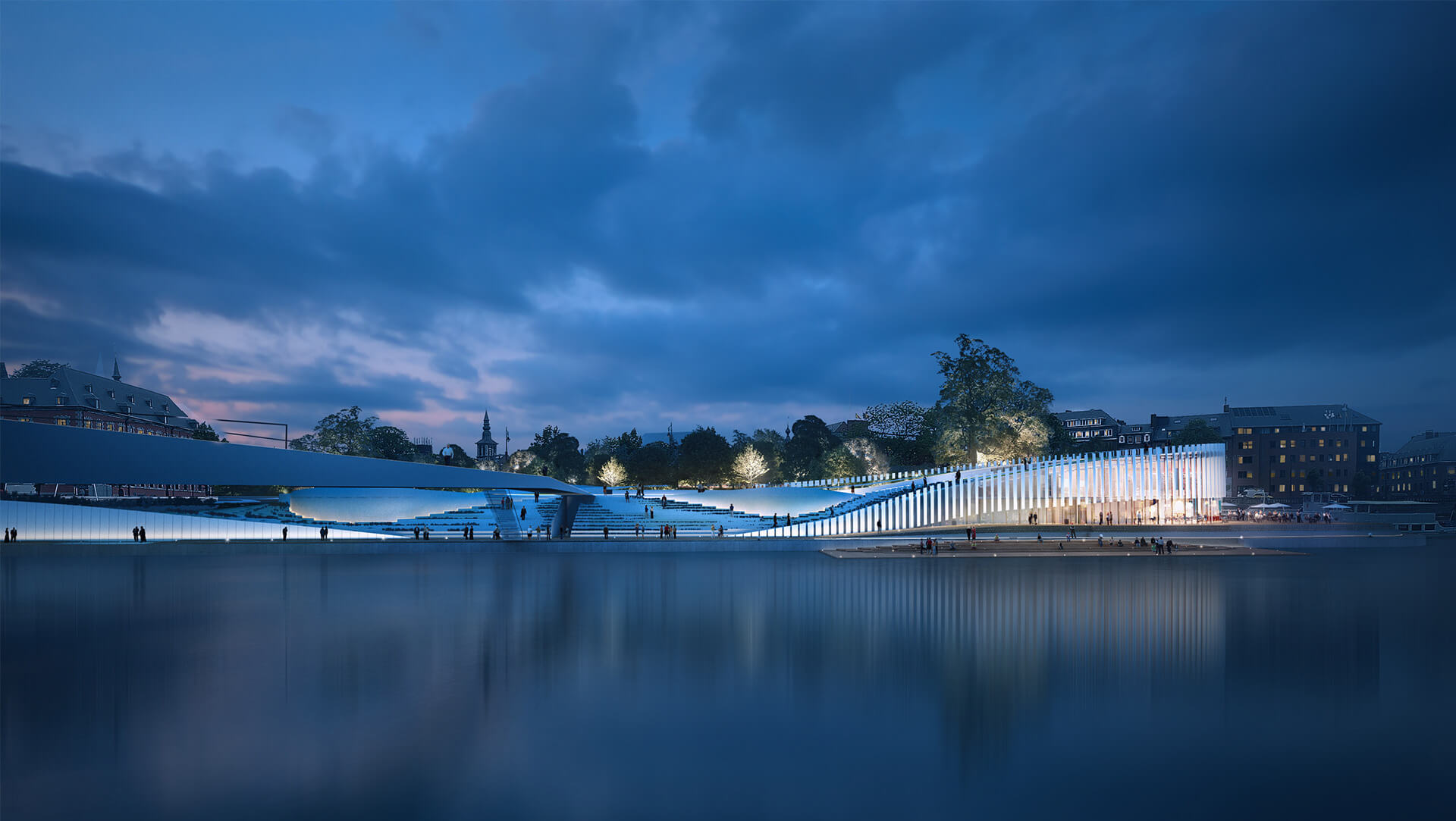 Founded by Kim Herforth Nielsen in 1986 and based in Copenhagen, with locations in New York, Sydney, Stockholm, and London, 3XN has been leading the architecture field with a diverse body of international projects that seek to improve and enrich people's lives and the world we live in. 
Based on the philosophy that buildings are more than the sum of their parts and with the constant aim to achieve a synthesis of design, function, and context, they design astonishing buildings that not only combine beauty and meaning but put people at the center of it.
Always steps ahead and with a clear vision, the company created GXN, an inside research lab that focuses on sustainable materials, building methods, and new technologies to achieve ecologically conscious buildings. For 3XN, design and sustainability should complement each other and buildings should give back more than they take, that is why one of their goals is to transform the building industry into a circular model that minimizes the environmental impact of architecture. 
Constantly reinventing themselves and constantly innovating, with a unique and global outlook, DesignWanted interviewed founder Kim Herforth Nielsen and took a deep-dive into 3XN's philosophy, design process, their commitment to sustainability, and what are the next steps for this incredible company.
Back to 1986: how did the journey for 3XN begin?
Kim Herforth Nielsen:
"In 1986 I founded 3XN in Aarhus, along with two other partners. At that time, we were known as Nielsen, Nielsen & Nielsen. The founders were myself, Lars Frank Nielsen, and Hans Peter Svendler Nielsen. We were dedicated to exploring social and humane architecture.
Actually, we worked in different places before but were invited to a competition that we won. This was when the journey of 3XN started. Today, I am the only remaining Founding Partner, and our headquarters are now located in Copenhagen, Denmark. We also run locations in New York, Sydney, Stockholm, and London."
Why 3XN? What is the ultimate goal when designing buildings?
Kim Herforth Nielsen:
"When I finished high school, I didn't know what I wanted to be, so I went as far away as I could from Denmark – I went to New Zealand. I stayed for half a year and met some guys who had started at the architecture school at Palmerston North.
They introduced me to buildings by Roger Walker and Ian Athfield. Their buildings were sculptural; I hadn't seen anything like it before and that's what got me interested in architecture.
So, I went home and started at the architecture school in Denmark. But I knew that I wanted to do more than just designing buildings. It's what the buildings can do for people that I find exciting.
As architects we enjoy creating beautiful shapes, but only if it has meaning. It's so important that the work has a deeper purpose. We believe that architecture has extraordinary power, and always try to design buildings that positively influence the behaviour of the people who inhabit them.
But architecture is also much more than just the built environment, it's also a part of our culture. It stands as a representation of how we see ourselves, as well as how we see the world."
Your work is founded in ongoing research into how buildings reflect and inform human behavior and the environment. Which are the main values, core concepts or style inclinations that, above all, will always represent the 3XN?
Kim Herforth Nielsen:
"At 3XN we believe architecture can shape people's behaviour, fostering social interaction and enhanced well-being. Our buildings are uniquely matched to each project and they always seek to combine beauty, functionality, and meaning by putting people at the center of the design.
Research and exploration are essential to our design process as it allows us to push the boundaries of both aesthetics and functionality. We continue to explore ways that we can enhance the lives of the people that work or live in and around our buildings.
This is our most identifying quality – that we place people at the heart of our architecture."
The final plans for the new 'Sydney Fish Market' project have just been approved, this will be the largest fish market in the southern hemisphere. Could you tell us about the design process of it and how it will change people's experience?
Kim Herforth Nielsen:
"We wanted to do more than a fish market. We wanted to create a major cultural facility that enhances the existing market operations while creating generous public amenity to unlock the waterfront for Sydneysiders and visitors alike.
So, instead of designing the building first, we started by thinking about the market and all the qualities it could give to the area. We then designed the building around that. Sydney Fish Market will serve many functions when it's completed both as a working market and a significant community and a visitor destination.
It will become a vibrant fish market, an attractive amenity for the city, a cultural destination, an urban connector, and an inspiring icon along with the world-renowned Sydney Harbour."
The International Olympic Committee's HQ in Lausanne incorporates rigorous criteria in energy and water efficiency and has received three of the most rigorous sustainable building certifications. What are the main features of this building and what makes it one of the most sustainable buildings in the world?
Kim Herforth Nielsen:
"For now, it's the most sustainable building in the world. But the concept of sustainability serves beyond the efficient usage of energy and greenery. Taking a holistic approach, everything from the layout of the space, the design to the material finish can contribute towards occupant health, mood, and productivity.
People who work in well-designed spaces take less sick leave, are more focused, and generally contribute more to their company. IOC has received three of the most rigorous sustainable building certifications: LEED v4 Platinum (the highest score ever given was 93 points out of 100), the Swiss Sustainable Construction Standard (SNBS), and the Swiss standard for energy-efficient buildings, Minergie P.
The building is a prime example of how design and sustainability can complement each other. We used high ambitions for sustainability as a design driver to push the boundaries and create a building that is cutting edge on all parameters.
The design makes user comfort a priority with flexible spaces, high indoor air quality, and high-quality views for 90 percent of regularly occupied spaces. Combined with sustainable features such as low flow taps, toilets, and rainwater capture significantly reduce the building's use of water; while the solar panels located on the roof (and out of sight) reduce the need for electricity from the grid."
3XN creates innovative building solutions to contemporary challenges. What are the main trends & future directions within buildings and architecture and what do you think of them?
Kim Herforth Nielsen:
"The world has seen some drastic changes since I started my practice. Exploding population, increases in climate change and consumption, the alarming scarcity of resources as a result.
New buildings are expected to perform in new ways. They must be sustainable and resistant to climate change, provide optimal conditions for their inhabitants, and add value to the surrounding environment. Architects have an obligation to help solve the challenges caused by traditional building methods and find smarter and more sustainable solutions.
We need to push the boundaries, find new methods, new designs, new ways of producing, new methods of construction, and more. To reach these goals, we as architects need to be innovative to find new ways or tools to create the necessary change.
More than a decade ago, we realized the potential of doing research and innovation in-house, so we established the innovation unit GXN, which through research has driven architectural innovation focusing on materials, behaviour, and new technologies, for our firm and other. Transforming the building industry into a circular model minimizes the environmental impact of buildings. We believe that buildings should give back more than they take."
Based in Copenhagen, 3XN works on a global scale pushing the boundaries of aesthetics and functionality. What is the next step for the firm?
Kim Herforth Nielsen:
"We have a new monograph launching soon that captures our high-profile buildings but most important the architecture beyond buildings. However, we are working on some big exciting cultural projects in China and a high-rise in London.
Besides that, we are looking forward to the opening at the Lemvig Climatorium climate centre this fall, which will be a forum for knowledge, education, innovation, and development projects within utility services and climate change. Otherwise, we strive to find more opportunities within cultural projects and sustainable buildings and are really excited to see what the future holds."