Design
Apple stores: spotlighting 5 iconic Apple x Foster + Partners retail designs
With a refreshing captivating retail experience and celebration of innovative technology products – come take a peek?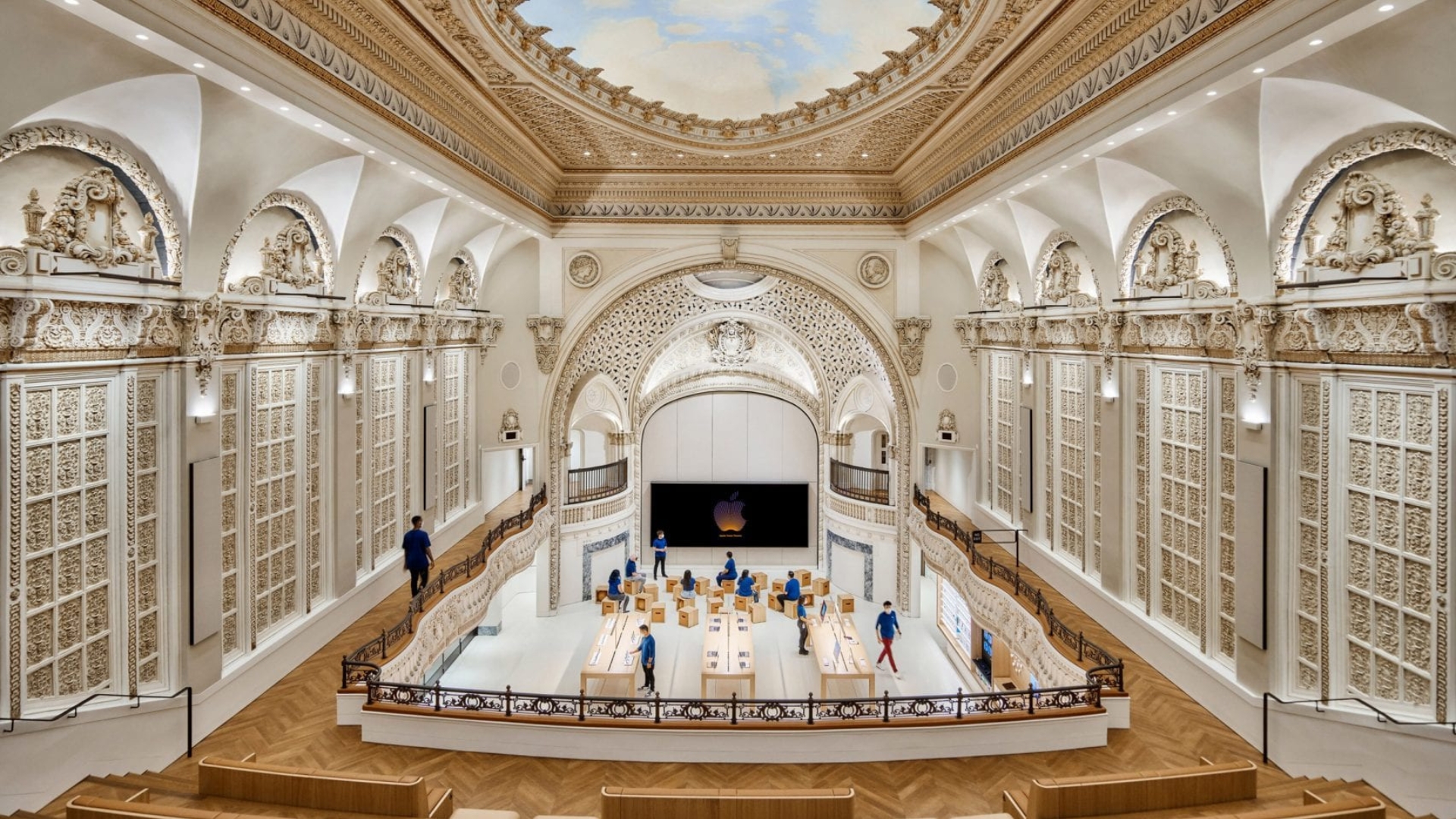 Harmoniously blending design and technology – Apple has been collaborating with UK-based global studio Foster + Partners to create its Apple stores since 2014. With customers at the center of everything they do at Apple and on the other hand Foster + Partners rooted in sustainability, these boutiques present a refreshing captivating retail experience and are a celebration of innovative technology products.
Having opened its first store in 2001, Apple rapidly ramped up its retail ambitions over the past 22 years – the company currently operates more than 500 stores across 23 countries, generating tens of billions in retail sales every year, according to Statista. Did you know that?
"I think that the evolution of retail for Apple is really interesting – starting with very bold statements with stores that look like nothing else. Then over time, you move to it being very ubiquitous and now it's come around to being a responsibility approach – as we see the rise of Apple in the world and the importance people place on the brand and the values that it represents!" reflects Bill Bergeron Mirsky, Global Retail Design Lead at Apple.
From the Battersea Power Station store in London as its latest evolution to the first space in India embodying Mumbai's creative spirit – here's a roundup of the incredibly striking Apple x Foster + Partners stores from its archive.
Apple stores – Go to:
London, UK
With an emphasis on accessibility and sustainability – Apple unveiled its latest Foster + Partners store in the recently revamped Battersea Power Station in London.
This shop is arranged around four original brick piers and features steel roof supports exposed on the ceiling along with a revamped fixture set overlaid on top of this base.
Around the edge of the store visitors will find a warm oak framework of shelving.
A timber structure additionally defines a space dedicated to watches, a pick-up area and a redesigned Genius Bar – comprising a counter for stand-up service along with a lowered area where people can be served sitting down.
The store further has several lowered tables along with its standard Parsons tables, crafted from sustainably harvested European oak.
As part of the focus on mobility – Apple went on to increase the amount of circulation around the edge of the shop. Along with the timber framework, they replaced more carbon-intensive elements in the store with biomaterials.
While the acoustic baffles in the ceiling are made from biogenic material, the floor is made from aggregates bound together with a biopolymer.
These acoustic baffles and bright floor form part of a focus on improving visual and acoustic clarity in the store, with a dark band placed around the base of the walls to provide visual differentiation with the flooring.
Mumbai, India
Encompassing a ceiling weaved together with 450,000 pieces of oak – Foster + Partners unveiled the first flagship Apple Store in India in Mumbai's BKC.
A reflection of India's vibrant culture, its design incorporates locally sourced materials, finely crafted elements and lush greenery to stimulate the senses and lift the spirits.
This triangular-shaped store is enclosed by two eight-meter-high glass walls that allows natural light to seep into its double-height interior.
Within the main space – display tables show Apple's products while two rows of ficus trees placed in planters double as seating next to the windows.
A feature staircase made of stainless steel with two 14-meter-long glass balustrades leads to a mezzanine level overlooking this central space.
The walls of the store – which are made from stone sourced from Rajasthan – have a fine grain that's intended to evoke the texture of luxurious Georgette fabric.
Additionally, above the store and extending to form a canopy around it is a timber ceiling, which is made with 450,000 hand-crafted oak elements that are formed into 1,000 triangular tiles.
Informed by the work of rattan weavers in Mumbai, the tiles were further arranged to resemble a lattice pattern.
Los Angeles, US
Foster + Partner designed the Apple Tower Theatre inside the historic 1920's movie theater in Downtown Los Angeles which was originally designed by American architect S. Charles Lee in the baroque revival style.
Designed in the style of Charles Garnier's Paris Opera House – inside, a grand entry hall complete with marble columns, bronze handrails and a staircase featuring a plush red carpet has been restored to its former splendor.
At the center of this store is the Forum, a large retail space with a display screen hung in the restored arch where the cinema screen would once have been.
Additionally, the movie theater's original balconies remain in situ and Apple plans to use the space as an auditorium for daily skills workshops and presentations from local filmmakers and musicians.
Original cinema seating on the upper level has been further reupholstered and turned into a Genius Bar.
Lastly, an original stained glass window with a pattern that includes coiled strips of film has been restored, along with a fresco of a blue and cloudy sky that arches over the double-height space.
Rome, Italy
Uncovering historic features and opening up a central courtyard – Fosters + Partners converted Palazzo Marignoli in Rome into the store Apple Via del Corso.
Covering the floors of each room and framing large windows that provide glimpses into adjoining rooms – white marble was used throughout the interiors. 
Along with artworks by Italian artist Afro Basaldella set into the walls, large early-1900's ceiling paintings by Fabio Cipolla and Ettore Ballerini were restored and incorporated above the marble interiors between ceiling paneling.
To the west of its courtyard – a grand staircase with vast moldings and a former oculus on its ceiling was brought back, structurally reinforced and fitted with locally sourced Carrara marble.
By adding LED lighting to the oculus that changes with the time of day, the firm recreated daylight within the grand stairwell. On the first floor – a long corridor connects a forum space with a Genius Bar and three retail areas.
At first, this forum-style space will be used for community events, occupying what used to be the Palazzo's ballroom a central point of the first floor.
In the Genius Bar – conservators restored a hand-painted geometrically patterned ceiling with decorative crown moldings. Additionally, wooden furniture and joinery were used throughout to bring warmth to the interior spaces.
Dark wood-framed doors and windows along the corridors and edge of the rooms open out onto Juliette balconies and a terrace that overlooks the courtyard below.
Camphor trees, olive trees and jasmine vines are further placed across the terrace to reflect typical plant-filled Roman roof terraces.
Singapore
Appearing as a sphere floating and completely surrounded by water – Apple revealed its spherical Marina Bay Sands store in Singapore designed by Foster + Partners.
Accessed via a 45-meter-long underwater tunnel from the nearby shopping complex, the store is surrounded on all sides by the bay creating the impression that it's floating.
Blurring the boundary between the inside and outside and all about the delicate interplay between transparency and shade – customers within the store will have 360-degree views across the Marina Bay to the surrounding city.
The store's main space is an open-plan area within the 30-meter-diameter, self-supporting glass and steel dome. Its structure is made from 114 pieces of glass with 10 narrow, steel vertical mullions for structural support.
Within the glass dome – a series of concentric light sunshade rings have been built to provide shading within the structure.
These rings rise to the top of the dome where an oculus has been created that is reminiscent of the famous Pantheon in Rome.
Additionally, a ring of ten trees has been placed around the edges of the shop's main floor to provide additional shading – these trees are within leather-topped planters that can also be used as additional seating.
This structure is further connected to The Shoppes at Marina Bay Sands by a 7.6-metre-wide underwater tunnel, which is flanked with product display cases and has an Apple genius bar running down its center.