Design
99designs CEO shares the findings of their survey with 11,362 freelance designers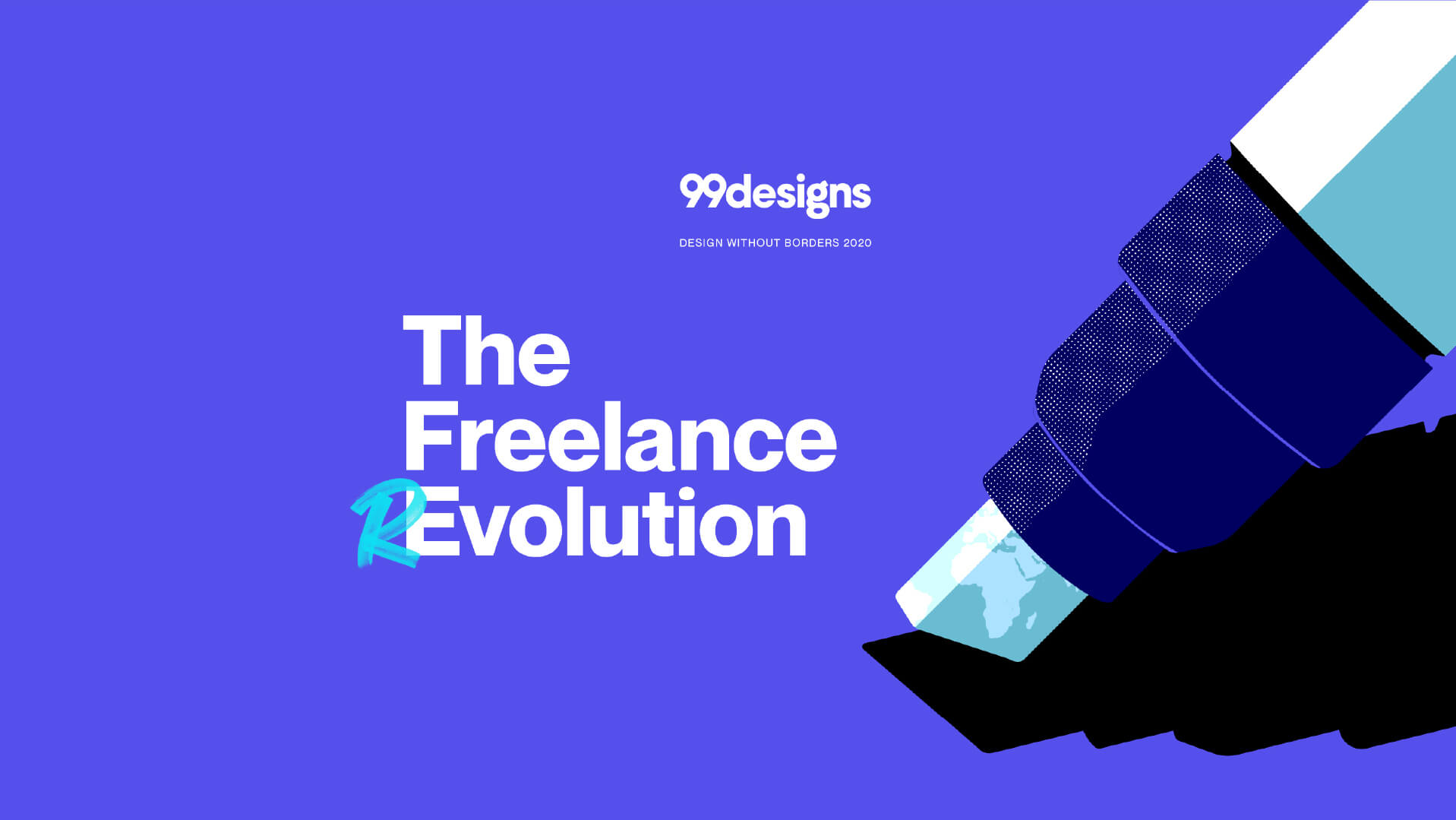 Founded in 2008, 99designs is a global creative platform bringing together clients and designers from all over the world by enabling remote creative collaboration with complete ease.
With the workforce shifting to remove work, freelance designers have found themselves in a familiar place, or at least we think so. But, how has this unexpected year affected them? What does it really mean to be a freelance designer during a global pandemic? And, is freelance the future for all? Lucky for us, all of these questions are answered by 99designs.
Established in 2008, 99designs is a global creative platform that brings together clients and designers by making it easy for them to collaborate online. Since its beginning, the platform has created millions of successful projects through its incredible freelance community. With a mission to champion creativity and create opportunities for people all over the world, 99designs built a world-class platform that not only enables remote creative collaboration but has people at its heart.
Wanting to understand and deep-dive into their huge freelance community and the state of the freelance industry, 99designs released its "Design Without Borders: The Freelance Revolution" report where they gathered inputs from 11,362 freelance designers across 147 countries, making it the most wide-reaching survey of the freelance industry to date.
Curious to know more about this report and the freelance industry, DesignWanted interviewed 99designs' CEO Patrick Llewellyn and found out more about what happened when the world went freelance, it's effects on freelance designers, and what does the future look like for them.
How did the journey for 99designs begin?
Patrick Llewellyn: "99designs began life as a forum community within another company called SitePoint, where designers started creating fictional briefs for each other as a creative outlet and to get feedback and critique from other designers.
One day, someone reached out to this community for ideas for a website logo and offered to pay for the best concept. This organic behaviour eventually led us to build out and invest in 99designs as a separate business and platform, and it really evolved from there. Today, freelance creators have earned more than US $320 million through 99designs across 190 countries."
Why 99designs? Why focus on creating a platform for easy remote creative collaboration?
Patrick Llewellyn: "People helping people create their own success is at the heart of what we do at 99designs: there is something magical in bringing together the talent, skills, and passion of people all around the world to form remote creative connections that turn into strong working relationships.
We work hard to be a genuine partner that supports the growth and success of both our freelance community and customers, from small business owners and entrepreneurs to in-house marketing teams."
Curious to find out more about visual and graphic design? Don't miss the Top 10 graphic design trends in 2020
You recently released a new report called "Design Without Borders: The Freelance Revolution" where you focus on the state of the freelance design industry. Can you tell us more about how this report came to be and its goal?
Patrick Llewellyn: "Our team has worked with freelance creators for more than twelve years now, and we know just how talented, diverse and special this global community of professionals is – and we want the rest of the world to know too!
This is the second year we've run this survey, targeting creators both on and off our own platform, and with thousands of freelancers participating every year, we believe it's a really important and pretty unique pulse check for the international design industry at large.
Even before the pandemic, the vast majority (85%) of freelance designers were taking on projects and working across borders and with clients outside of their own time zone. So we knew from experience how well placed this group was to respond and handle the unique challenges that our "new normal" of remote work created for people everywhere. In this year's Design Without Borders report, we wanted to shine a light on this fact, and it was truly humbling to hear stories of creative connection, personal growth, and extraordinary resilience from designers around the world."
For the report, you surveyed over 11,000 freelance designers across 147 countries, what are the major insights you gathered about who they are, how they work, and why do they choose to freelance?
Patrick Llewellyn: "One of the numbers that has remained constant from 2019's data, even through this year's ups and downs, is that freelancing is aspirational: just 6% of designers freelance because they can't find work elsewhere. Instead, they are motivated by personal flexibility and creative freedom, and nearly half of freelance designers (47%) are ready to hit the road and embrace the digital nomad lifestyle abroad once COVID-19 travel restrictions are lifted.
The range of hours and length of workdays is also significant; freelance designers are working in a way that works for them, whether moonlighting and designing on the side of a day job (design-based or otherwise), freelancing full time, or honing their skills while studying."
This year turned all our lives upside down, creating a lot of uncertainty especially in the workplace, how has this disruption affected freelance designers? How are they facing this challenge?
Patrick Llewellyn: "With resilience and adaptability. In many ways, freelance designers – and certainly those within the 99designs community – were in the perfect position to capitalise on the shift in circumstances; they are experts at remote collaboration and creativity.
But unsurprisingly given the scale of the global economic crisis on top of the health emergency, there's been a mixed response. While around half of freelance designers are thriving and expect to earn more this year than they did in 2019, a third considered taking on additional work outside of the creative industries to make ends meet."
With most of the workforce moving to remote working in 2020, many designers had to adjust to a new working environment and schedules, how has COVID-19 impact freelancers' working hours?
Patrick Llewellyn: "Again, there is a real mix when it comes to how designers' working hours have been affected by the pandemic. A third of freelancers say they're clocking up longer hours than before, while 44% say they are now working fewer hours.
The reasons for this are varied, some are reducing hours by choice, some as a result of additional family and caring responsibilities, some simply have less work – but there is a silver lining to be found: 42% of freelance designers say that their work-life balance has also improved in 2020 compared to last year, which is good news for wellbeing in the industry."
How has freelance designers' creativity and creative process been affected by the pandemic?
Patrick Llewellyn: "It turns out that company fuels creativity! With many freelance designers normally working from home by themselves during the day, 43% said that having to share their workspace with family and housemates during the pandemic had actually impacted their creative process in a positive way. Just 21% said that having other people around during lockdown had a negative impact on their creativity."
What have been the most surprising and unexpected insights from the "Design Without Borders: The Freelance Revolution" report?
Patrick Llewellyn: "One of the unexpected but very welcome findings is that designers across the globe are reporting significant improvements in client collaboration and communication compared to before the pandemic. As the world was forced to embrace remote work and we all got better at doing our jobs remotely, designers have benefited.
In a similar vein, as working from home has become mainstream and remote opportunities for creative workers increase, 41% of designers are considering a move to a smaller regional area. This has enormous potential for disruption: geographical diversity beyond the capital cities is something that the design industry simply hasn't had before, and the knock-on effects could be hugely exciting."
How do you see the future of the freelance design industry?
Patrick Llewellyn: "I think designers' own optimism about the future speaks for itself. 98% said they feel good about where the industry is headed in the next ten years, and two-thirds are extremely confident about their future success within it (just 2% aren't confident at all).
We're convinced that what has been a really tough year will end up having a long term positive impact on the freelance design industry. At a time when the entire world faced social and economic lockdown, freelancers found ways to upskill, earn more, and improve their work-life balance. They found new synergies with clients who were all suddenly remote, and the idea of a globally distributed and more diverse creative industry is a real possibility in the near future.
Ultimately, while freelancers themselves haven't changed, the world around them has, and the opportunities that lay ahead are vast."
What's the graphic design boost? Don't miss 10 Key statistics on why graphic design plays a vital role in marketing your business.