Home appliances
The Concrete AnZa Coffee machine for the perfect brutalist beverage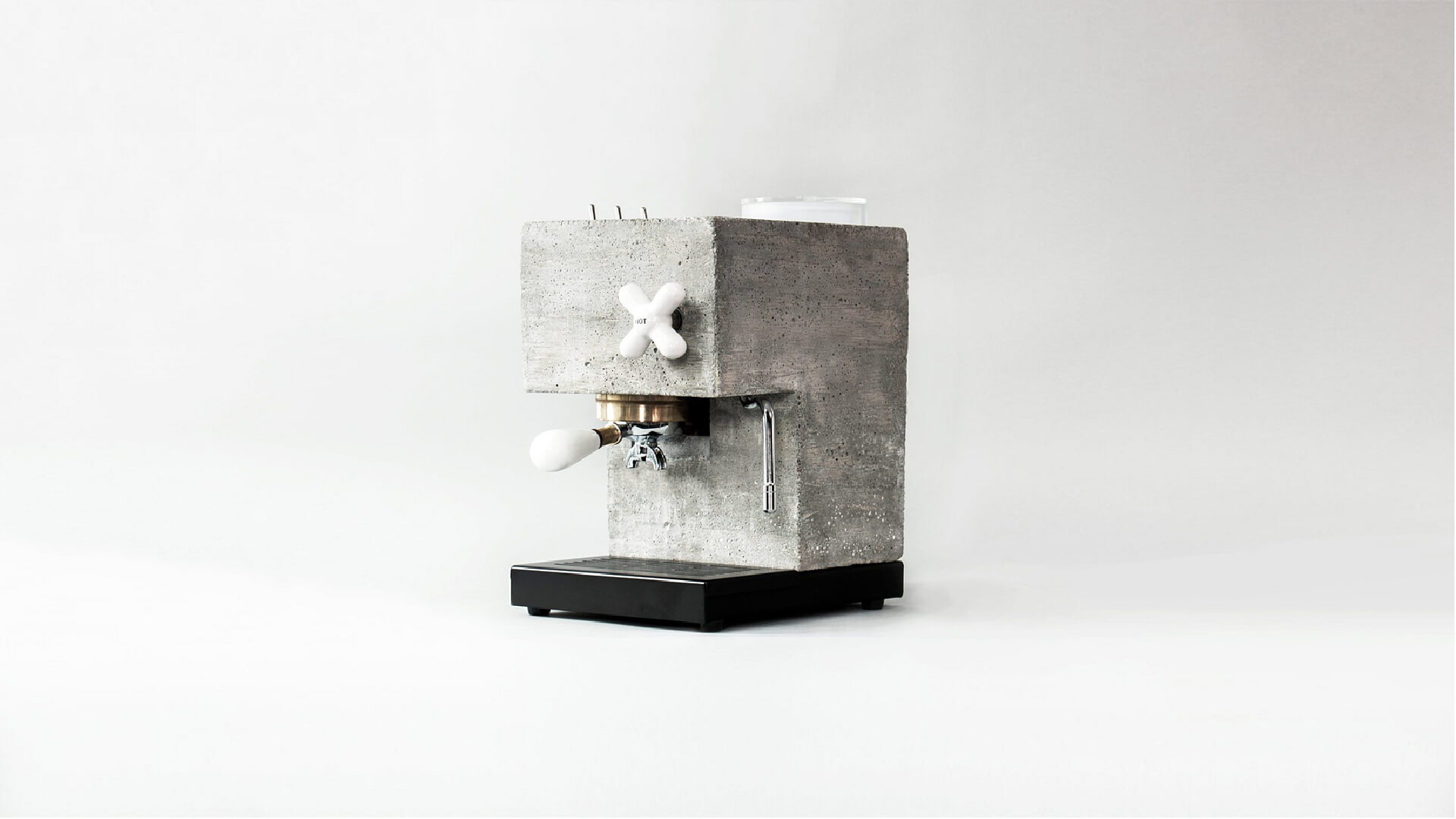 Redefining the Espresso Machine in Concrete and Corian, the AnZa brings new life to kitchen countertops in a guise that is beautifully brutalist.
Perfect for the style-conscious home-barista, this unique coffee machine elevates ordinary materials to near-sculptural perfection. It's also fully equipped with IOT integration.
Why Anza? To offer consumers a unique option in a sea of near-identical coffee machines
Born from a common passion for good coffee and boredom with the everyday vernacular, the AnZa mixes practicality and creativity to create a one-off tabletop coffee maker.
The minds behind AnZa – Montaag
Founded in 2013 by former BMW and Peugeot designer Per Ivan Selvaag, Montaag is a multidisciplinary design studio with offices in Berkeley, California, as well as Oslo and Stavanger, Norway. The team behind AnZa is composed of designers from the Berkeley office which collaborated with espresso repair shop Kanen Coffee, to borrow valuable expertise when it comes to coffee making. Other notable products developed by Montaag include a post delivering mail bot called Buddy, and the Nima sensor, a compact device that can detect gluten in food.
Curious to know more about ingenious coffee machine designs? Don't miss Coffee wakes you up, literally – Barisieur 2.0 Brewing Alarm Clock.
Materials & Techniques – Brass, concrete, wood and Corian®Solid Surface
Committed to avoiding stainless steel, Montaag scoured salvage yards and workshops in San Francisco to find unusual materials before settling on several core elements – concrete, wood, steel, brass, and glass – to create the AnZa coffee maker.
Each machine features a hand-cast concrete shell and a distinct silhouette, accented with touchpoints and powder-coated accents in Corian, a stain-resistant, nonporous material developed by DuPont.
Style & Aesthetics – A touch of brutalism
Combining a unique Brutalist aesthetic with unusual materials, the AnZa elevates honest materials whilst promoting intuitive functionality. It pairs a rough concrete body softened by more minimal elements including a ceramic plate and polished metal pole switches.
The almost neolithic concrete AnZa doubles as an industrial-style centrepiece to complement contemporary interiors. Meanwhile, a Corian version with brass accents offers a more elegant and minimal style, extending the kitchen counter material to a countertop appliance.
A perfectly pulled, smart shot of coffee
The AnZa not only looks like a high-end espresso machine but it works like one too. Benchmarked against the technical quality of models already in the market, it comes equipped with an electronic PID controller that provides consistent water temperature to ensure a perfect espresso no matter the expertise of the person pulling it.
The AnZa coffee machine is also packed with smart technology to make coffee-making a little more intelligent. The machine itself is a dual-use single boiler design, with a stainless steel 300ml boiler heated from ambient to brew to steam temperatures by a 1,350-watt heating element. The team is also working on a Bluetooth-enabled PID that allows temperature control by a smartphone app.
Design memento – Elevating the at-home coffee experience
What started off as a simple exercise has turned into a fully-scaled production thanks to initial positive feedback and a successful round of crowdfunding. The AnZa raised upwards of $145,000, nearly surpassing its Kickstarter goal of $130,000 in the first week alone. Now Montaag's coffee machines are available online with orders shipped worldwide.
Its success is in part due to a recent trend in home coffee machines that have evolved to become more sophisticated systems, fulfilling the needs of coffee drinkers and their 21st-century lifestyle. Elevating the at-home coffee experience and making it now easier than ever to have a barista-style beverage at home, the quality of our chosen vices is more important to us than ever.
The writer's comment – Brutalism and the everyday
The success of a crowdfunded project like this also affirms what feels somewhat like an old adage nowadays: Brutalism, a once-divisive style, has entered mainstream architectural fashion. We love concrete. What's more, we love the amalgamation of Brutalism with everyday products…concrete clocks, colorless desk accessories, and brutalist pet furniture. It's what makes the originality of these projects that much more pronounced, the irony of combining the austere, utilitarianism of socialist architecture with the frivolity of 21st-century consumerism – it's a captivating conundrum.
If you want to know more about concrete products, don't miss Get switched on to Brutalism with Sekhina.