Visual design
Aquatic Creatures: an illustrative tribute to planet Earth's underwater mammals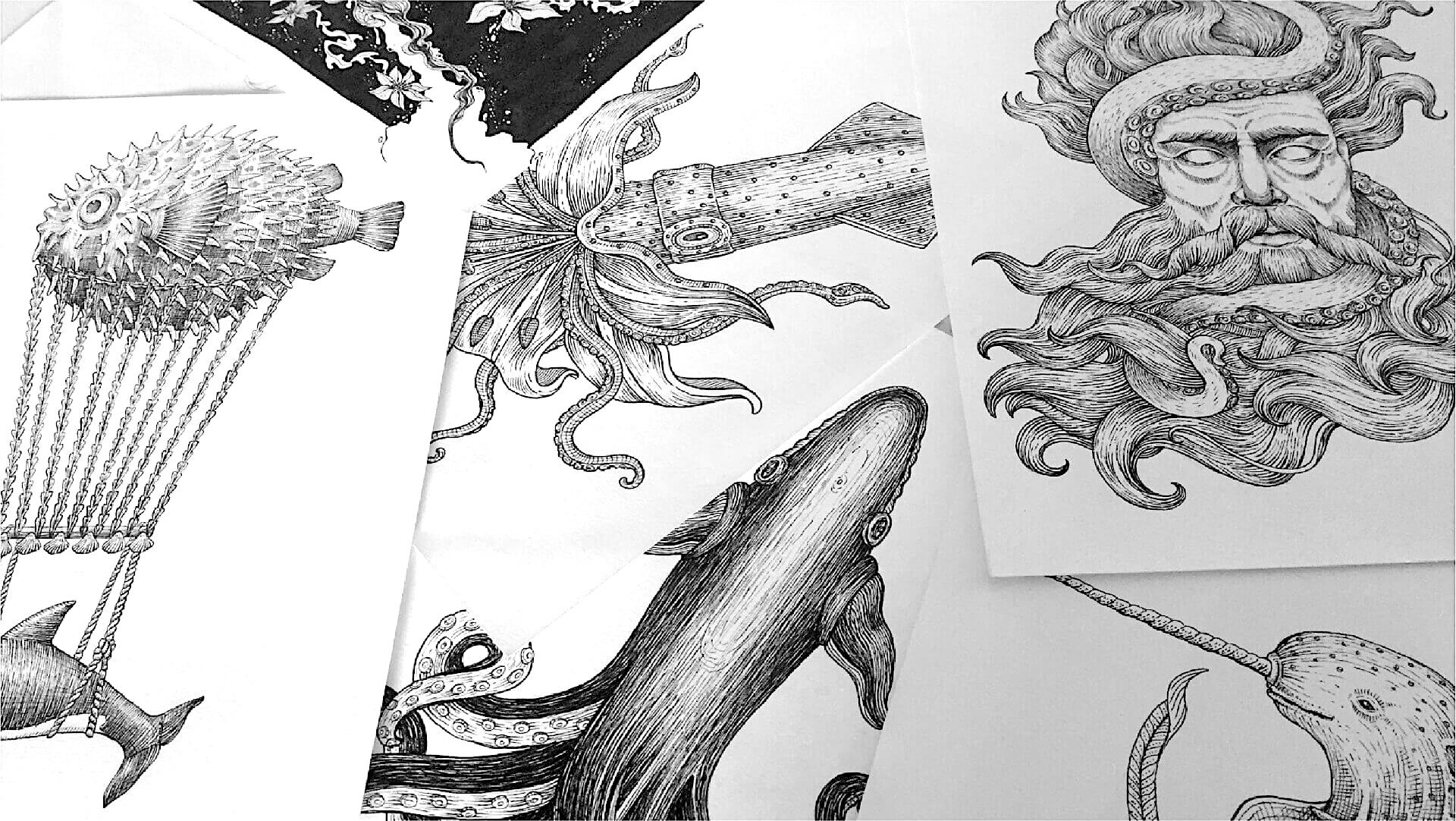 Founded by Riccardo Capuzzo, Aquatic Creatures combines detailed illustrations of underwater creatures with homewares and decorative objects.
Aquatic Creatures is a unique brand inspired by the mysterious and mystical qualities of the underwater world.
Why Aquatic Creatures? To raise awareness about the beauty of marine life
The brand's founder proposes a series of enchanting products that immortalise the wonderful mammals and fish that inhabit planet earth.
The minds behind Aquatic Creatures – Riccardo Capuzzo
Aquatic Creatures is a design platform created by Riccardo Capuzzo who is also the founder of Design42Day, which operates at the core of the design industry, offering a series of deeply specialized services.
Design42Day was formed in 2008 with the scope of promoting and displaying quality designs from a project standpoint, regardless of brands, trends, or budgets, communicating an impartial perspective of what defines 'good' design. Design42Day also comprises an online magazine focused on five different areas of design, including fashion, industrial design, visual design, transportation design and architecture.
Riccardo Capuzzo's Aquatic Creatures reminds us of the beauty of sketching and hand-drawn illustrations, find out what is The meaning of sketches in today's design world.
We had the chance to ask a few questions to Riccardo Capuzzo about his career in design and how Aquatic Creatures came to be.
Who is Riccardo Capuzzo? How did the journey for Aquatic Creatures begin?
Riccardo Capuzzo: "I studied design at Scuola Politecnica di Design and after 2 years in Chicago and 1 and a half years in Istanbul as a visual designer, I started working on Design42Day and afterwords for Picanova, a german multinational company leading the sector of mass customized wall decor.
So after acquiring knowledge in design, logistics, production, and communication, I thought it was the right moment to experiment launching my own brand following my personal aesthetic vision, which includes visuals and music."
Aquatic Creatures are illustrations that represent aquatic animals seen through a fantastic and extravagant lens, why focus on illustrating the marine world?
Riccardo Capuzzo: "It is very easy to recreate a mysterious and magical atmosphere if we look at the underwater world. I like that mood, and I want to bring attention to the importance of having clean Oceans as the issue is seriously affecting the whole planet."
What is the vision and message you want to convey through Aquatic Creatures?
Riccardo Capuzzo: "I don't see Aquatic Creatures as a design brand, but mostly a tool to get a message across: imagine a world with an ethical purpose. What I am referring to is the water world and the ethical purpose concerns its cleaning and preserving. It is just an example, I could have imagined Jungle Creatures and bring the attention of deforestation."
Materials & Techniques – Pencil and China Ink
Capuzzo's unique way of working involves sketching the subjects he imagines in his head before describing to a team of illustrators. They then roughly outline the details of his characters in pencil before refining them with China ink.
Combining traditional techniques with contemporary methods of production, a high-resolution scan is captured of each hand-drawing in order to faithfully maintain their visual characteristics and enhance every feature.
Capuzzo's enchanting marine creatures find life in a variety of products including fine China plates, satin wallpapers, acryl glass, and eco-friendly notebooks.
Style & Aesthetics – Fantastical Victoriana
Reminiscent of historical illustrations, Capuzzo's aesthetic direction mirrors the same detail typical of those bound up with the engraved boxwood block, a significant piece of illustration technology, which dominated early Victorian book illustration.
Derived from woodcut, they too required an original to copy. Alluding to the fantastical fictional history or Victoriana drawing, Capuzzo's style is characterised by the minute details and surprising twists.
A unique twist on interiors
Ranging from wallpaper to tableware, decorative objects to more personal items like notebooks, Aquatic Creatures creates moments of escapism. Inviting you to express yourself through your imagination, the entire collection is an ode to playful storytelling, offering an array of individual characters in which to create tales of a new world. Aquatic Creatures collectibles have the ability to provide a special uniqueness to interiors, standing out amid other designs with their distinct curiosity.
Design memento – A tribute to the delicate nature of nature
A beautiful tribute to Earth's underwater mammals, Aquatic Creatures offers a series of collectables whose own momento symbolises a promise to take care of our planet and its living things through thought-provoking and detailed designs.
The writer's comment – A detailed delight
Add authentic appreciation with what feels like a niche interest and you get Aquatic Creatures, a distinct and detailed delight that faithfully maintains the visual characteristics of hand drawing.
Aquatic Creatures brings attention to the importance of having clean oceans, find out how visual design is used to create consciousness through the 17 posters designed to raise awareness about the UN's Sustainable Development Goals.