Architecture
Archiplan's renovation of this Italian apartment embraces its unfinished walls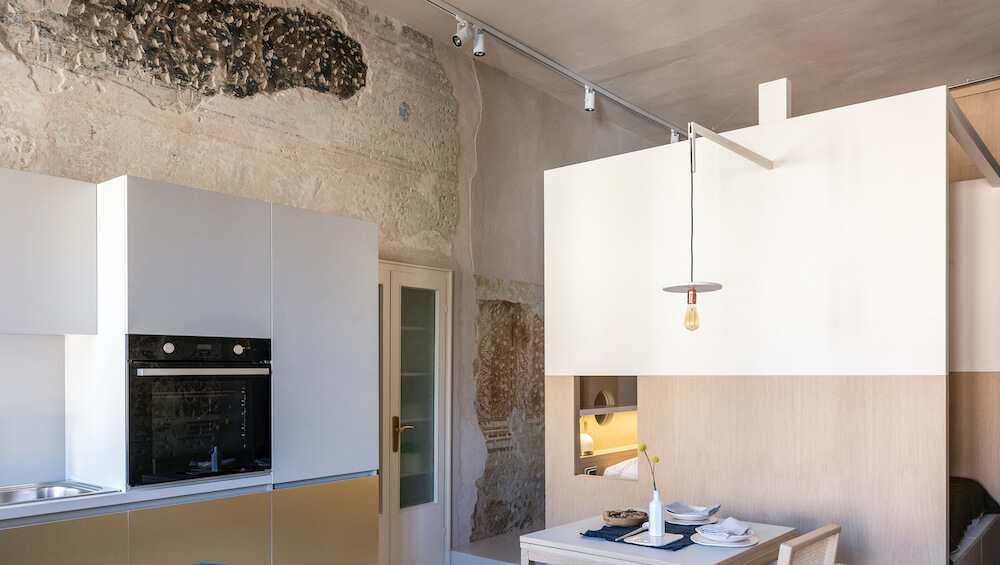 Old and new architecture is interwoven in this Mantovan apartment in Italy by local studio Archiplan.
As urban spaces shrink, designers and architects are being forced to rethink the traditional apartment layout to accommodate the flexible needs of city dwellers. Here, Archiplan has found a way to make a micro-apartment feel bright and airy thanks to a neutral colour palette and clever architectural interventions.
When setting out to work on this 36-m2 apartment in Mantova, Italian studio Archiplan decided it would keep the site's "decaying" details intact. This includes unfinished walls, which the design team has embraced throughout the compact space. "The walls maintain their stratification and the signs of different ages and are treated the same way, without any kind of privileges," says Archiplan. "The walls configure a bacterial view of the object, in which time's decay has its own value."
Inspired by the existing shades as seen in the walls, the design team has defined a colour scheme that the rest of its chosen materials seem to obey. A neutral palette of wood, plaster and terrazzo define the rest of the space. Meanwhile, metallic finishes in the kitchen and a vibrant blue upholstery in the living area add a pop of colour.
The apartment features an open-plan layout that revolves around a central box containing the bed. This small volume opens out to particular areas of importance including an open-air wardrobe concealed behind a curtain and an ensuite bathroom. There's also a small window that looks onto the apartment's other living spaces.
You don't have old walls waiting to rediscovered? In that case, Tecnografica's Wall Panels in granite, quartz, marble, and much more could still offer you an innovative and unique take on wall murals.
A big idea inside a small space
Archiplan has achieved its objective of making the most of the project's relatively small size. By creating a central volume, the designer team has created an overall feeling of space as well as a necessary sense of privacy between the different areas.
At the same time, the studio has created a fluid navigation, not to mention its celebration of the building's original features that imbue the space with a sense of history.