Architecture
Forget your conventional office and move into the most sophisticated workspace in L.A: NeueHouse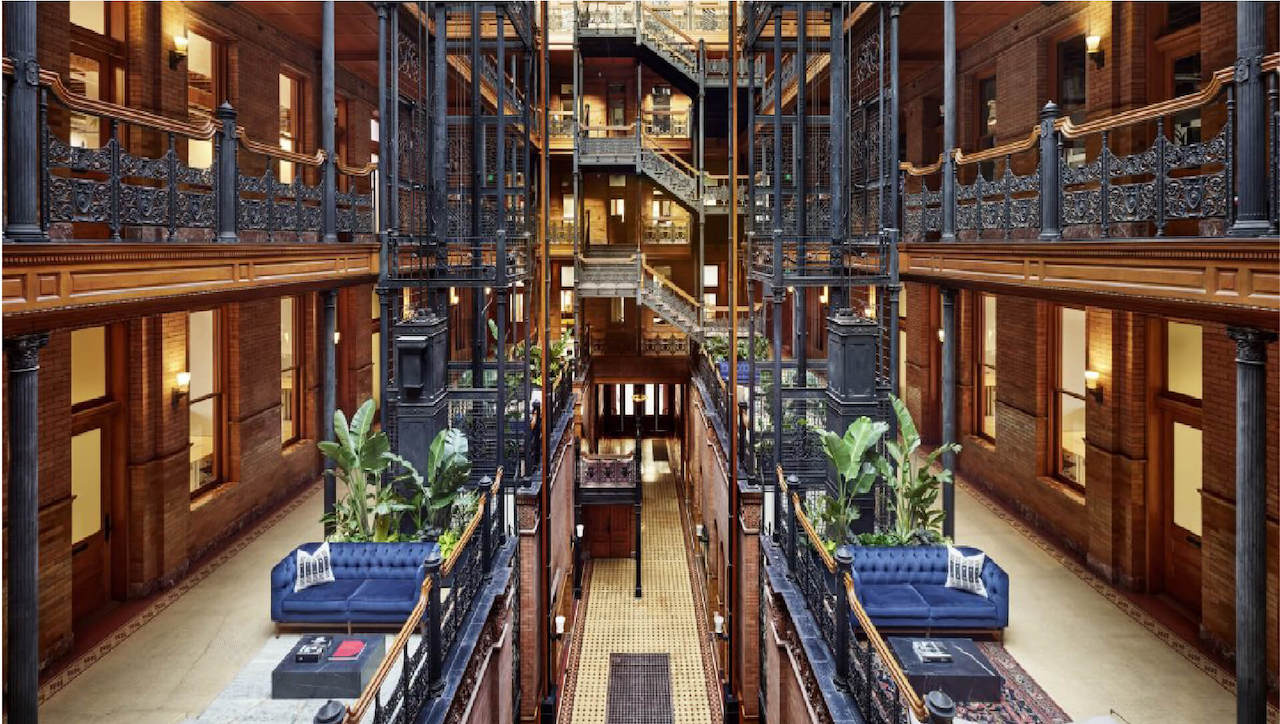 NeueHouse is the private workspace in a XIX century L.A.'s building designed by DesignAgency for high-performance companies.
NeueHouse, an elevated private workspace for high-performance creative companies, leaders, and entrepreneurs, commissioned DesignAgency to craft the interiors for their newest location in downtown LA's iconic Bradbury Building.
Catering to the modern creative workforce, NeueHouse Bradbury is a sophisticated and comfortable work environment with amenities that go beyond anything seen in a conventional office.
Occupying the entire second floor, the 25,000 s.f. "house" includes common areas with a morning-to-night café/bar, a communal gallery and atelier workspace, a wellness room, meeting rooms, and several plug and play studios for dedicated businesses.
Constructed by junior draftsman George Wyman in 1893 from the original design by architect Sumner Hunt, the Bradbury Building comprises five stories of commercial office space in downtown LA. A National Historic Landmark beloved for its unconventional mix of architectural styles, the building is characterized by a modest brown brick and terra cotta Romanesque facade.
Inside, ornate birdcage elevators, decorative ironwork and grand Italian marble staircases command a soaring 50-ft high, sky-lit atrium. Celebrating this lofty Victorian icon was a priority for DesignAgency, who infused the interior with soft, airy and graceful flourishes as a counterpoint to its historic architecture. The result is a uniquely modern and elegant workspace suited to the contemporary creative professional.
In response to the rich visual history and the bold character of the building's foyer, NeueHouse Bradbury's interiors are simple and calming. Characterful original details such as the 11' high oak framed windows, the exposed wood ceiling joists, and original brick fireplaces integrate naturally with the modern interiors rendered in pastel palettes with delicate Versailles parquet floors, breezy linen drapery, and curvilinear furniture custom-fabricated by famed Irish manufacturer, Orior.
Art installations, curated by an expert committee, rotate on a regular basis, and the interior also includes a permanent collection of photographs from the filming of Blade Runner, shot in 1981 by the late great still photographer Stephen Vaughan.
The snug onsite café/bar serves coffee in the morning and cocktails at night. Here, a light marble bar, quarried from Italy, is paired with curved honey oak and dark walnut architectural millwork and brass detailing, grounding the airy surroundings.
Rounded ruby-colored bar stools provide comfortable seating under warm globe pendant lanterns by Lee Broom, while a nearby central console table is the ideal spot for casual meetings or collaborative work.
Versatile common areas accommodate a range of programming needs. For example, DesignAgency created four multi-purpose lounge areas positioned around the existing second-floor mezzanine which overlooks the atrium to allow for events such as art shows or lecture series, as well as casual and break-out meetings.
Comfortable and refined shared and private workspaces feature more than 20 original fireplaces in weathered and glazed brick, copper task lighting, abundant potted plants, and natural light.
Anwar Mekhayech, Founding Partner at DesignAgency, says of the new location, "The NeueHouse model blends the idea of hospitality, social club, and workspace all into one, requiring a refined and sophisticated environment that's conducive to the tastes of creative professionals. It was a real privilege for us to work with such an iconic American building and this gave us a great starting point. In response to its rich visual history and its bold character, we decided to add a new layer that is modern and fresh, with soft and graceful flourishes. The result is a uniquely modern and elegant workspace with a soft palette and ethereal vibe that is ideally suited to the creative professional, creating an oasis in downtown LA."
Working in a historical location can be both inspiring and exciting: the employees at The Johnson Wax Headquarters by Frank Lloyd Wright know something about it.