Architecture
Say No Mo to broken stereotypes in the beauty industry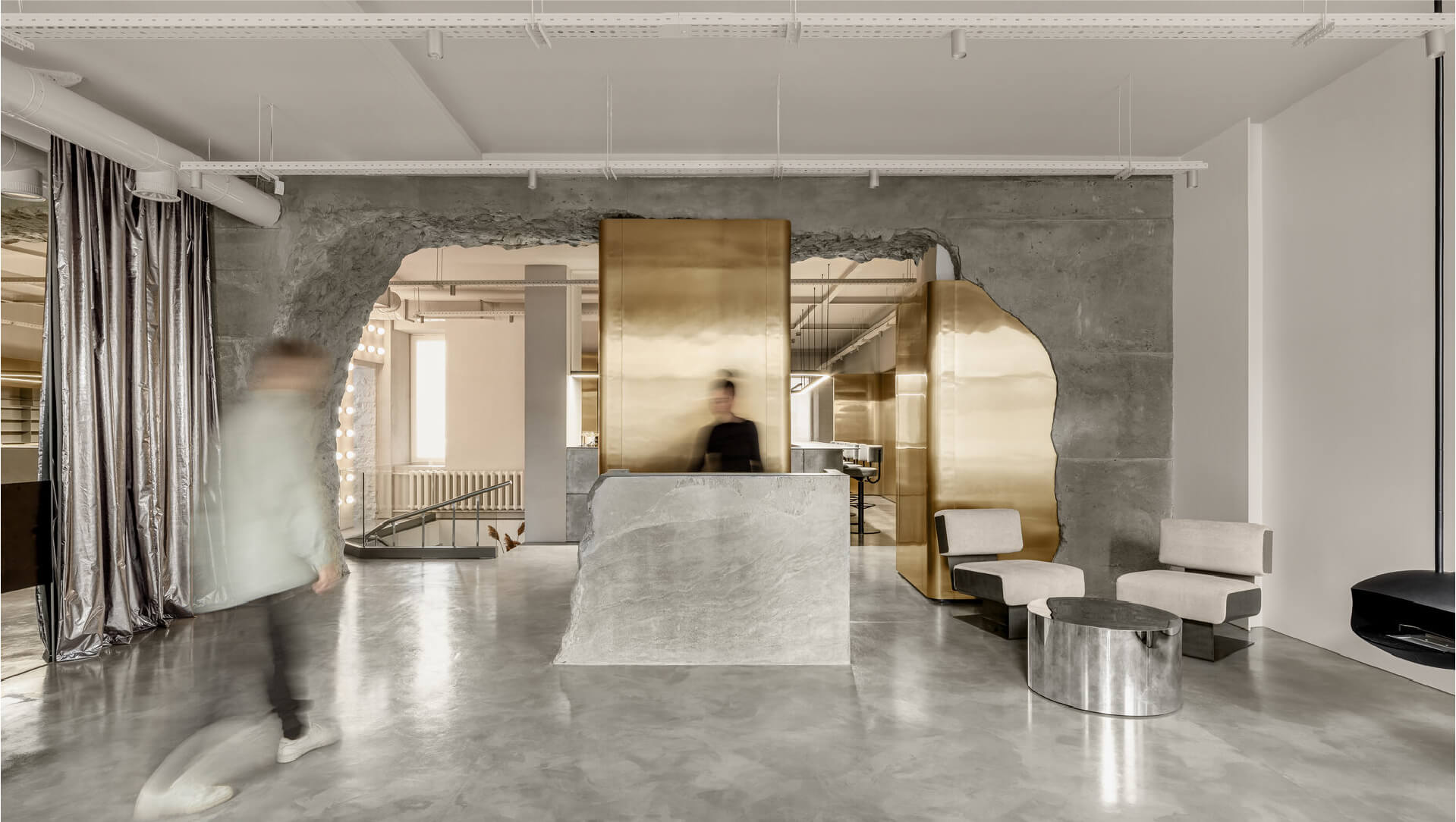 balbek bureau designs Say No Mo, an impressive new gender-neutral beauty salon with cocktail bar, in Kyiv.
Where would you start if you wanted to create a completely unique beauty salon? What if it was the place you went for a night out, rather than where you booked an appointment before getting ready to go out. That seems to be part of the idea behind Say No Mo Social Nail Bar.
Why Say No Mo? To rethink the concept of a traditional beauty salon, and offer a relaxed gender-neutral space
The design of the salon is integral to how it functions as an event space and beauty salon.
The minds behind Say No Mo – balbek bureau
Based in Kyiv, balbek bureau is an interior design firm that was founded in 2008. It sits as one of two companies founded by Slava Balbek and Olga Bogdanova under a single conceptual umbrella called 2B.group. Slava appears to lead the projects for balbek bureau and Olga is Chief Architect of the other half—Bogdanova Bureau.
For the past 12 years, the group has established a reputation as one of the leading design firms in Ukraine. balbek bureau focuses on bespoke commercial and corporate interiors. They are driven to achieve "innovation, uniqueness, and effective performance" in their projects.
In 2017-18, balbek bureau worked on the 906 World Culture Centre San Francisco—a live-work launchpad for startups. The mix-use site includes an old church converted into an event hall, co-living accommodation, education center, and a courtyard. They also completed the interior design for global IT company Grammarly's new office complex in Kyiv. Together, 2B.group's projects have been shortlisted numerous times and received Global Excellence Awards from the IIDA, in 2015, 2017, and 2018.
Materials & Techniques – Multi-function spaces and activity zones
Distinctive zones have been created for a range of functions in Say No Mo. The reception, nail bar, and nail art, along with a pedicure zone are on the ground floor. Downstairs is the hairstyling and make-up zone, restroom, a place for a cosmetologist, and a storage room. The total area is 200 sqm.
Entering the salon, you are met with a large and relaxed space that is the reception area. With a hanging fireplace pod, it also doubles as a lounge for cocktail parties. The concrete arch feature was cast-in-situ and took four months to complete.
At the centre of the plan is a dual-purpose bar that converts from offering manicures to serving cocktails. It is wrapped in black metal—the rough welded joins left visible. The counter is made of 12mm composite material.
The dominant materials are polished concrete on the floors and the polished stainless steel panels which flow around the walls. The panels are 0.5mm thick and coated in titanium nitride.
If you are curious to know more about the use of concert to create amazing interiors, don't miss Concrete Jungle: Dicentra Flower Shop Has A Unique Aesthetic.
Style & Aesthetics – Contrast of cool concrete and gold
Blocks of contrasting materiality and clean simple lines make Say No Mo unique and stand out. The cool grey concrete is anything but typical for a beauty salon environment.
Striking gold walls add contrasting warmth and create a connection that runs from the reception through the central bar to the rear pedicure room. As large shiny, smooth surfaces, these do not come off as fussy. Instead, the gold gives visual strength and adds a luminous quality. Grey shelving is recessed into the gold panels.
Gold detailing is followed through in the pedicure room with a metal sink and faucets. And, a beautiful touch of kintsugi appears to repair cracks in the old ceramic wall tiles.
Rounded corners and curves serve to visually tie elements together. Apparently, there are no parallel walls in the old building. The soft furnishings are rounded and incorporate flowing curves, toning in with both the concrete and warm white walls.
The basement area is finished with crisp white walls and large mirrors which also contrast with the concrete floors.
Broken stereotypes and quirky details
A main feature of the reception area is the rough concrete arch and reception counter. It was conceived as a 'broken' arch that is a "metaphor for broken stereotypes in the beauty industry". Instead, one is asked to embrace "the flight of imagination, creativity, and aesthetics."
During the construction of the nail art area, a two-meter deep water basin was discovered. Rather than simply concrete it over, it was filled with balls and a glass floor installed on top.
Design Memento – Connect with customers by creating an experience
The design team explains that it was important to "get on the same mental wave with the client".
The salon owner is a Canadian lady, and the balbek team was informed by her years of experience working in the beauty industry. Her understanding of what it takes to make a beauty salon customer happy contributed to the design strategies employed and the success of the interior solutions.
The writer's comment – Concrete and cocktails make it a social space
Adding concrete and cocktails to a beauty salon seems to achieve the right balance of a relaxed space where all genders can feel comfortable. The open lounge reception, bar, and even the placement of the chairs in the pedicure zone all contribute to the social feel of Say No Mo.
If you want to know more about Ukrainian studios creating amazing interiors, don't miss Sivak+Partners invites you to rethink your idea of comfort with their minimal and thoughtful interiors.