Furniture design
Konstantin Grcic's Bell Chair for Magis is made from 100% recyclable waste
German designer Konstantin Grcic has created a monobloc chair from repurposed polypropylene obtained from the waste generated by Magis' furniture production.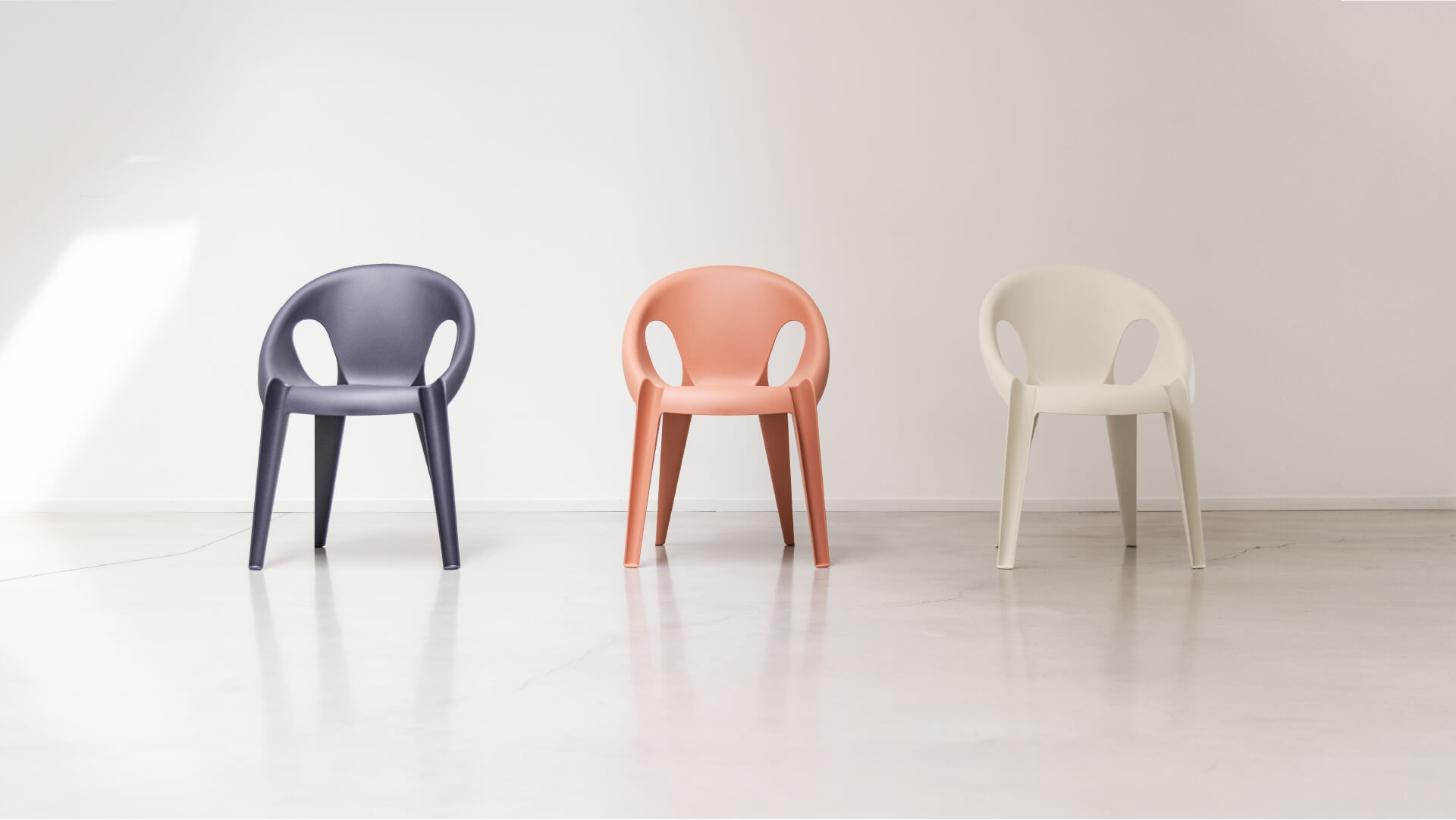 Plastic might best define our current period within the Anthropocene. It's everywhere, from the streets to the oceans, and our daily lives have come to depend on it. Undoubtedly a problematic material, it has proven dangerous to the livelihood of our planet, forcing architects and designers to rethink the responsibility of their projects, from concept to completion.
That's exactly what Konstantin Grcic has done in his latest collaboration with italian furniture company Magis.
Why The Bell Chair? To create a high-quality chair with the bare minimum of material
The Bell Chair is the latest in a years-long collaboration between Grcic and Magis that has produced an eclectic collection of seats, armchairs, sofas, and cabinets.
The minds behind Bell Chair – Konstantin Grcic for Magis
Konstantin Grcic is a German industrial designer whose work is characterized by a timeless and functional simplicity. His training began as a cabinet maker at The John Makepeace School for Craftsmen in Wood before studying Design at the Royal College of Art in London. In 1991, he set up his own office in Munich and is today, based in Berlin. Grcic's office is based in Berlin but his work is known internationally. Ranging from industrial design projects, exhibition design, and architectural collaborations, objects authored by the designer form part of the permanent collections in important design museums like MoMA in New York and Centre Georges Pompidou in Paris.
He has received numerous important design awards like the Compasso d`Oro for his MAYDAY and OK lamps, which he created for Flos. Other renowned collaborations include Cassina, ClassiCon, Flötotto, Galerie Kreo, Kettal, Laufen, Muji, Nespresso, Plank, Smart, and Vitra.
Curious to know about Magis? Don't miss Brand Story – Magis.
Materials & Techniques – Recycled plastic
With Bell Chair, Grcic and Magis have developed a contemporary chair that is affordable, versatile but most of all, responsible. Using recycled polypropylene obtained from the waste generated by Magis' furniture production, they worked with a specialized plastics manufacturer to develop and patent a new type of recycled polypropylene excluding almost all 'virgin or new' materials, which is being exclusively used for the Bell Chair. The patented material can be 100% recycled again after use, which means the Bell Chair forms an almost closed material cycle.
The same company helped with the structural engineering of the chair, mold construction, and final production. The chair uses no more than 2.7 kg of plastic – almost half an average chair – and was produced using plastic injection molding to realize its monobloc design. Abstaining from wasteful energy, these production methods helped to streamline the process in a way that takes the least amount of time to manufacture the chair.
Style & Aesthetics – A bulbous geometry
The Bell Chair's shape, which is characterized by soft rounded curves that form a shell shape, was extremely important. According to Grcic, this bulbous geometry is key to their being able to use as little material as possible as well as saving when it comes to energy consumption during production. It's also what gives the chair its structural integrity. The Bell Chair is available in three colors: Sunrise, High Noon and Midnight.
An affordable chair and a close collaboration
The project started with the hypothesis of developing a chair that could be sold to the public for just €65. This dictated everything, from the technology and the type of material used to the exact amount and weight, with exact adjustments made throughout development in order to achieve this. This, in turn, depended on there being a constant exchange between the designers and the engineers, taking many prototypes to finally get to the final product.
This was made easier by Grcic's twenty-year friendship with Magis and its founder Eugenio Perazza, who first worked together around the millennium. They released their first collaborative project in 2003 called the Chair_One, a striking design with a geometric aluminum seat and concrete base. Since then, they have produced an impressive number of projects including some unsuccessful ones that Grcic says has cemented their relationship, producing the necessary loyalty and trust to challenge one another.
Design memento – Sustainable Strategies
This time around, their collaboration triggered a discussion about Magis's position on sustainability and how the Bell chair could become an archetype for future strategies. Beyond looking into the use of recycled plastics, Magis developed a logistics concept to save additional resources. This included a specially-designed reusable delivery pallet, which can stack up to 24 chairs, uses less packaging material, and reduces the footprint during transportation. The pallet also doubles up as a store display for retail partners and is made from the same recycled plastic as the chair.
The writer's comment – The importance of long-term partnerships
Just as impressive as the final product in this collaboration is the collaboration itself. Too often in the design world, short and sometimes performative partnerships do little when it comes to making a lasting impact. If there's one thing Magis and Grcic's twenty-year history demonstrates, is that the agency of change lies in genuine relationships developed over time.
If you want to know more furniture design made from waste, don't miss Broom by Philippe Starck – A chair with a past, a present and a future!.