Furniture design
Koen Boersma revives traditional hand-turning with totem-style vessels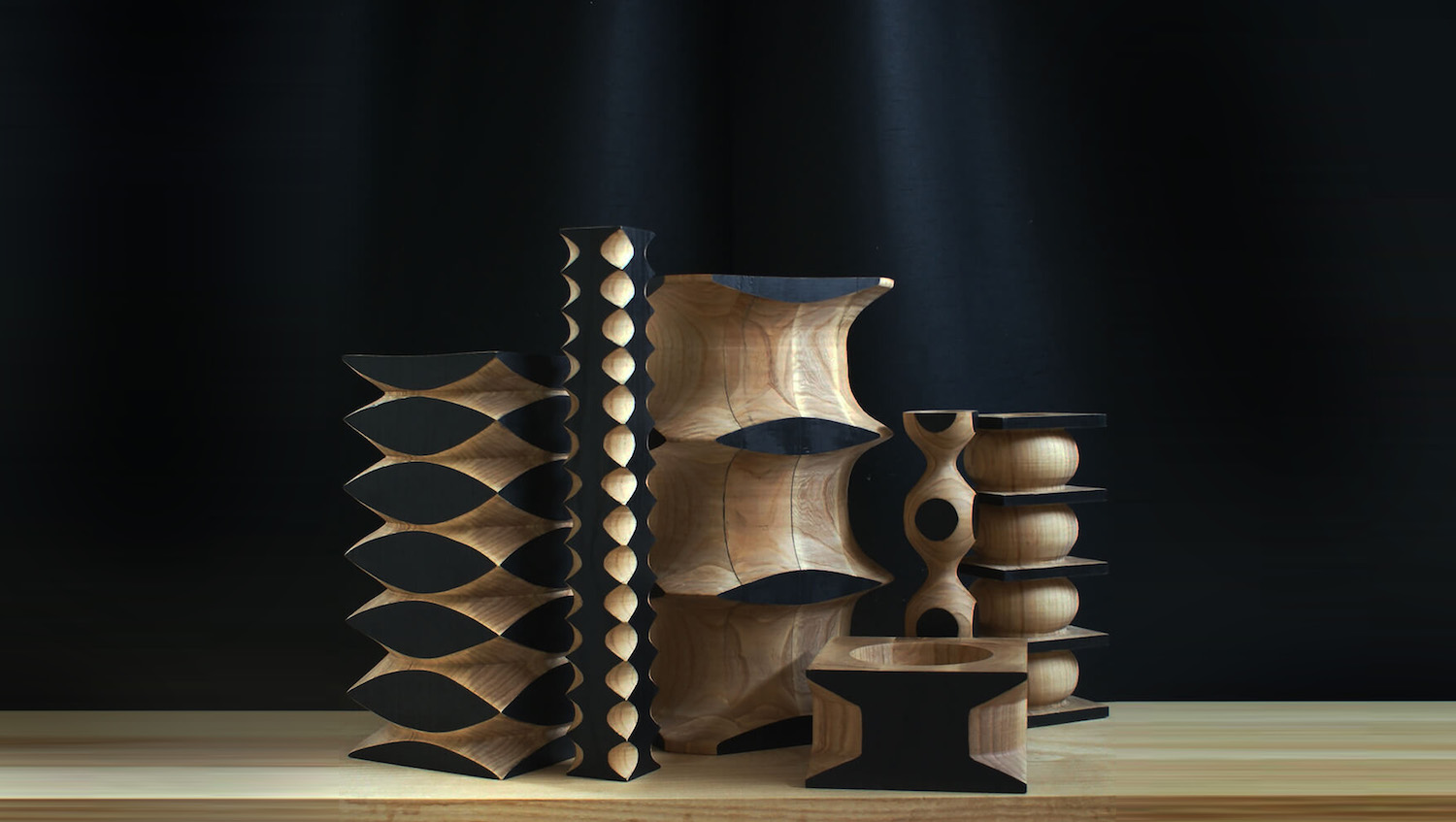 The series features striking, lathe-turned profiles that contrast rounded and rectangular forms.
Netherlands-based designer Koen Boersma created his series of decorative objects, called "A different turn" as a tribute to the dying craft of woodturning, highlighting the technique with an innovative process and a unique aesthetic.
Boersma wanted to stay away from traditional, hand-turned wooden designs. "You can quickly end up with an old-fashioned object like a bowl or a vase," he explains. "I wanted to see if I could create a different, more modern-looking form." To do so, Boersma started with a beam-shaped piece of ash wood, which he painted black before placing it on the lathe.
The turning process that followed created a contrast between the newly revealed, natural colour of the rounded ash wood and the flat, black sections of the untouched beam. The final, totem-like appearance of the collection is the result of experimentation. "I eventually developed patterns inspired by different tools and by choosing to go deep into the wood or not," he explains. When Boersma is happy with the shape, he applies a discreet varnish to protect the surface without altering the colour.
The time it takes to create each piece depends on the size of the wood. Objects that require narrower pieces are quicker to produce because there is less preparation before turning, whereas pieces that are wider than 6cm require Boersma to glue a number of ash wood planks together. This is to prevent the wood from tearing, which he says is more likely because the rectangular shape of his designs requires a lot of isolated cuts to the surface rather than a continuous process of chiselling.
Do you think craftsmanship is dying? Meet the makers of Instagram revitalising the art of woodworking!
Koen Boersma revives the dying craft of wood turning
"The love for the dying craft of wood turning, in the Netherlands, is what has shaped this series and the tools traditionally used in turning have inspired the designs," says Boersma. At present, Boersma's process involves creating decorative vessels without a specific function in mind, although some pieces have naturally developed to become candlesticks and vases.
After exhibiting his pieces during Dutch Design Week in October, he says he received a lot of interest from people who wanted to see the pieces in different colours. His plans are to experiment with natural ways of altering or accentuating the natural surface of the wood.