Furniture design
The star of this fantasy cave rendering is Bestcase's giant bookcase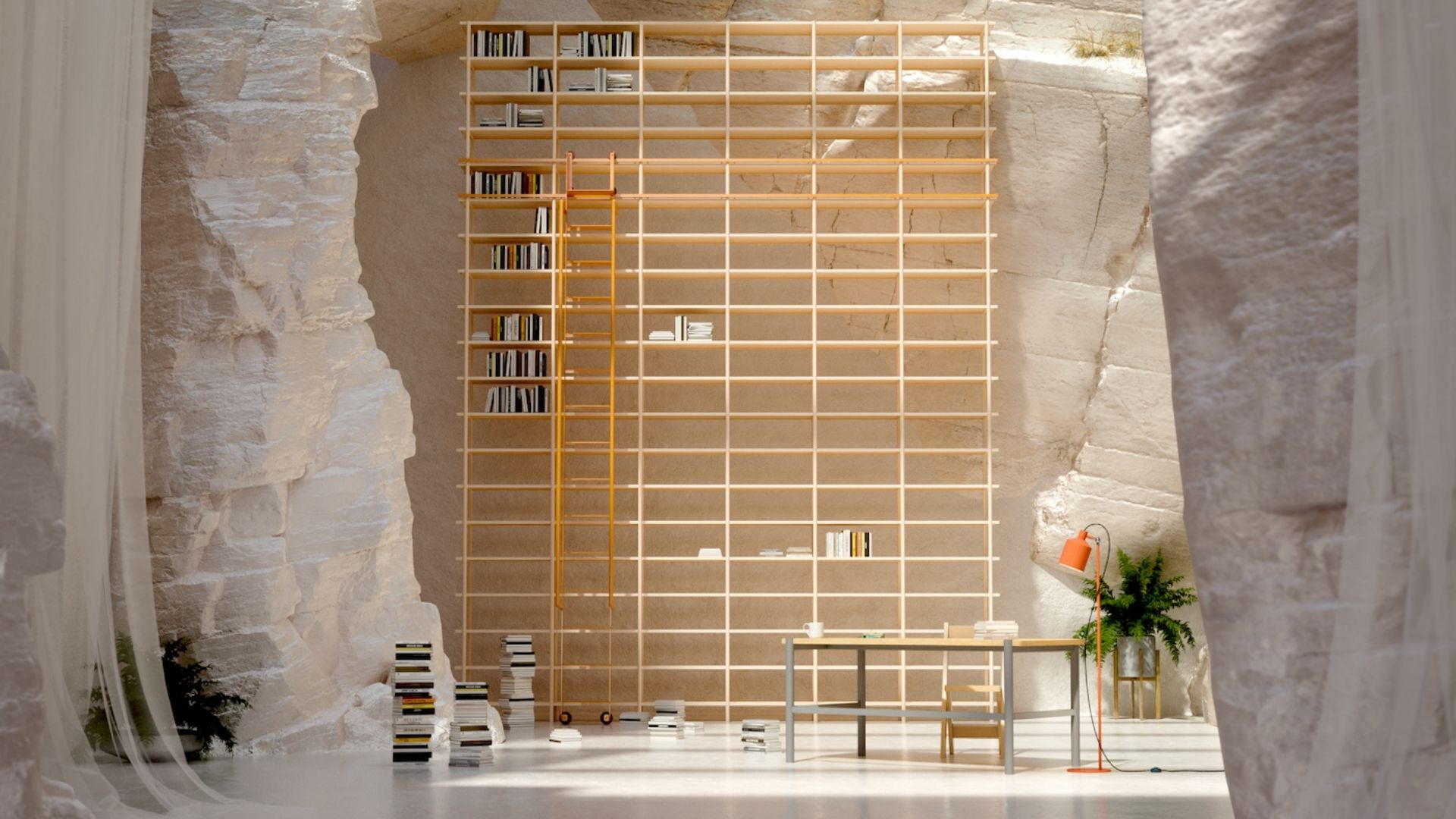 Design firm Bestcase has collaborated with 3D-rendering studio Renderfolk to create a virtual residence showcasing its Scaffolding system, a versatile product that forms the basis of beautifully designed shelving.  
It's a clever way to save on the cost of production. Instead, a fantasy environment allowed the team at Bestcase to showcase the versatility of its Scaffold system and how it adapts to different surroundings.
Designed and manufactured in New York, Scaffold is a simple shelving system made up of 16 gauge aluminum that has been brake-formed into shape.
This is combined with laser-cut tubing and attached with proprietary joints to give the unit its structure. All items are finished with a no V.O.C powder coat. 
Inside this virtual home (aptly called the Cave Residence), Scaffold finds life in various situations.
Limestone-clad interiors unfold to reveal a Growing Lab supported by a giant shelving unit containing cabinets for tools, under shelf grow lights, and work surfaces for manicuring and pruning.
Elsewhere, a study room inspired by the Petra World Heritage site features a shelving unit built directly into the rock face like its namesake inspiration.
The light-filled interiors also include a bathroom, in which a stainless steel unit frames the outdoor view.
A sliding ladder accompanies a bookcase that reaches for the sky-high ceiling.
Finally, in the living room a bookcase with integrated seating and stainless steel perforated backing creates a striking vignette. 
An inverted concept highlights Scaffold's limitless potential
The rendered images are part of a long term collaboration between Bestcase and Renderfolk, which also provided product renders of the brand's stock items that launched at NeoCon 2021.
"The goal of this collaboration was to present a typically ubiquitous object, the bookshelf, in a novel setting that highlights its adaptability in a way that isn't diagrammatic," explains Charles Constantine, Design Director of Bookcase.
"This was achieved by juxtaposing manufactured rectilinear structures against a natural (virtual) variable landscape."
"A scaffold typically supports the environment it inhabits, whereas here the aim was to invert that relationship and have the environment appear to support the fixtures.
By creating complex environmental conditions we are able to showcase the versatility of the Scaffold system and highlight its linear qualities that would appear more subtle in a typical space."