Architecture
The new wave of modern Ukranian interior design – Bogdanova Bureau interview
From bespoke pieces to a unique use of colours, Bogdanova Bureau is defining Ukranian design.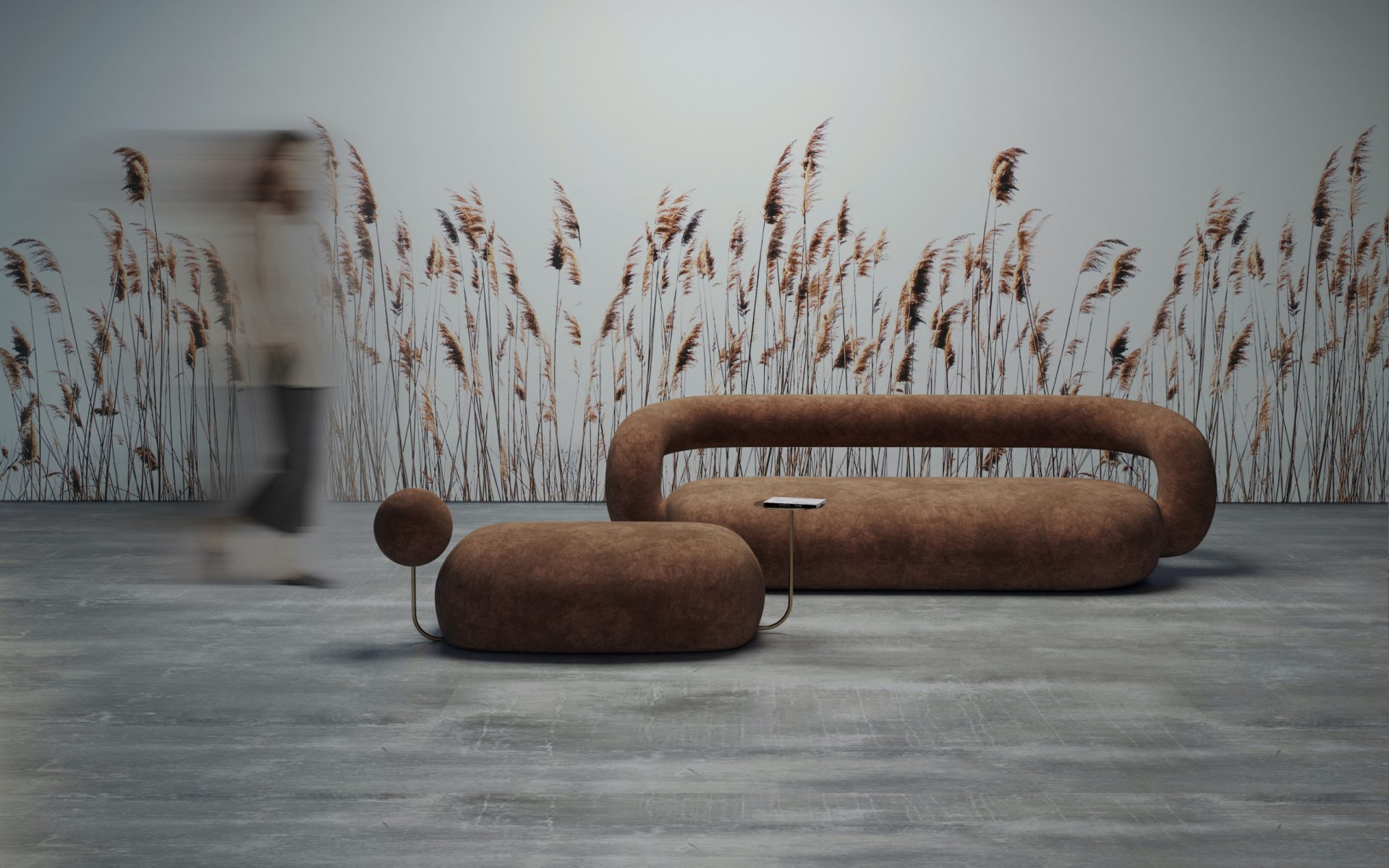 With a unique approach to materials, shapes and colours, Bogdanova Bureau was founded in 2018 with the vision of making Ukrainian design recognizable all over the world.
Creating modern architecture and design for residential spaces and commercial projects in beauty, wellness and medical industries, Bogdanova Bureau's exclusive approach invites the user to switch to a slow life by designing long-life bespoke pieces and combining them with old furniture and décor objects, maintaining an eco-oriented approach.
Who is Olga Bogdanova? How did the journey for Bogdanova Bureau begin?
Olga Bogdanova: "I'm an architect, the founder of Bogdanova Bureau, and also a curator of Ukrainian design exhibitions in Europe.
In 2007 together with Slava Balbek we had founded 2B Group, the company which had been one of the leaders of the Ukrainian interior design sphere. In 2018 we both found out that we want to develop into separate directions and launched two different design companies – Balbek Bureau and Bogdanova Bureau.
Our branch, Bogdanova Bureau, was concentrated more on architecture and design for residential spaces, product design and art-direction. After creating the interior for 365 Beauty Studio we also got a lot of requests to design beauty-spaces. Now we are glad to work on 3 new projects from this area."
Why Bogdanova Bureau? Why focus on residential architecture, interior design, product design and art direction?
Olga Bogdanova: "In the beginning, I wanted to name my company differently, without any direct connection to my name. It was my team who supported me and voted to run with the brand Bogdanova Bureau.
I am really grateful for that suggestion and understand that it was the right decision. It was right to build a new company based on a strong professional background and recognition I had already gained in Ukraine.
One of the crucial values to me is the personal story and unique experience. I think design is a kind of craftsmanship that relies on personal vision. Every interior somehow reflects an architect who created it. Projects by Bogdanova Bureau have a deep sense of elegance and even some intellectual touch.
In addition to my work as an architect, I chose for myself the mission of putting Ukraine on the world map of design and making modern Ukrainian design recognizable all over the world.
I mean both interior design and product design. That's why I worked on organization exhibitions of Ukrainian design in Paris, Eindhoven, and Milan. Working there with some Ukrainian brands I understood that I can be helpful also by cooperating with them deeply.
With art-direction we can help clients make their narrative clearer and stronger, to create entire collections, and show them how to make an impression and reach their audience better."
You create a new story of living around your clients that is more than pure design. Which are the main values, core concepts, or style inclinations that, above all, will always represent Bogdanova Bureau?
Olga Bogdanova: "A personal story of a client is one of our main values. Most of our clients are busy people who work a lot and are not used to caring about themselves or their comfort really much.
Our goal is to teach them how to enjoy the beauty which we create around them. They just do not have time for it. We aim to teach them how to switch to a slow life.
We help our clients to invest wisely, by buying such pieces of design which remain actual through the years and make the price of their property rise because of its thoughtful design.
One more value for us is the original design. It is not a really popular issue to discuss, but in Ukraine as well as in other European countries, there is a huge problem with fakes.
It is our point to explain to our client that buying a fake is the worst idea of how to cut the budget and it is not worth it. We often create our own furniture for our interior projects. We do not launch such products in mass production but design and produce them as a personal solution to a particular project which adds more value."
Bogdanova Bureau works very closely with its clients from concept to final outcome. Can you describe the creative process you follow when starting a new project?
Olga Bogdanova: "At the first meeting, we listen to what the client wants and propose them to dream big. We analyze the way of the client's living and habits to understand some hidden needs.
Then we find the right direction in line with a client's personality and take some time to design the project. Eventually, we bring a solution to the client and get to its implementation when it is approved.
We pay a lot of attention to the idea of how a person or their family would spend their time in space, and speculate different scenarios from their everyday routine. We aim to design the space where its inhabitants would get visual and tactile joy from every usual process.
Sometimes a client can not afford to buy all the furniture and décor we pick. In this case, after finishing the renovation, we create kind of a wish list for the client. We put there all pieces that would match the interior. So in some time a client could buy them or offer some relatives and friends to present something from the list as a birthday gift if it is appropriate."
The project 365 Studio beautifully displays your expertise on residential spaces and commercial projects of beauty and wellness. Can you tell us more about this project, its inspirations, and the process behind it?
Olga Bogdanova: "As I told before, we used to concentrate on residential projects for some time. Then we started to design some commercial interiors and brought there our accurate approach when we work on every single inch of the space.
It is absolutely necessary in a private interior and not so common when we talk about the design of public spaces. It appeared as a precious gift when we designed 365 Studio, the modern beauty salon where you can get up to 5 parallel procedures at the same time."
Olga Bogdanova: "The crucial aspect of 365 Studio's interior is its ergonomics and thoughtful logistics inside the space. The comfort of customers and masters is equally important. We even calculated a correct swing of the pedicure chair by testing it on the real-size model so that clients can take off and put on their shoes in the most comfortable way.
The key element of the project is the stair with a green steel banister. Above it, we hang up elegant pendant lamps by Ukrainian brand Noom. Rounded shapes of the banister add some dynamics and continuity to space. These elements are aligned with some of the walls and work surfaces radiuses, shapes of mirrors on walls, and three bar islands."
Olga Bogdanova: "365 Studio has the stunning Man zone with a separate entrance. Besides three barber chairs, there is a zone for combined manicure and pedicure where you can watch a movie on a 52 inches screen or play on a Playstation with your neighbor during the procedures."
Being one of the leaders of Ukrainian interior design, what do you think are the main trends & future directions within your practice and what do you think of them?
Olga Bogdanova: "Frankly, I like the process we have been having in Ukrainian design for the last years. In 2013-2014, the so-called "Revolution of Dignity" made an impact on Ukrainian cultural life and all creative industries.
People started to appreciate their history, traditions, achievements, and themselves more. Our designers started to mix artisan techniques and new approaches. They were looking for a new concept of Ukrainian design.
I am not sure how noticeable it is from outside the country, but here we feel how it is shaping and developing right now."
"I would describe the Ukrainian design as an exclusive approach, which does not try to compete with mass market. It has its unique aesthetics which is closer to collectible design.
Ukrainian products have high quality and often use some elements of handicraft in it. When Ukrainian designers were ready to tell more about themselves abroad, they started using the design platform Prostir 86 and some other curators started to curate and organize Ukrainian exhibitions on Paris Design Week, Dutch Design Week, and ISaloni Milano.
Also, I can name some trends in the interior design that we implement in projects by Bogdanova Bureau:
– Respect to old furniture and décor objects, combining them with new phases;
– Blurring the boundaries between indoor and outdoor;
– Less colors or focusing on one accent color for the entire project;
– Mixing exclusive and precious materials with simple and basic ones;
– Eco-orientation;
– An appeal to some ideas of modernism."
What are the next steps for Bogdanova Bureau?
Olga Bogdanova: "We work on three new interiors projects from the wellness category and several residential projects of different dimensions.
We are thrilled to step into the international arena and create projects abroad, so we are working on our first project of a commercial interior in Switzerland.
Also, we like the idea to realize some projects in China, as a country which has its own strong cultural traditions and highly appreciate elegant European design.
Apart from this, we created an unusual idea of the furniture collection for one of Ukrainian companies. It would need to invite different product designers to realize and launch it. I am sure it will be a fascinating journey!"