Architecture
Diez + Muller Architects and Uribe Schwarzkopf Unveil Plans for Residential Tower in Quito, Ecuador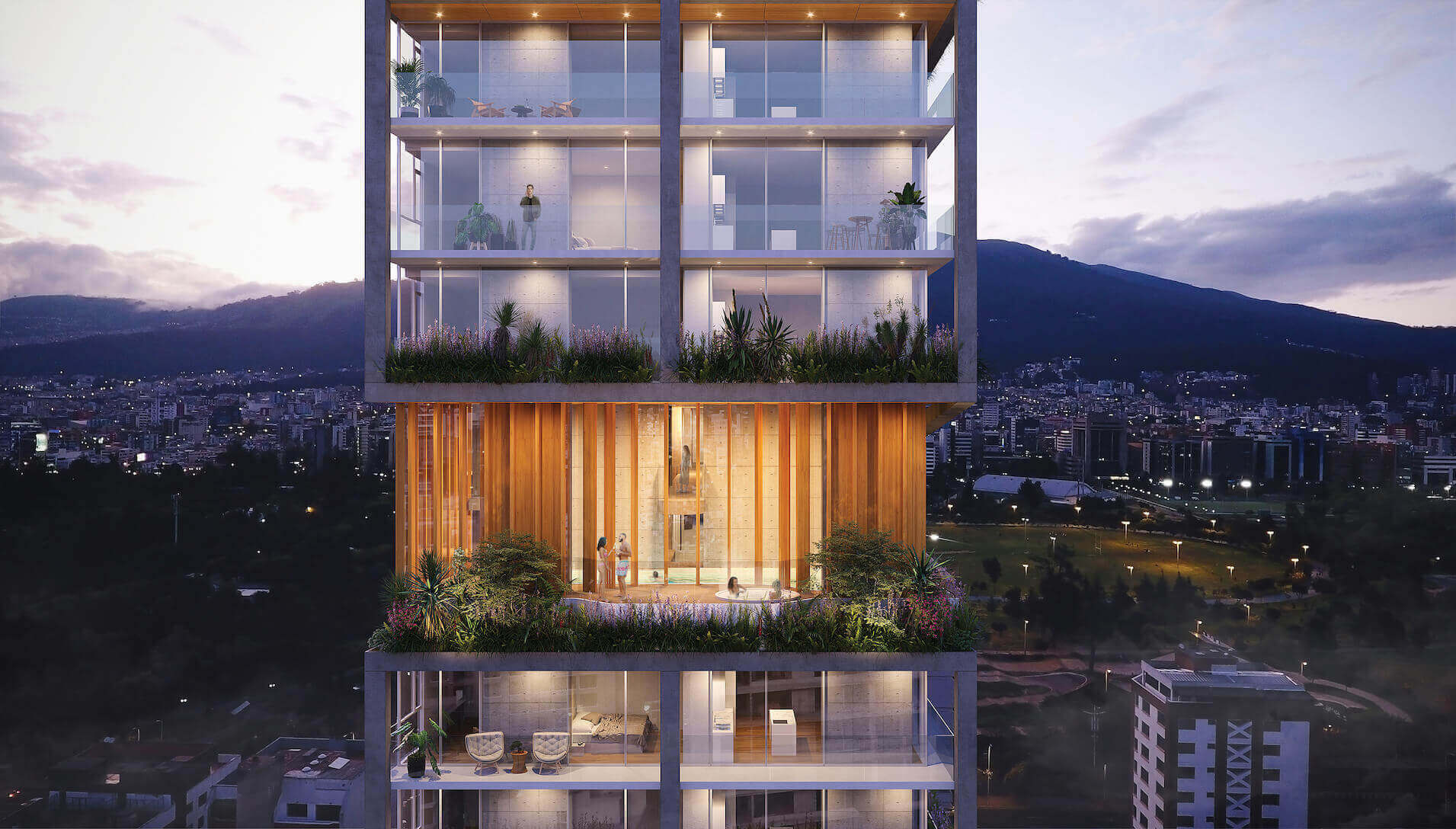 Qanvas occupies a highly visible corner in the city, combining sleek aesthetics with eco-efficiency to create stunning spaces for pedestrians and residents alike.
Today, Uribe Schwarzkopf and Diez + Muller Architects unveiled their third collaborative project in the city: Qanvas, a unique project that prioritizes eco-efficiency and design to create a structure that will enliven one of Quito's busiest corners with lush greenery.
Diez + Muller is one of Quito's leading young architecture practices, founded by principals from the city and passionate about the sustainable development of the metropolis. For this project, they've partnered with Quito's leading developer Uribe Schwarzkopf, known for setting new architectural and environmental benchmarks for the city.
Qanvas's striking facade features alternating elements – concrete, wood, and local vegetation – which form an undulating wall of greenery extending up towards the sky in synergy with the mountainous landscape of the city. Both the terraces of the apartments and raised gardens throughout will feature lush landscaping, creating a vertical garden that tops off at the roof terrace with native landscaping and panoramic views of the city and surroundings.
Responding to a brief from Uribe Schwarzkopf that aimed to create an open, airy feel in the public areas as well as the private ones, Diez + Muller designed an adjacent pedestrian plaza lined with trees, creating a park-like space amidst ground-level retail and commerce.
If you are curious to know more about residential architecture, don't miss Azaz Architects is making its mark in the architecture world.
"Qanvas offered an exciting opportunity for us to experiment with the leading edge of eco-efficiency in amixed-use building in the heart of the city, and apply that principle to the aesthetics of the structure. We were really excited by the challenge Uribe Schwarzkopf put forth to make the building as eco-efficient as possible, and the expertise lent by their team to push boundaries," noted Gonzalo Diez, co-founder of Diez + Muller.
His partner, Felipe Muller, continued: "We conceived of Qanvas as an oasis in the middle of the city, and are so excited for this project to come to life and inject the city's center with a fresh burst of greenery, air, and pedestrian space."
In 2019, Uribe Schwarzkopf was awarded the Energy Globe Awards – Ecuador, recognizing the company's sustainability standards, which will be used by Uribe Schwarzkopf in the design and construction of Qanvas. The building supersedes the city's highest eco-efficiency standards, with green facades and terraces; rainwater capture and recirculation; and partial energy self-sufficiency.
Each aspect of the building is designed to be as environmentally friendly as possible — for example, the facade's shape and structure are designed to isolate and harness heat and shade to reduce energy costs. Further, the vast majority of construction materials will be acquired from local suppliers, with materials that contribute to LEED and GreenPoint certifications.
"We were thrilled to collaborate with local architects Diez + Muller on Qanvas, to innovate and push forward together to create one of Ecuador's most eco-friendly buildings – and one that brings greenery and light into a busy area of the city," said Joseph Schwarzkopf, General Manager of Uribe Schwarzkopf. "Combining convenience, beauty, and forward-looking technology, Qanvas is primed to become one of the most sought after residential structures for the ever-growing community of young urban professionals."
As is typical of Uribe Schwarzkopf properties, Qanvas features generous amenities for residents, including a gym, spinning room, yoga room, spa, swimming pool, game rooms, kid rooms, event room, music room, screening room, co-working spaces, and of course the rooftop terrace with recreation and barbecue areas.
The building also will feature work from local artists, including a hummingbird-themed wallpaper designed by Maria José Mesías (Pepa), based on a mural she created for the sales center and show apartment for Qanvas.
If you want to know more about Uribe Schwarzkopf's projects, don't miss Arquitectonica and Marcel Wanders & Yoo unveil the Oh residential building.