Materials & Surfaces
Bouncing Patterns: 3D pleated textiles with spring-like properties
Through her weaving collection Bouncing Patterns, Juliette Berthonneau imagined modular 3D pleated spacer fabrics that contain absorbing, cushioning and self-supporting qualities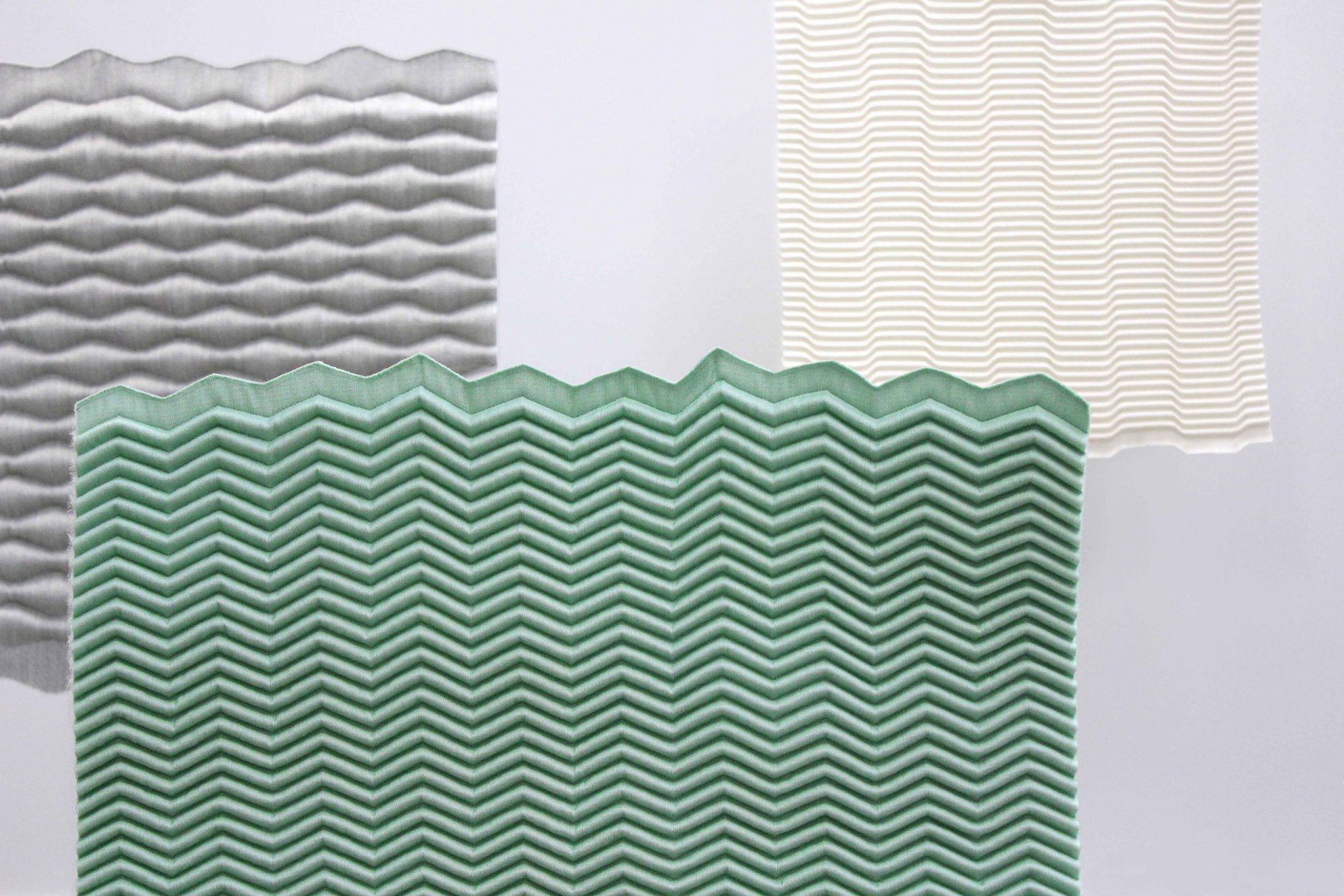 Bouncing Patterns innovative textiles by Juliette Berthonneau could result in unique sculptures along with cutting-edge solutions for acoustic issues in open spaces, thermal insulation, new mattresses or upholstery materials.
Textiles surround us in our daily life. As transitional components between body and space, they constantly cover, protect, structure, and unconsciously define our physical and sensitive relationship to the world.
Beyond traditional approaches, they are materials with boundless potential to be developed, particularly by exploring the use of textile technologies.
The Bouncing Patterns project by Juliette Berthonneau aims to open up possibilities. Industrial weaving tools may rethink the ways to produce, consume and use textiles.
Playing with the inherent cussedness of combined fibers and pattern structures, the specific process developed generates three-dimensionality within the textile itself as well as in the space it inhabits.
These textiles investigate the relationship between 3D pleated surfaces and dynamic forms, opening diverse properties that could be applied to many fields.
By definition, woven fabric can be made of several types of yarns with contradicting physical properties, interlaced to create customizable surfaces. For instance, a rigid fiber would give solidity to the material, while wool would bring it a soft feel.
A paradox between contrasting strengths creates a tension generating three-dimensionality. It also brings ambiguous features to the material, assessable through haptic perception.
Bouncing Patterns are both stiff yet flexible, bouncy and soft. In addition to their specific tactility, each textile can vary in color, pattern, and scale.
Graphical, rhythmic and also practical, they could become functional raw materials, with various insulating properties relevant to interior design. A single textile panel is able to filter light, heat, sound or shock, without using any reinforcing or filling material.
Bouncing Patterns are self-standing articulated forms, endlessly transformable following folding or compressing systems.
Explored as new form building principles, each textile of the collection could be used as a speculative architectural model or as a tool to sketch versatile complex products.
In reference to fabric as the main building material of primitive nomadic habitats, those weaves become sculptural and structural elements.
They take inspiration from large scale antique column constructions and the microstructure of seashells and perform as playful landscapes of soft architectural shapes.
Those changeable objects would be able to follow and adapt to our society in permanent motion.
Nowadays, new ideas must be achieved with environmental consciousness in mind. The life of a product should be envisioned from the beginning, and sustainability considerations must be integrated into the manufacturing process.
While challenging industrial Jacquard technologies, this research intends to shorten the production line and reduce textile wastes. Programmed digitally and designed as much as possible directly on the machine, the textile is the object, almost ready to use when cut from the weaving loom.
Additionally, the aim is to create a durable design, both technical and visual. The multilayer hollow structure is lightweight, sturdy, foldable, easy to carry and store. Transformable, one single textile object could have many functions.
Using simplicity and minimalism could be a way of creating a timeless design, not only as an aesthetic choice but also as a part of the ethics. The variation of light and shadows naturally emphasizes and modifies the three-dimensionality of the monochromatic surface.
Obviously, textile industries are oriented to fast mass-production, and most European weaving factories seem stuck in traditional making processes.
Textile design, art, and research could merge to rethink industrial strategies. Opening up access to industrial tools would enable creative researchers to imagine new ways to fabricate more consciously with respect for the environment.