Furniture design
Buster + Punch makes a bold statement with its new bathroom collection
Buster + Punch launches its first full bathroom collection combining the elegance of precision machined metal, the unique textures of hand casting and the brand's one-of-a-kind rockstar edge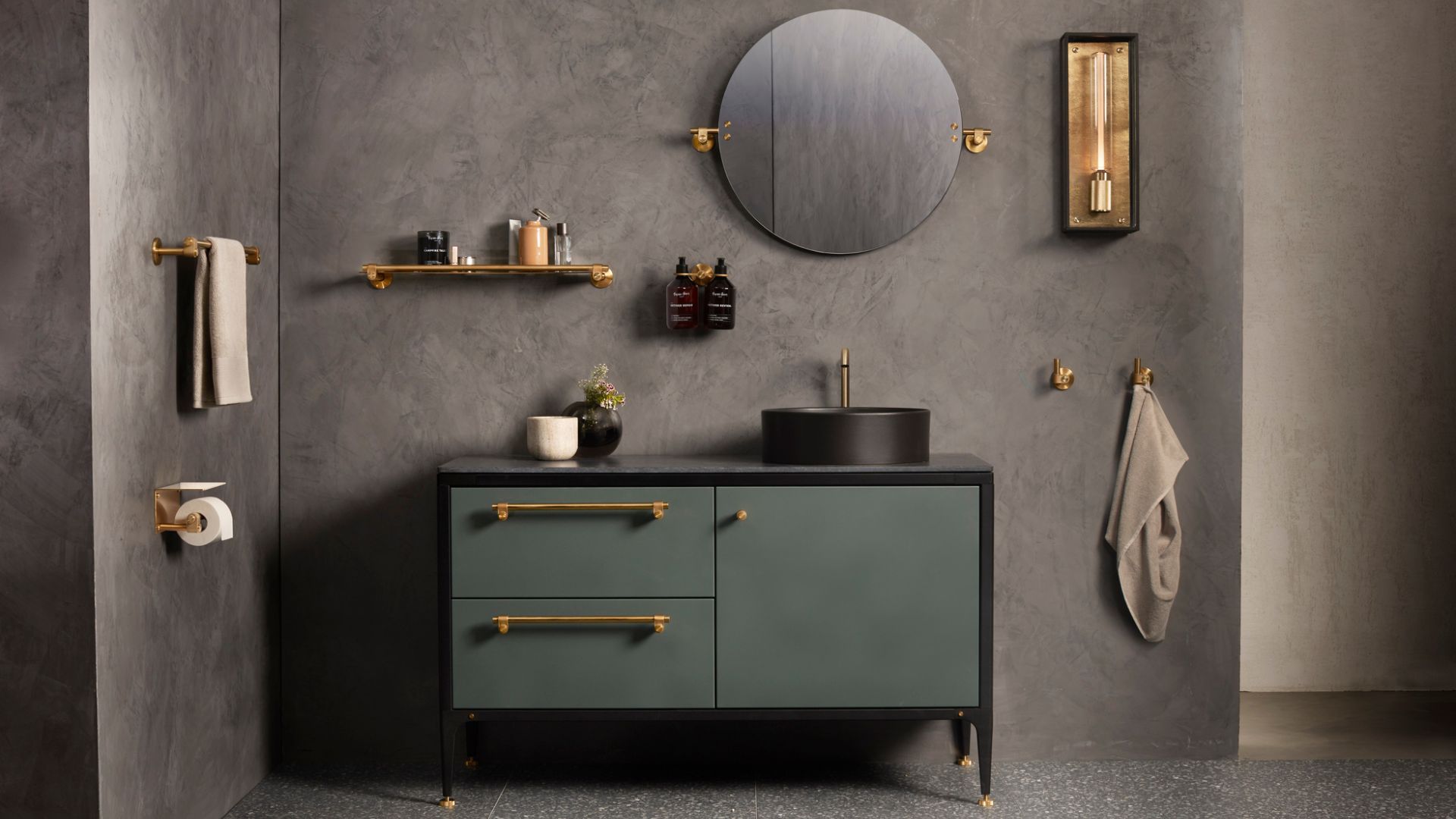 London-born home fashion label Buster + Punch is famous for its solid metal home fittings and fixtures, which define its first full bathroom range.
Named the CAST Collection, it includes towel rails, vanity units, wet-rated hardware, mirrors and shelving alongside several small-scale fittings like hooks, soap bottle holders, shower door pulls and toilet roll holders.
Made from cast stainless steel or solid cast stainless steel, with durable EPL or spray lacquer finishes, all of the pieces in the collection are suitable for wet spaces.
"The bathroom is one of the few rooms in the home where using complementary details in one material or finish lifts the interior to the next level," explains Massimo Buster Minale, the founder and creative director of Buster + Punch.
"The CAST finish lends itself to this, with the balance of softness and roughness in the collection bringing the look together effortlessly."
Minale launched the brand back in 2013 following a successful career as an architect at Fosters & Partners and Richard Rogers.
Born out of a love for building motorbikes and working with raw, solid metals, Buster + Punch was created as a way of extending this passion as a way to create the bones of any home.
Since then, Buster + Punch has carved out a space in the market for creating beautifully crafted hardware and accessories.
The brand's trademark use of solid metals and precision detailing runs through every collection, with smooth and rough elements giving tactile glimpses of the processes behind each piece.
Lending this particular collection a sense of style and originality are the knuckles and grips that feature on each piece.
Refined by hand and available in a range of finishes—steel, brass, gunmetal and welders black—they make Cast a stand-out range of pieces in which no two products are the same.
"The look combines the smoothness of the brand's hand-polished solid metal bar with tactile cast knuckles and grips, which reference industrial techniques found in period buildings and factories," says Minale.
"The rough and the smooth elements fuse as one to tell a story of materials, and the machines and hands that craft each piece."
Among the collection is a small circular, adjustable mirror with rough-cast knuckles and a hand polished solid metal bar.
It features solid spun metal studs and tilts on its axis to adjust to your height.
Similar details can be found in the toilet roll holder and towel rail, as well as the pull bar, which combines the cabinet hardware for a seamless look.
Elsewhere, a single soap holder features a rough-cast bracket and solid metal bar, with a solid metal disc, all refined by hand.
For the offset knuckles and grips, the brand drew influences from industrial-era architecture and oversized cast pipework.
"The casting brings a dynamic texture to interiors, and each knuckle or grip is one-of-a-kind as a result of the process," Minale adds.
"Cast is the progression of our love of working with metal, processes and everyday objects that often get overlooked.
This time it's the hand casting process itself we're focussing on. We see casting around us probably every day but don't pay it any attention as it's just functional.
But it's got a real decorative raw beauty when you play it off against something that's highly polished. And the way the process makes every cast piece totally unique is very rare in design."
Building on Buster + Punch's acclaimed Cross and Linear-knurls, the collection breathes a unique expression into hardware and interior detailing.
Combined with the brand's precisely machined solid metal elements, the casting process tells a tale of material rejuvenation, which the brand describes as "a fitting narrative" for bathroom spaces. 
"The bathroom is a space where all your metal needs to match," says Minale.
"Each piece in the Buster + Punch bathroom collection is designed with this in mind, to create a refined, seamless look, like no other."
The Cast collection is available now and can be viewed on the Buster + Punch website, or alternatively, customers can shop the collection in House of Buster + Punch, the brand's omnichannel campaign which takes the form of an immersive digital townhouse encompassing real-life talents, including rappers, dancers and social media influencers.