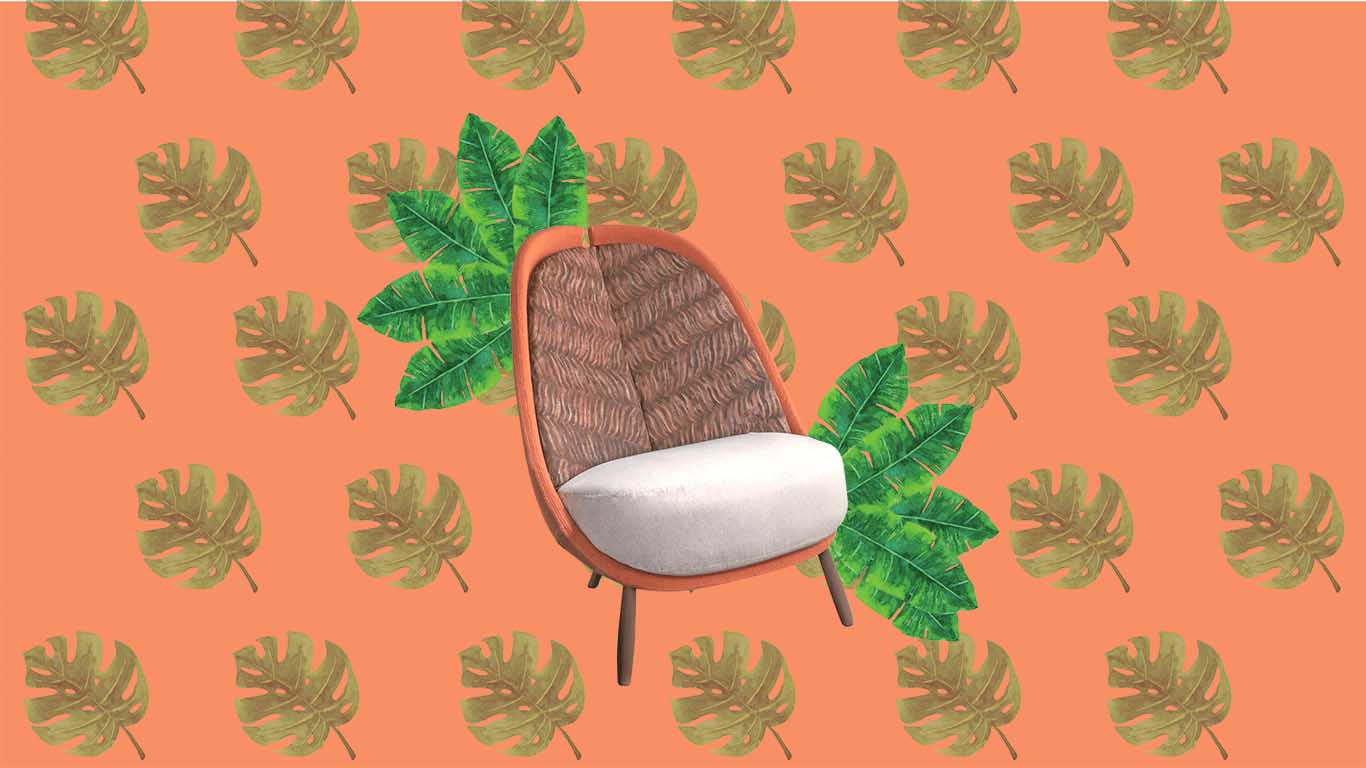 Made using recycled and recyclable materials. Calatea Green is a sustainable re-edition of the Calatea chair by Italian designer Cristina Celestino for Italian furniture brand Pianca.
Italian designer Cristina Celestino has redesigned her 2017 Calatea chair for Pianca, using eco-friendly materials in support of a circular economy model. The chair, which is made from 90% recycled materials, was unveiled earlier this year in Turin during the inauguration of Green Pea, Italy's first Green Retail Park.
Paying homage to nature and sustainability, the chair has kept its enveloping design inspired by the extraordinary qualities of organic plant forms. Meanwhile, every other element has been reconsidered in a bid to make it completely recyclable or repurposed. By definition, circular economy refers to products whose materials are either recycled or can be recycled and put back into a never-ending circular loop.
The chair's padding is now made from recycled PET fabric, sourced from water bottles, which is both recyclable and compostable. Meanwhile, the upholstery fabric is made using an open-end cotton yarn that comes from 100% recycled material certified according to the Global Recycled Standard.
The chair's shell is made from plywood and the legs are made of FSC-certified ash wood sourced from responsibly managed forests with controlled logging against deforestation.
The chair's most noticeable new feature however is its hand-painted design, created by Milan-based illustrator Alberto Fiocco using non-toxic, water-based ink. This decoration is a tribute to Celestino's home in Friuli Venezia Giulia, an Italian region bordered by the Julian Alps mountain range, and the native alder tree that thrives there.
"Calatea Green is the natural evolution of an armchair created in homage to the botanical world," says Cristina Celestino. "Every element of it speaks the language of nature and sustainability and is the bearer of a message that Pianca wants to share with its clients and the design world as part of its longstanding commitment to responsible work processes."
"Calatea Green is an armchair designed to endure over time, to be iconic, yet respectful of the spaces it helps to furnish, perfectly functional, yet capable of provoking emotions and reflection, bringing the beauty of Nature into interiors."
The chair is a reflection of Pianca's eco-friendly model, which includes a long-standing tradition of using raw wood from sustainably certified forests. The company also uses 90% recycled packaging and relies on a photovoltaic system that meets the total energy demand of production.
Curious to find out more about studios committed to sustainability? Head to Arper Environmental Department – Designing the world we live in.
Established in 1954, Pianca's woodworking culture represents fourteen generations of masters, pioneering many milestones in the history of the furniture industry including their commitment to green manufacturing. Today, it also uses non-toxic wood board composites, non-toxic glues, and water-based lacquers, making them the perfect partner to celebrate the opening of Green Pea.
Located in Northern Italy, Green Pea is the country's first retail park dedicated to sustainability. It features five floors and 15,000 square meters of space, housing a 150-square-meter Pianca showroom to display furniture designed and built with the environment in mind.
In keeping with the overall purpose of the showroom and the retail park, Pianca has collaborated with Green Wise to create a series of natural installations throughout. The Japanese design studio created floral designs using predominantly Kukido arrangements, an approach promoting organic, local and seasonal cultivation of plants and flowers.
In place of commercial flowers which are often cultivated using large quantities of chemicals to extend their lifespan, Green Wise has chosen plants grown in near-wild conditions. As a result, they feature beautiful irregularities including holes and scratches that are proof of their origins.
These arrangements guide visitors from the main entrance into the Pianca store, bringing nature into the furniture displays and eliminating barriers between the inside and outside. They also work to emphasize the organic forms and sustainable processes employed in pieces like Celestino's Calatea Green chair.
Discover about other studios pushing the limits of sustainability, don't miss the Interview with The New Raw.