Furniture design
Domkapa launches virtual showroom experience as part of Maison et Objet 2021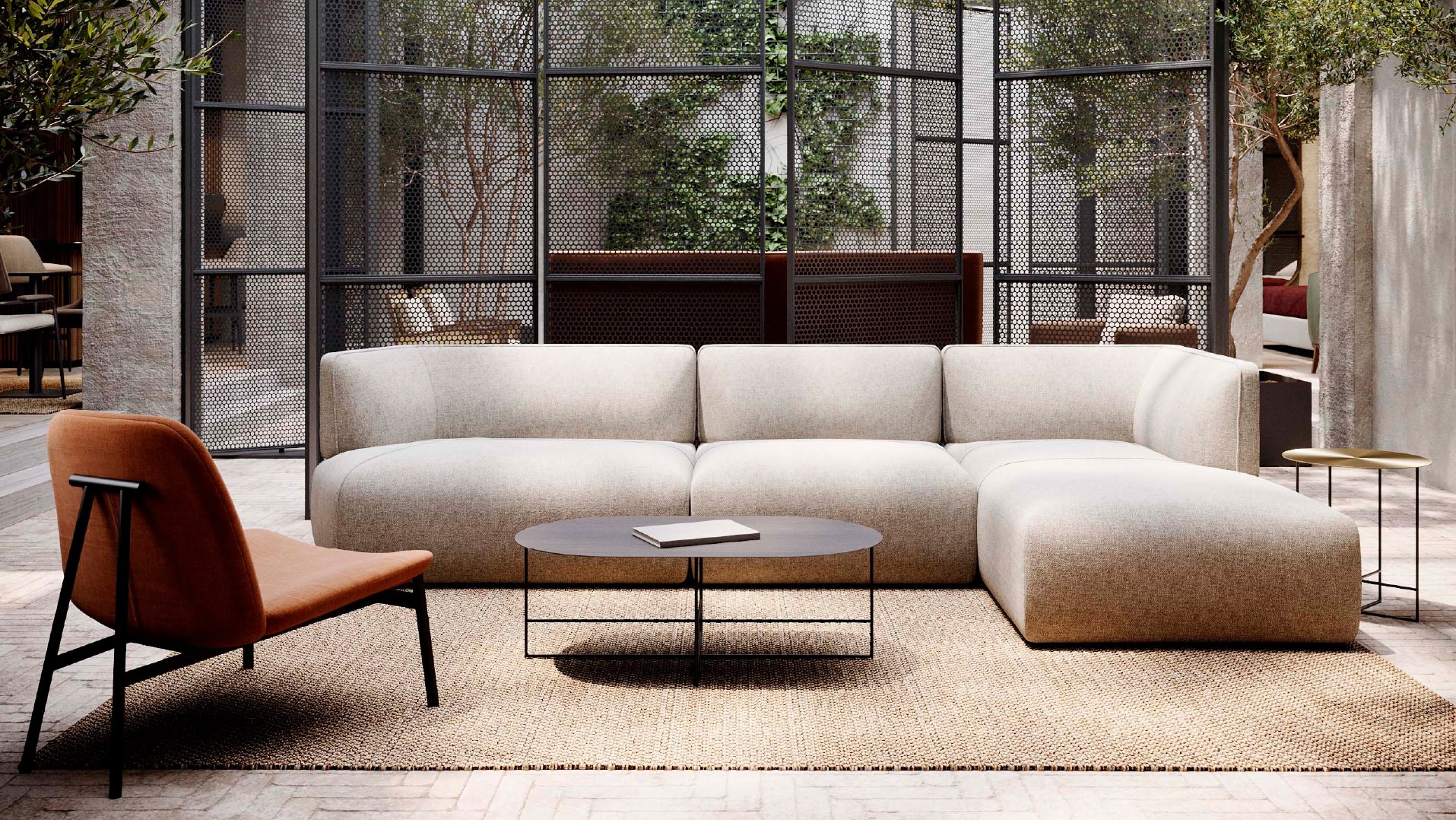 Despite a global pandemic, luxury furniture brand Domkapa finds a global stage at Maison et Objet 2021, creating a unique showroom experience accessible online.
Domkapa brings new meaning to its slogan 'where design meets comfort' by inviting people to experience their virtual showroom from the comfort of their own home. Debuting as part of Maison et Objet 2021, the Portuguese design brand brings a unique vibe to a museum-like setting inspired by nature and the rich materials, shapes, and contours that characterise its collections. Based North of Portugal on the edge of the city of Porto, Domkapa has developed a tremendous passion for artisanship aligning itself with an almost haute-couture philosophy.
There are four pillars that Domkapa proclaims underpin all that it creates: manual sewing techniques, high design solutions, comfort and quality materials. Together, these four elements support the brand's reputation in upholstery. Meanwhile, its expertise is backed by a wealth of experience producing furniture and upholstery items for private label projects – Domkapa was founded in 2009 but only became independent in 2017, a tenure securing the company a place in the contemporary furniture market.
Also in Italy, the combination between design and manual techniques is so relevant that a Design Icon stated that Italian design is artisanal in nature!
Led by an organic synergy between the design team and production, Domkapa works to make each piece unique. Across sofas, armchairs, upholstered benches, beds and footstools, stitching is achieved through the usage of manual cuts, hand sewing and artisanal techniques. The machine is only a support compared to the mostly manual work of its Portuguese artisans, of which many specialise in metal and woodwork.
Look only at Domkapa's 2021 collection, the highlight of its new showroom experience and a perfect demonstration of its excellence in upholstery. The generous dimensions of its Edson and Miller chairs find company in the smoothed contours of its new Helen bed, and the sinuous curves of its Chloe sofa. Every piece is uniquely designed to stand the test of time by fusing heritage elements with modern influences, and like all Domkapa's products, the collection is handmade by its artisans in Portugal.
As part of its showroom experience, which is now live, Domkapa's 2021 collection sits alongside the company's most-coveted pieces, inviting guests to explore at their leisure. More than 30 products make up various settings that demonstrate the carefully crafted world of Domkapa's stunning contemporary designs. The showroom includes two living room sets and two bedrooms ambiences to inspire residential projects, while for those interested in contract and hospitality projects, there are bar and lounge areas. 
Feeling inspired by handicraft? Take a look at Made Trade's beautiful, ethically-made and sustainably-sourced products for your home and wardrobe!
The virtual platform is also offering a behind-the-scenes look at Domkapa's production with an area dedicated to the handmade nature of its collections. Visitors can discover Domkapa's values of traditional craftsmanship, which are no doubt a pleasure to instil whilst producing in Portugal – a country notorious in the interiors industry for artisanal quality.

Domkapa's virtual showroom experience is available until 29th January and is accessible to everyone. As well as the various room sets and the exclusive look at Domkapa's production, visitors can peruse its new catalogue, which is full of great inspiration and all the relevant technical information of each piece.