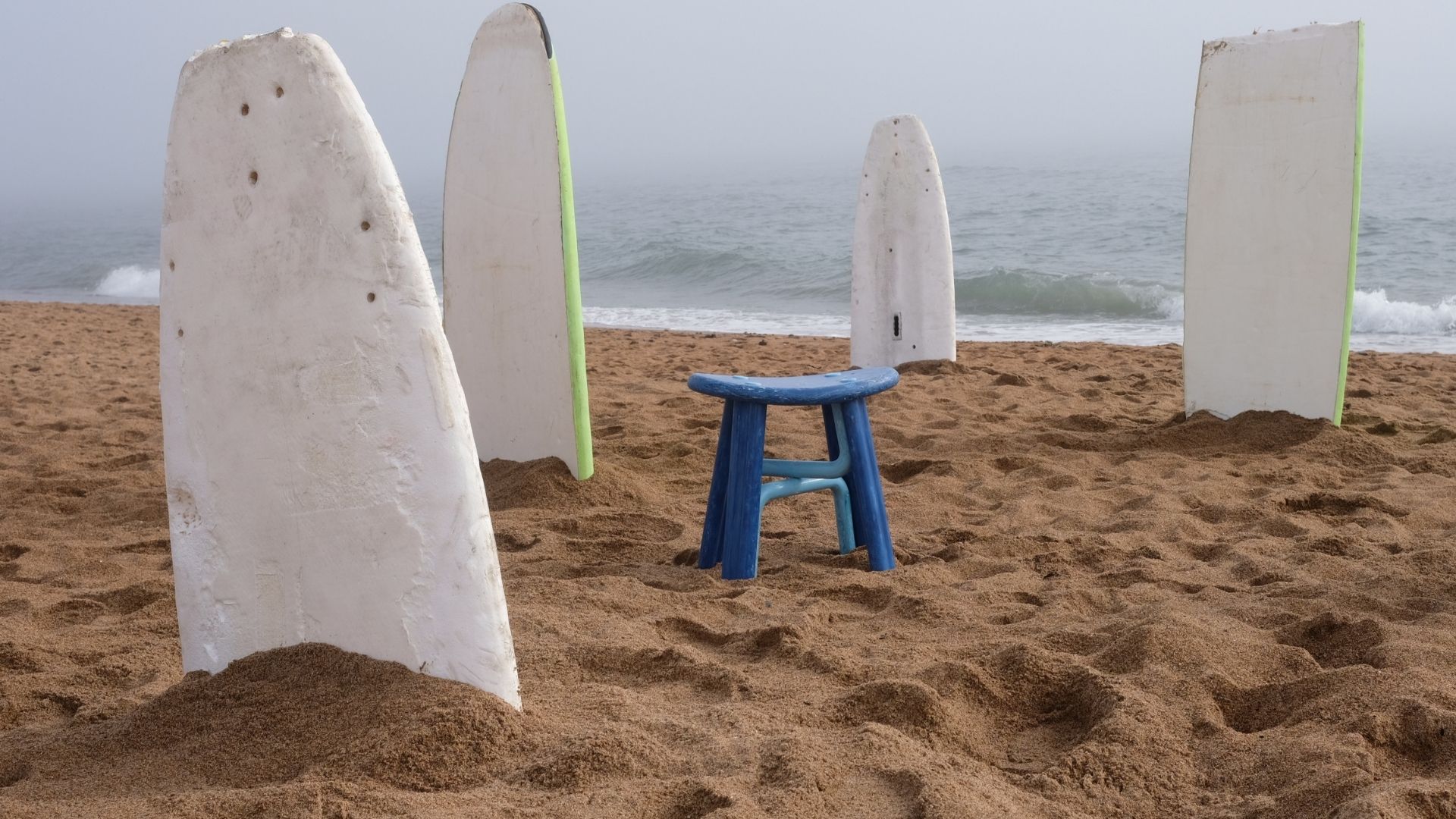 British designer Harry Peck is on a mission to solve the environmental effects of surfing by transforming waste surfboards into stylish and sustainable furniture.
It is estimated that every year 16,000 cheap, polystyrene bodyboards are abandoned on UK beaches often after a single use, so student designer Harry Peck has come up with a way of upcycling the material into durable furniture. 
Called Wave Cycle, the collection comprises stools, a chair and a shelving unit, all of which are made from recycled surf and bodyboards.
They are the result of in-depth research into the recyclability of polystyrene, which makes up the foam core of most surfboards.
Peck conducted over 100 tests on polyurethane and polystyrene to gain a clear idea of the strength and feasibility of each process. 
"Polystyrene is a thermoplastic, meaning it has great recycling properties and provides a glossy desirable finish," says Peck.
"This exploration process helped me to achieve a design that is in keeping with the properties of the material." 
"The design and manufacturing process is committed to supporting and celebrating environmentalism within the surfing industry whilst also providing a recycling solution to the waste within short life polystyrene packaging foam." 
The manufacturing process is broken down into 3 simple stages:
The polystyrene foam structure breaks down through heat and reduces in size by 90%.
The melted plastic is then placed in the shredder to produce small granules which makes it easier to process the plastic using the extrusion machine. 
Finally, the plastic is heated again and injected directly into the mould.
Peck uses metal molds to form various parts of a stool, which he's then able to put together using screws.
"The final design for the furniture range aims to utilise all of the 4 designed components," explains Peck.
"Through using 4 different components it means that the designs are very simple to manufacture and all require the same moulds so would minimise tooling costs."
This year's Sustainability Winner of the James Dyson Award is this device that uses infrared light to detect plastic components.
Giving marina pollution a purpose
This is an innovative project that continues Peck's work on sustainability.
Last year, he unveiled the Raw furniture collection, which featured pieces made from Cornish tree species in a bid to regenerate the local economy, increase planting and encourage woodland management.
Moreover, it illustrates a smart way designers can imbue extra layers of value into their products.
Similarly to Dutch studio The New Raw and its Elements collection, Wave Cycle draws attention to the issue of plastic waste and beach pollution by transforming it into desirable furniture. 
Recycling plastic toys, Belgian studio ecoBirdy produces plastic furniture similar in appearance to man-made stone composites like terrazzo.