Furniture design
Carpet Matter – A collection of tables made from wasteful offcuts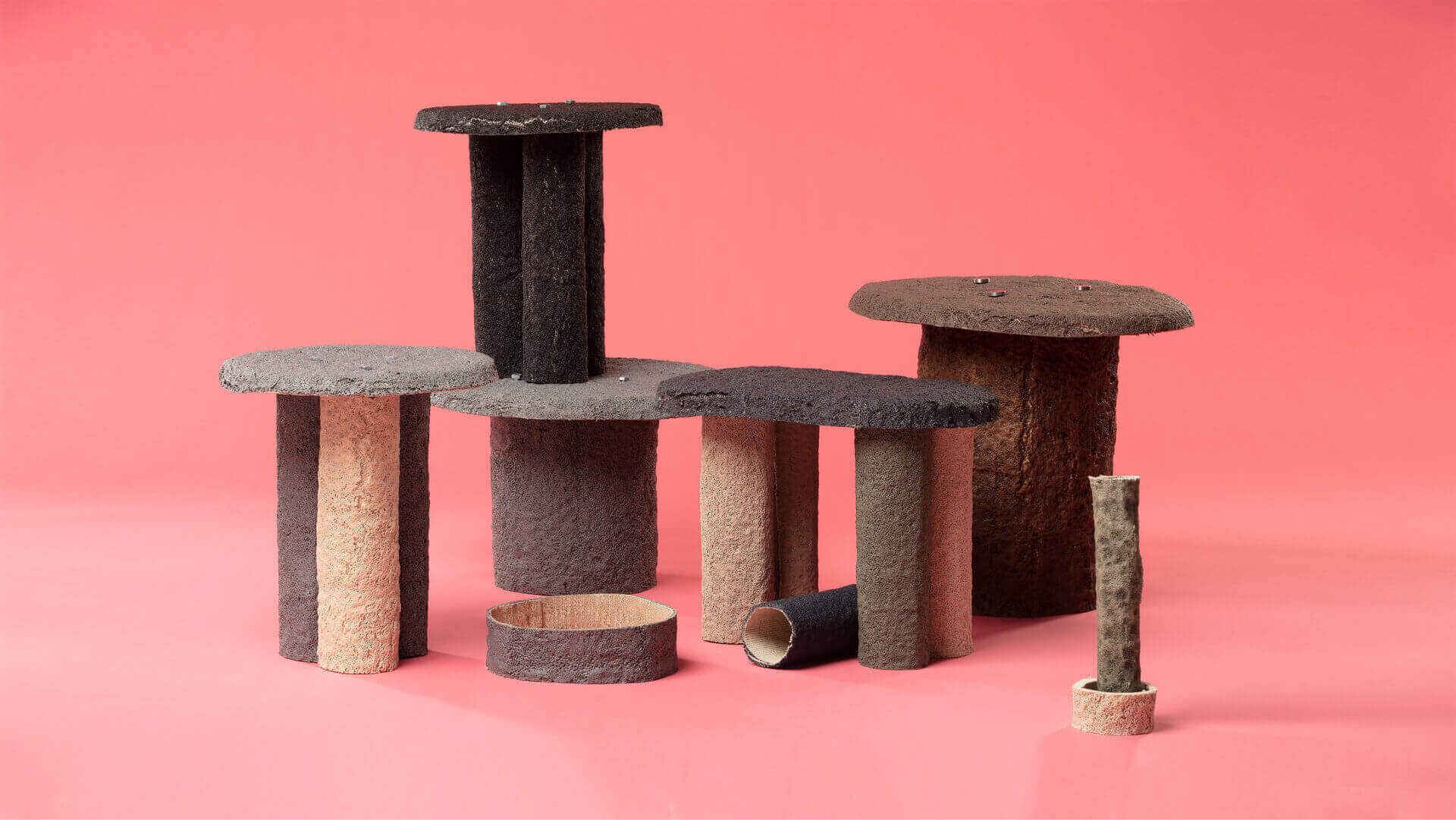 Italian designer Riccardo Cenedella has developed a technique for reshaping carpet waste and creating unique pieces of furniture.
When it comes to global waste, most of us understand the magnitude of the problem. But when someone hones in on a specific product that's contributing to that waste the statistics are often shocking.
For example, according to statistics, the UK produces around 400,000 tonnes of carpet waste each year. It's a composite product, which means it's a combination of different elements, and it was never designed for disassembly.
Unfortunately, only a small amount of carpet waste is being fully recycled in a closed-loop system. What happens to the rest of it? It gets disposed of in landfills or sent to incinerators.
Well, Riccardo Cenedella has come up with a smarter way to fire up carpet waste disposed of in landfills. Heat gun in hand, he has developed a technique that involves melting it slightly and reshaping it into new designs.
Riccardo Cenedella is among the designers looking to repurpose waste thorugh design, check more furniture designs like this and don't miss The Veil stool is made from 4000 disposable face masks.
The designer uses a heat gun to warm the carpet's fibers, which start to shrink as the temperature increases. This creates a rigid layer on the surface of the carpet that can be shaped around metal cylindrical moulds to create three tubular-shaped legs.
"The inspiration for the shape arrives from the material itself," he explains. "While I was collecting pieces of carpet I visited a lot of local shops that used to store the carpet in big rolls, so from there I decided to make the legs of my objects with a cylindrical shape."
Cenedella cuts and refines these components with a hand saw before employing a similar process to create the tabletop. Here, he uses a bespoke compression mould that shapes the heated carpet around a circular piece of MDF to create a lip that curves to conceal the underneath of the material.
A series of custom bolts secure the tabletop in place whilst also adding a welcomed contrast to the blackened carpet and its rough texture.
The process of burning the fibers which Carpet Matter promotes is the result of hands-on experimentation. Cenedella tried processing synthetic materials in various different ways before settling on one that enabled him to reshape and repurpose wasteful offcuts.
"The Carpet Matter collection is a great representation of my practice," he concludes. "As an alchemist, through ingenuity, persistence and hands-on experimentation, a useless material is transformed into design artefacts."
"My final output is a collection of tables made using carpet waste collected from local shops. The aims of this project are to raise environmental awareness and demonstrate how a wasted material can be transformed into something valuable and usable again."
Find out more about the ingenious ways designers are tackling waste, don't miss A chair made from 20KG of plastic waste found in Indonesia.