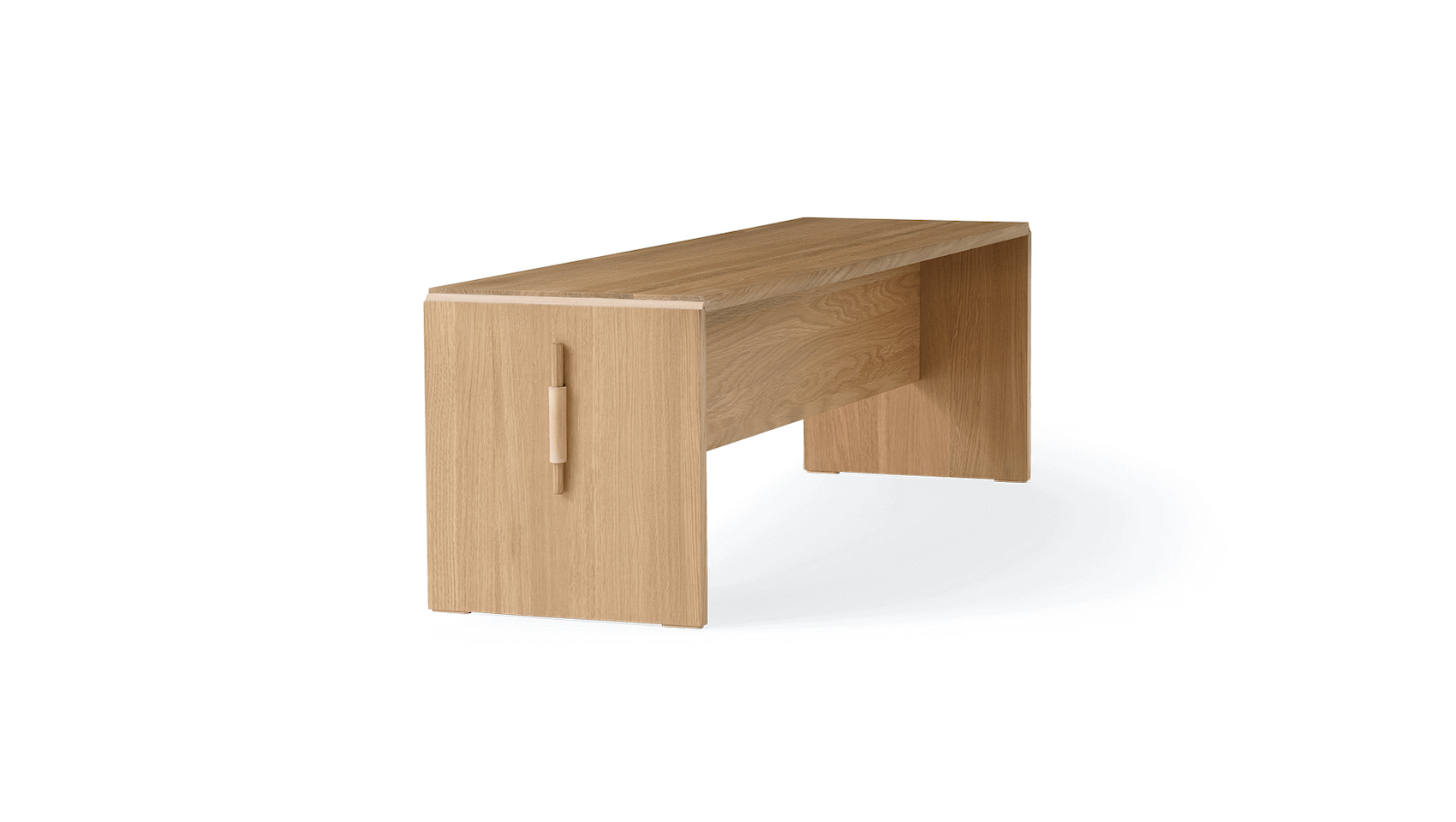 Multi award winning industrial designer Cecilie Manz designed Plint for Danish furniture brand TAKT.
TAKT is the furniture company rethinking the way to design, build and sell furniture for the mutual benefit of people and the planet. Launched in Copenhagen in 2019, TAKT aims to reinvent the Scandinavian design tradition for the modern day.
TAKT collaborated with Danish designer Cecilie Manz to release Plint, a flat-pack wooden coffee table with a simple self-assembly mechanism. It is made up of two main parts – a tabletop and a base – which can be secured together using leather hinges that are secured in-between slots that run along each edge.
"A small plinth is a type of furniture I often return to, as it's highly functional and self-explanatory to use," says Manz. "Leather as a hinging material is something I've been exploring a lot over the past 10 years. It's interesting to use an ordinary but genuine material such as full-grain leather where it makes functional sense to do so as little as possible in the right place."
The tabletop and the side pieces are cut from a single piece of hand-selected timber interrupted only by the leather hinge. According to the furniture brand, the wedge connection is reminiscent of the 'pegged stretcher' joinery method that is sometimes found in traditional dining tables. These innovative features streamline assembly and eliminate the need for any glue, bolts or screws.
Three wood options are available: Oregon Pine, Kalmar Pine and Oak, each of which has a different aesthetic effect. Oregon Pine has a precise and regular grain structure and a warm golden glow. Slow-grown Kalmar Pine from Swedish forests has a soft, bright look and a beautiful grain pattern. The Oak version is darker and more rustic in appearance.
TAKT is not alone in rethinking furniture in an ecologically responsible way: this trend forecast shows that people are longing for more meaning and not for more "stuff".
Sustainable, reparable, responsible
As with all TAKT furniture, Plint has been awarded the EU flower mark, the Ecolabel which acknowledges an end-to-end commitment to sustainability in material sourcing, production, transportation and recyclability.
As is the case with TAKT's other products, Plint's component parts are available to buy from TAKT as spares, maximising its lifespan by allowing the user to repair it – if necessary after years of use.
All wood used in the production of Plint is certified by the Forest Stewardship Council and treated only with natural oils. As well as ensuring the wood will develop a characterful patina over time, this allows the customer to engage with their furniture by easily removing blemishes or repairing damage to the surface by applying sandpaper and a new oil treatment again and again.
We Do Wood is a sustainable furniture brand that links UN's Sustainable Development Goals to their practice.