Architecture
A curved wall gives this muted apartment a sense of drama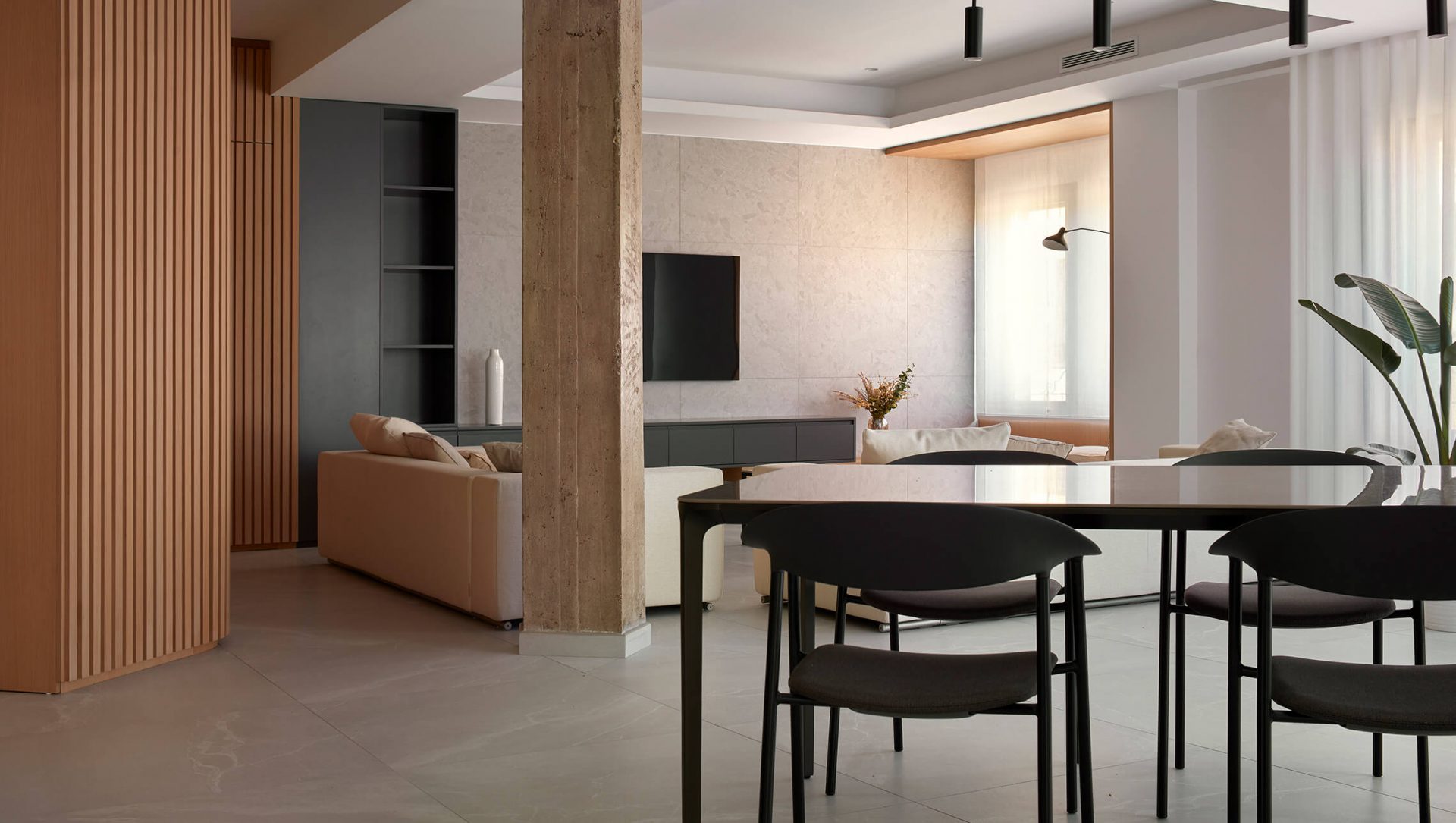 Casa en Chaflán is a contemporary home in Valencia with unusual proportions, which local practice Destudio Arquitectura fully embraced.
The Casa en Chaflán comprehensive housing reform project was born with the intention of improving the living space of an apartment located in the downtown area of ​​the city of Valencia.
Casa en Chaflán is a tale of two halves, with private spaces including several bedrooms, one of which is an en suite master, located at the back of the 165 m2 property. Arranged around a small corridor with access to the bathroom, it gives way to a large open plan communal space with a distinct curve that creates a sense of drama counteracted by an understated minimalism when it comes to decoration.
The design team has foregone any unnecessary features—radiators are replaced with underfloor heating, for example—which only serves to accentuate the graphic material palette that characterises each space. The tiled and slatted walls, the geometric wallpaper and the pendant lighting are all ironically highlighted because of the overall muteness of the project.
This leitmotif continues throughout the various programs in the space with sleek, grey custom cabinetry in contrast to the natural quality of the doors, which are veneered with natural oak wood.
The architect's most important intervention, however, is the oak wood-panelled curve, which helps navigate the open plan living and dining room. It helps to create interest whilst making sense of the apartment's oddly-shaped perimeters.
"It dresses and gives character to the whole space, making it the real protagonist of the entire renovation project," explains the studio. Meanwhile, several large apertures let in an abundance of light, which helps to generate even more feeling of spaciousness.
Discover more striking interiors designs, don't miss "Loft on Life": This loft in Brazil softens its industrial interiors with organic materials
A mastery of space
Although not limited in space, this project prompted a somewhat tricky orientation for the architects, which they tackled head on. Part of their embracing of the site's unusual proportions included a muted and restrained palette, which works to calm the senses whilst the curved contours of their architectural interventions help to delineate the apartment and its various functions.
Interested in apartment renovations? Check out Archiplan's renovation of this Italian apartment that embraces its unfinished walls.