Home decor
Catrinel Săbăciag plays an ode through design to nature, entropy and light
The young designer Catrinel Săbăciag, founder of Catrinel S.tudio, creates projects in between product design, installation and sculpture, drawing inspiration from the natural world, science and philosophy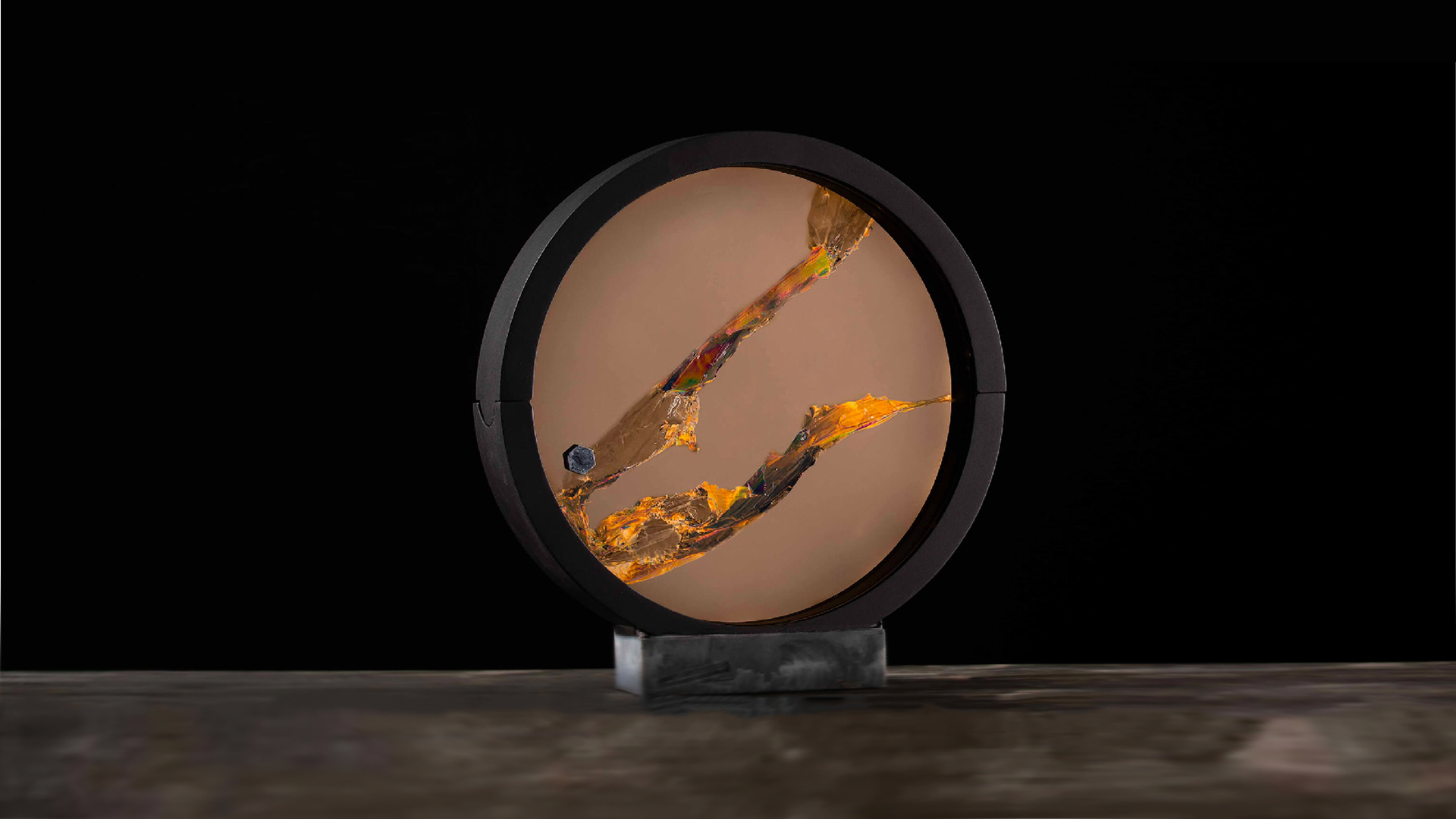 Catrinel S.tudio was established in 2018 by the designer Catrinel Săbăciag, freshly graduated from The University of Edinburgh. Her work straddles between product design, installation and sculpture, featuring a multidisciplinary approach that finds its root in science and philosophy, in addition to experimental methods, oriented towards material exploration.
Based on time, entropy, light and nature, Catrinel's work shows an interest in perception and movement: making visible the invisible forces that surround us and governing nature, is a central theme to the designer practice to the point that her projects often involve a body of technical components to mimic organic and natural phenomena.
Through the development of interactive objects and the combination of advanced manufacturing techniques combined with crafts ones, Catrinel designs experiences that challenge perception, flashing a new light on our reality where the ordinary becomes extraordinary. 
At the Dutch Design Week 2019, Catrinel presented "Morfoza: light and color out of this world". Morfoza is a unique and versatile lamp that uses the full light spectrum to create mesmerizing effects, passing from a minimal monochrome light source to a full burst of colorful dynamic motifs.
Using simple materials such as plastic film and only white light, Morfoza offers an escape into a otherworldly realm made of colors: Catrinel Săbăciag aimed to create a surreal lightscape to question our perception of the daily objects and experiences, forcing us to wonder "What is real?" and "How much of reality are we able to perceive?".
The lamp, which comes in two sizes and fixture options, as a wall or table lamp, is available in five visual effects: Morfoza displays a wide spectrum of 3D light and color effects, ranging from fully saturated to pastel shades and from organic to geometrical patterns, mimicking our ever-changing needs and moods.
Among Catrinel Săbăciag's creations, we find Urma Clock and Mira Lamp, developed by the designer Catrinel Săbăciag as a part of her Product Design Bachelor project at the University of Edinburgh. TheTHISorder Collection is a series of objects that embody entropy through materialized time-based installations.
In the designer's native language, Romanian, "Urma" means "trace": indeed, the clock displays the passage of time organically and following a continuous change of phases, as it happens in nature, for example, with the moon phases.
Since entropy, the overall theme of the collection, is influenced by heat, Catrinel decided to use temperature-related changing effects: she developed a special composite material with a rocky appearance similar to Granite and Lapis Lazuli in monochrome shades on which she hid an inner mechanism, driven by an Arduino. 
As time passes by, Urma Clock's hands leave a trace on the surface of the clock, displaying the passage of time, bringing into focus the fragile boundaries and the relationship between the present, the future and the past.
This original clock is the product of an attentive analysis to question the universalized time-perception mainly oriented to productivity. A second version of this timekeeper is going to be developed in 2020/2021.
Mira Lamp is an object inspired by our continuous fight against entropy and temporariness: based on the theme of decay and regeneration, the lamp reacts to human presence by decomposing itself and dimming its lights in an entropic motion, when no one is around. The opposite happens when the object is approached by a person.
Mira is composed of a series of cracks made of a bi-component resin, called Jesmonite, and plywood. The cracks, which are the representation of the cyclical pattern of growth and decay proper to life, are combined and set in motion by an Arduino chip.
The designer experimented also with art installations: Catrinel Săbăciag took part in Our Nature, a special Residency Program aimed at connecting Eastern and Western Europe through science, technology and arts. The project, held in Trieste in 2018, involved young artists and designers from Romania and the main scientific institutions of Trieste.
On that occasion, Catirnel developed  Timescapes – From Clocks to Outerspace an installation comprised of three types of pendulums: Human, Geological and Astral. Their movements, all different from one another, pattern the temporal landscape of the space they refer to.
On a golden mirror, viewers could watch themselves observing time passing by: the Human pendulum, as its name suggests, represented human-perception of time. It featured regular, fast and mechanical movements. 
The Geological pendulum was made out of rocks, referring to the Earth time. In alignment with the unpredictability of geological events such as earthquakes, its movements were apparently chaotic and unpredictable.
Actually, the mechanism at the base of Geological pendulum was a depiction of the Chaos Theory, a branch of mathematics focusing on the behavior of the dynamical systems, which exhibit an exponential sensitivity with respect to the initial conditions. These systems with behavior that might seem chaotic, are actually controlled and governed by deterministic laws.
Made out of a concave mirror, the Cosmic pendulum represented cosmic time, referring to our perception of outer space as a calm and vast landscape by mirroring distorted reflections. The cosmic pendulum was inspired by pendulum mirrors used in LIGO Observatory to detect gravitational waves.