Furniture design
How did a 2-tons polygonal wooden horse come to life? The story of Riva 1920's Cavallo Pace by V12 Design
V12 Design never declines a design challenge. When Riva 1920 asked them for a sculpture to exhibit at their stand in Salone del Mobile, the Milan-based studio did not hold back, and the wooden large-scale symbolic figure became a reality.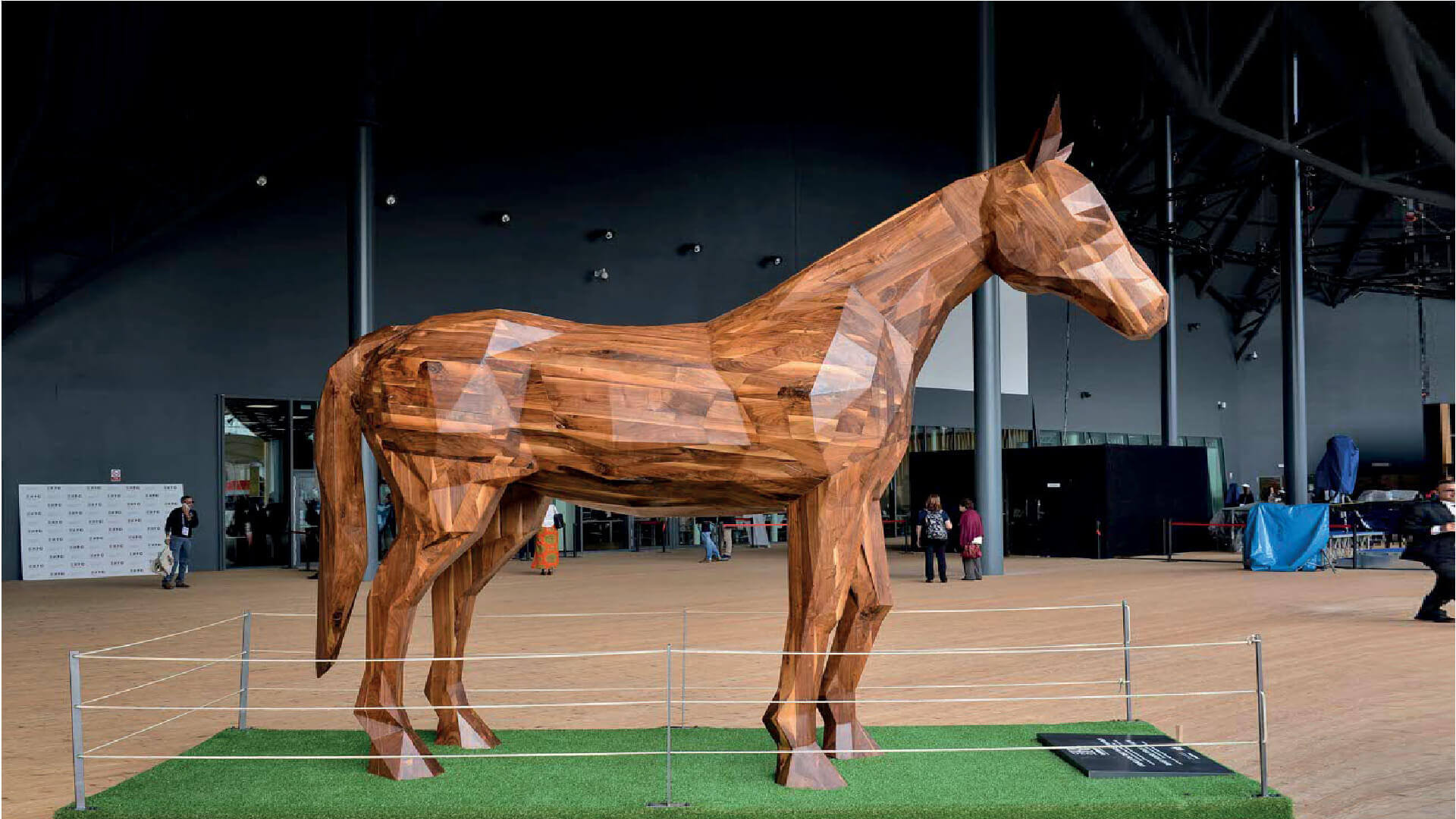 As a multifaceted and well-rounded studio, V12 Design has been involved in a variety of projects, from graphic design to exhibition design and everything in between, the studio has collaborated with numerous companies worldwide, but one of the most impressive and beautiful ones is the collaboration between Riva 1920 and V12 Design.
Intrigued by a bookshelf showcased by V12 Design, Maurizio Riva, co-owner of the prestigious brand Riva 1920, met Valerio Cometti, founder of V12 design, and his work at Milan's MACEF fair.
From there an incredible relationship and collaboration blossomed, resulting in several furniture and lighting projects.
In preparation for Salone del Mobile 2013 and on the lookout for a sizeable way to express the values of Riva 1920, Maurizio reached out to Valerio Cometti and created Cavallo Pace, a sculpture that not only represents the shared values of both companies but also Riva 1920's ultimate mastery: solid wood.
Why did V12 Design realize Cavallo Pace?
Envisioned as a sculpture to amaze, impress and represent the robustness, reliability, and commitment of both companies, the idea of a muscular, draft horse was born: the perfect symbol of the conjoined visual message they wanted to convey.
Designed and showcased to represent Riva1920 at Salone del Mobile 2013, Cavallo Pace was also designed to be displayed at Riva 1920's Museo del Legno in Cantù, Como.
Sized exactly 10 cm shorter than the museum entry, Cavallo Pace was proudly placed in the museum's entrance as a sculptural symbol that welcomes guests into this singular place where history, culture, design, and environmental sensibility meet.
The minds behind Cavallo Pace – Riva 1920 and Valerio Cometti + V12 Design Studio
Born in 1920, as the name implies, Riva started as a small family-run artisan workshop founded by Nino Romano, focusing on the production of classic style solid wood furnishing.
The incredible woodworking skills and artisanal processes became a staple for the company, and as the years went by, the once small artisan workshop became the well-known brand we know today.
Riva 1920 is not only an incredible example of quality of workmanship and beautiful design but is also a unique example of a company that dedicates itself to working solely with wood in every aspect.
They are experts in this material and a historical representation of the wood culture in Italy.
Through their work, they display a passion for the material, workmanship, and the production behind their designs, and while their pieces reflect their innate talent, they also reflect the very conscious use of this renewable but not infinite resource.
One thing is for sure, nobody loves wood as much as they do and nobody works wood as they do.
Curious to know more about V12 Design? Don't miss How Milanese company V12 Design merges the engineering approach with a design vision.
It only makes sense that a well-known Italian furnishing company shares the same values, commitment, and extraordinary dedication as another successful Italian design studio such as V12 Design.
Founded by Valerio Cometti, V12 Design is a multidisciplinary, forward-thinking studio encompassing everything of what design should be.
Their deep design thinking approach combined with engineering, impeccable aesthetics, a design-oriented vision, and creative solutions has led them to work with various international clients and create truly extraordinary projects.
Embracing the multidisciplinary essence of design, V12 Design offers numerous services to its clients operating from product, service and graphic design, branding, engineering, and coaching services.
V12 Design's complete understanding of the discipline allows them to use design as a strategic tool and help its clients understand which direction is best to take.
Riva 1920 and V12 Design's collaboration was meant to be.
Their similarities and differences as companies create a beautiful contrast that takes the best of both to create incredible products.
This beautiful language they've created filled with juxtapositions and passion can be seen in each one of their collaborations.
Some of these include the Louise Chair and a furniture collection from 2012, realized alongside prominent names such as Aldo Cibic, Carlo Colombo and Antonio Citterio, solely using wine barrels as a way to involve the recovering community of San Patrignano and provide them useful skills to foster their integration back into society.
Materials & Techniques – The virtue of solid wood
Even though Cavallo Pace is easy on the eyes, it was certainly not easy to realize. The stunning 2 tons, 3,5 meters high and 5 meters long sculpture took 2 months to be completed.
Made out of beautiful Italian walnut, this digitally sculpted 3d puzzle had to be methodically engineered to support itself. In order to do so, a combination of 13 components was developed, all of which fit together to form the final shape of this robust horse.
Created through the direct collaboration with the technical team of Riva 1920's partner, SCM Group, each component had to be milled using the world's largest milling machine comprised of 5 axes and a 30 square meter operational area.
It took 3 weeks of milling to complete each component and another 3 weeks to put it together.
Following Riva 1920's precious technical know-how, Cavallo Pace uses only wood glued together to create its amazing self-supporting solid wood structure.
Using the superb skills of the forklift drivers, each heavy and complex piece was perfectly positioned with maximum care to let the glue set in place, no other type of structure or material was needed which makes this sculpture even more mind-blowing.
After drying each piece and putting them together to create the final form, the final phase was polishing the sculpture. In order to create a smooth, spotless surface, the polishing was completely executed by hand.
The incredibly difficult task required extra care due to the edges of the faceted shape, and even though the work was time-consuming, the result is a perfectly refined, grandiose sculpture.
Style & Aesthetics – A digital scuplture
We can see the harmonious and contrasting union and design language V12 Design and Riva 1920 have created in all of their collaborations, but it is especially noticeable in Cavallo Pace.
By combining an ancient and eternal material such as wood, the classic image of the horse, with a completely modern and digital-based style such as "lowpoly", Valerio Cometti was able to create a sculpture that symbolizes this union and contrast.
Due to the very unusual large scale nature of the project, the design phase required an extreme detail-oriented approach to finalize every single polygon that creates the sculpture.
Using 3D design software, the digital horse was first 'sculpted'.
To create the perfect posture, shape, and right muscular appearance the design went through countless polygon reductions, iterations, and adaptations until perfection was achieved and the design was ready for its final rendering phase.
Accustomed to multidisciplinary projects, V12 Design took Cavallo Pace as an occasion to take part in a very unique artistic opportunity of such scale.
The studio was not only able to showcase its versatility through the project but also its forward-thinking approach, material experimentation, and the superb craftsmanship skills of both V12 Design and Riva 1920.
The thrilling moment of truth
One can argue that Cavallo Pace is a highly ambitious project, working with the uncertainty of whether or not the sculpture would hold its own weight and not knowing if the nature and consistency of the material would affect the structural properties of the design is truly nerve-racking.
One of the important highlights of the project for V12 Design and Riva 1920, if not the most important, was seeing the pieces of the sculpture, being assembled, coming together, and ultimately removing all the supports to finally confirm if the structure, in fact, supported the weight: as we all can see, the project was a complete success.
The beauty and uniqueness of the sculpture were displayed not only in Salone del Mobile 2013 and the Riva 1920's museum but it also was exhibited at EXPO 2015 in Milan.
The sculpture was appreciated by everyone who came across it, so much so that an international collector made a ridiculously large offer to buy Cavallo Pace but Riva 1920 declined as it carries too much value for its meaning and symbolism related to the company.
Design Memento – A modern language narrates an old story
Cavallo Pace is a truly transcendent project, while it shows Riva 1920's incredible craftsmanship and woodworking skills and how these skills can be applied to a modern design language, it also presents wood as the eternal material that it is, a material that can be used in limitless ways and through countless expressions of creativity in every field.
If you want to know more about V12 Design's work, don't miss The icon, the past and the future come together in Brionvega's Alpha Television by V12 Design.
The writers' comments – A symbol of commitment, reliability, and craftsmanship
Adriana: "The extraordinary work, skills, and values of V12 Design and Riva 1920 are materialized in Cavallo Pace. The sculpture is a symbol of true commitment and sacrifice as it required an incredible amount of effort to be achieved.
It is a testament of the collaboration between both companies, an unexpected yet sensible union of completely different focuses that cohesively come together to pursue an ambitious goal.
And ultimately, undeniable proof of how history and traditions, combined with a modern and contemporary design can be blended to create something breathtaking, unexpected, innovating, and one-of-a-kind."
Fabio: "The creation of V12 Design triggers curiosity for multiple reasons: the real-life representation of lowpoly, a purely digital style which is rarely found in actual sculptures, the scale of the realization, giving justice to the symbolic values it holds, and the use of solid wood, a noble material mostly used in traditional furniture.
I was impressed to discover, once again, the ability of V12 Design to get involved in design projects belonging to completely different worlds and their superb realization."