Design
Built to reveal its purest from – A guitar that has been streamlined to its essence
Innovative ideas such as this have the capacity to propel advancement and infuse renewed energy into a traditional industry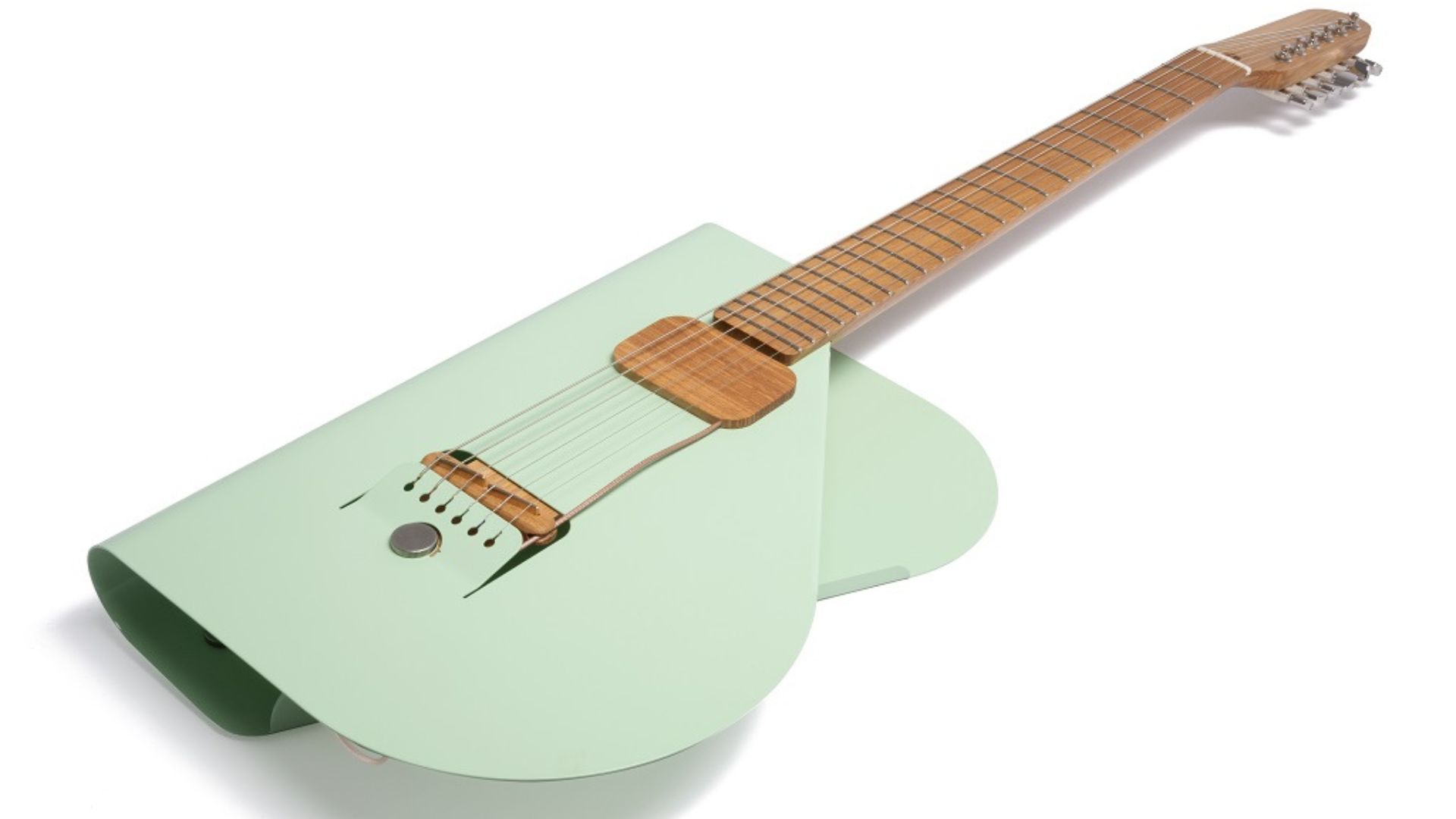 Crafted by Industrial Designer and Luthier Robin Stummvoll, Cosmo electric guitar boasts a bent sheet metal body that incorporates an ingenious, adaptable pickup system. It might sound intricate, but it's brilliantly straightforward.
We're always on the lookout for fresh design perspectives, particularly when they venture into seemingly traditional sectors. The story of Verso, in some sense, underscores how many original ideas stem from personal passions that lead innovators to explore new, often more effective solutions tailored to the product's intended use.
The magnetic pickups of this guitar effortlessly adhere to the steel body, granting you a universe of sonic options as you effortlessly position them according to your preferences. With a great attention to sound quality, playability, and ergonomic design, this instrument has been streamlined to its essence.
"The electric guitar has accompanied me since I was six years old. In 2003, when I was 15, I build my first guitar, an electric Weissenborn" says Robin Stummvoll, founder of Verso.
Through the utilization of unconventional materials and the exploration of novel applications, there is the potential to redefine the perceptions of guitarists and what they can achieve. This endeavor enables the creation of instruments that carve out fresh territory for innovative ideas.
"Setting up a guitar sounds like a simple matter, but it requires knowledge and experience down to the smallest detail. In my opinion, there are too many and too easily accessible adjustment points on an electric guitar." continues Stummvoll on the official website of the company.
How do the Cosmo electric guitar's pickups work?
With Cosmo electric guitar, a single pickup seamlessly transitions you from the neck to the middle and the bridge, encompassing everything in between. This transformative feature profoundly influences the instrument's overtone and bass response. Notably, the vibrating metal body is captured by the magnetic pickups, infusing the sound with a vibrant and surprisingly wooden character.
Lift the pickup from the guitar's body, cradle it in your hand while you play, and you'll be enchanted by the intuitive swells. The "Magnet Mount Pickups" come encased in wood with a scratch-free fleece bottom. They're equipped with a robust Teflon-coated cable and SMB plugs for swift pickup exchanges.
Cosmo boasts two pickup inputs and a 6.3mm jack output, which can be toggled between mono and dual mono. This versatility allows you to use your trusty mono tube amp with ease or get creative by routing each pickup into separate FX chains or recording two distinct tracks in your DAW.
Flexibility at finger
Cosmo electric guitar offers you the flexibility to choose between models with or without control knobs for volume, tone, or A/B blend, catering to your personal style and preferences. Your choice depends on the type of player you are.
For the purists, the single pickup variant without knobs can be incredibly inspiring due to its inherent limitations and unique capabilities. It's a choice that encourages creativity within constraints. On the other hand, if you prefer precise control over your sound, the inclusion of a master volume knob becomes essential, especially if you like to adjust your gain levels directly on the guitar.
For those who constantly seek sonic perfection and enjoy experimenting with different timbres, the model with two knobs and an A/B blend feature opens up a world of limitless possibilities, allowing you to explore a wide range of tones to your heart's content.
A beautiful range of colors
The sheet metal of Cosmo electric guitar undergoes a high-quality industrial powder coating process, resulting in a glossy surface available in various RAL colors. This robust coating surpasses traditional paint in durability, remaining resilient even when subjected to substantial impacts.
Are you a guitarist? What are your impressions of this instrument? We would be happy to have your feedback!