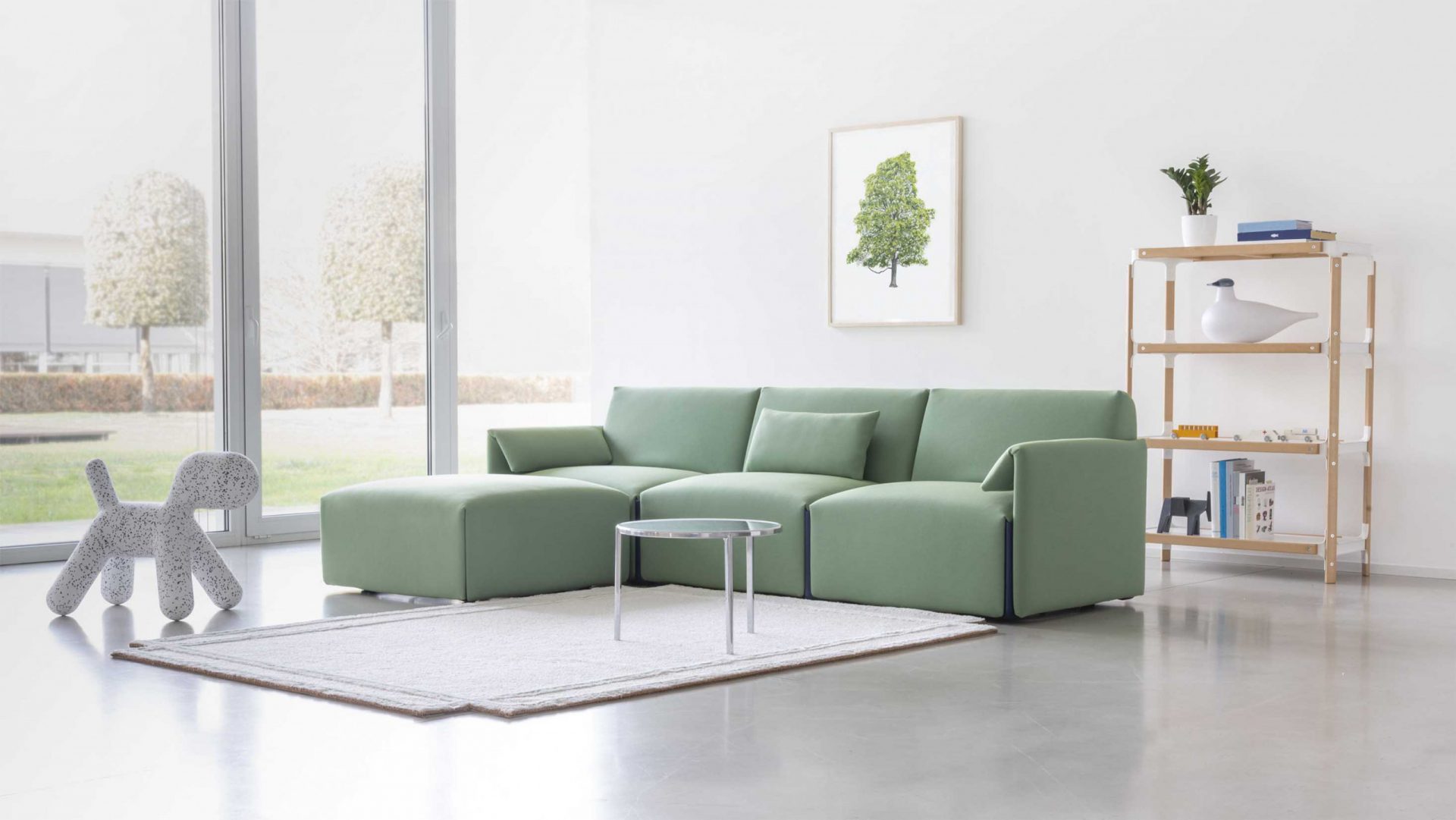 Modular through and through, the new Costume sofa system from Stefan Diez is pragmatic, transformable and protects resources.
Up until now, there were two ways of constructing a sofa. Either it consisted of a wooden frame with a structure of belts, spring core, foam and upholstery or it was based on a metal frame with built-in suspension, which was filled with foam, covered with foam padding and upholstered.
Both variations have one thing in common: it takes a lot of effort and expense to repair them, the materials are difficult or impossible to separate and the sofa contains large quantities of foam that cannot be recycled.
Now Magis, in collaboration with designer Stefan Diez, has developed a completely new construction method for the Costume sofa whereby the individual components of the modular sofa are not permanently attached to each other. This means it can easily be dismantled, for example for cleaning or if new upholstery needs to be purchased.
At the heart of Costume is a body made from recycled and recyclable polyethylene produced using rotational-molding technology from furniture and car industry waste. An insert made of pocket spring cores provides the cushioning for the seat and backrest. On top of this is a thin layer of polyurethane foam.
The whole is held together by a cover made of fabric that can be fastened on using tension belts and easily removed at any time. Not only does this system use much less foam in manufacturing than conventional sofas – but most of the materials used can also easily be recycled. If the upholstery wears out one day, it can easily be replaced.
This concept allows Costume to live up to Magis' claim to develop products that use materials in a responsible way. However, for his first project for Magis, designer Stefan Diez not only redesigned the construction of the structure, but he also optimized the sofa system concept.
Curious to know more about Magis? Head to Brand Story – Magis.
While modular sofas are usually designed as a construction kit featuring many different elements, for example with or without armrests, Costume comes with a total of just four different elements: the actual seating module, which can be completed with a left or right armrest and an ottoman.
A connector of plastic, which is pushed into the slots on all four corners of the seat, serves to connect the pieces. Available in matching as well as in contrasting colors, it creates an aesthetic feature. The four elements – seat, armrests and ottoman can be assembled to form numerous combinations depending on requirements and space.
And if circumstances change, for example by moving house, the elements can simply be regrouped and extended using individual parts so that the sofa can fit in with the new living environment.
This makes Costume by Stefan Diez transformable and pragmatic, yet responsible in terms of the resources used. And last but not least, it shows just how innovative furniture design can be.
If you want to know more about furniture addressing environmental challenges, don't miss Disposable masks repurposed into Stack and Stack stool by Haneul Kim.