Lighting design
Ingo Maurer, a poet of light: new geometries, new emotions and new inspirations
Nobody has ever been able to invent such a new idea of interior lighting, Ingo Maurer created shapes and reflections able to break the mold and become timeless icons.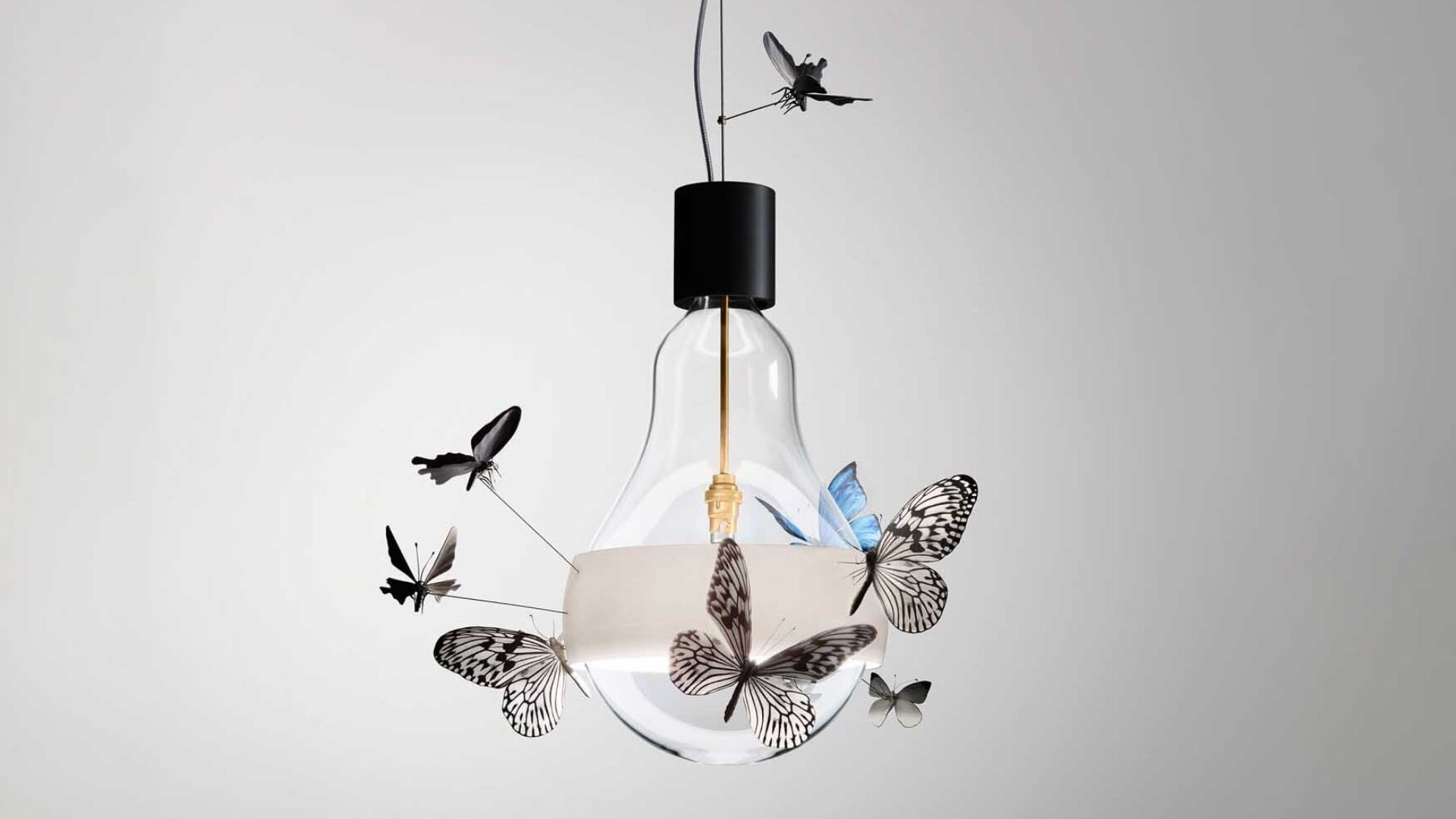 Ingo Maurer's creations really are distinctive, and his touch is recognizable at first sight: his new method included new geometries, new emotions and new inspirations, materialized in more than 200 pieces in the 50 year-long career of the German lighting master, that found creative ways to use the whole rank between halogen lights and the latest LED machine.
After an apprenticeship as a typesetter, Ingo Maurer studied commercial graphics in Germany where, in 1966, after living and practising in the USA as a graphic artist, he returned to found his studio.
Lighting designer and at the same time an entrepreneur, a condition of freedom that was necessary to his visionary and whimsical approach, Ingo Maurer and his prolific career, honored with awards, public installations and exhibitions, serve as inspiration for generations to come.
Bulb – 1966
The legend goes that Maurer was in Venice for a stop-over, during his return trip from the States, and was staring at the ceiling of his bedroom, thinking how little we celebrate a light bulb, something that is so important in our life.
From a thought lying in his bed, to a gigantic bulb prototype made by Murano glassblowers, later becoming a pop art icon and a permanent piece in the NY MoMA design collection.
Curious to learn the story of other iconic lighting designers? Don't miss Brand Story – Artemide.
YaYaHo – 1984
YaYaHo is a low-voltage wire system consisting of two horizontally fixed parallel tensioned metal ropes and a series of adjustable lighting elements, for a total of 276 parts.
An instant success, the system creates a very individual light, as every element can be moved to illuminate each room differently, achieving the maximum flexibility with the minimum use of materials.
Lucellino – 1992
For his Lucellino lamp, Ingo Maurer draws inspiration from a symbolic and iconographic heritage that belongs to everyone: Lucellino lamp is a winged bulb that tries to fly away like a cherub.
One of the most poetical creations by the master of lighting, this piece of art is another tribute to the significance of the bulb, equipped with hand made goose feathers, while an electric red tungsten wire prevents the little bird from escaping from his copper base.
Porca Miseria! – 1994
The production of this lamp is limited to a few pieces every year, as the construction of each piece requires the effort of four people arbitrarily breaking plates with a hammer or dropping them on the floor.
A tribute to slow-motion cinematography, the lamp draws its name from an Italian exclamation of wonder and displeasure, as the inspiration comes from a domestic argument involving breaking dishes and porcelain, Porca Miseria!
Flatterby – 2016
The master of light and metaphor was very prolific till his death, in 2019.
Three years before Maurer designed a limited edition in which, once again, bulb and nature are the main characters: a hanging bulb seems to attract ten handmade butterflies, as it irresistibly offers something we all need, in its most simple and poetic form – light.
Find out more about iconic designers, don't miss Design Icon – Anna Castelli Ferrieri.