Lighting design
As a part of "Belgium is design", Jimmy De Angelis presented "Nest" at Fuorisalone 2021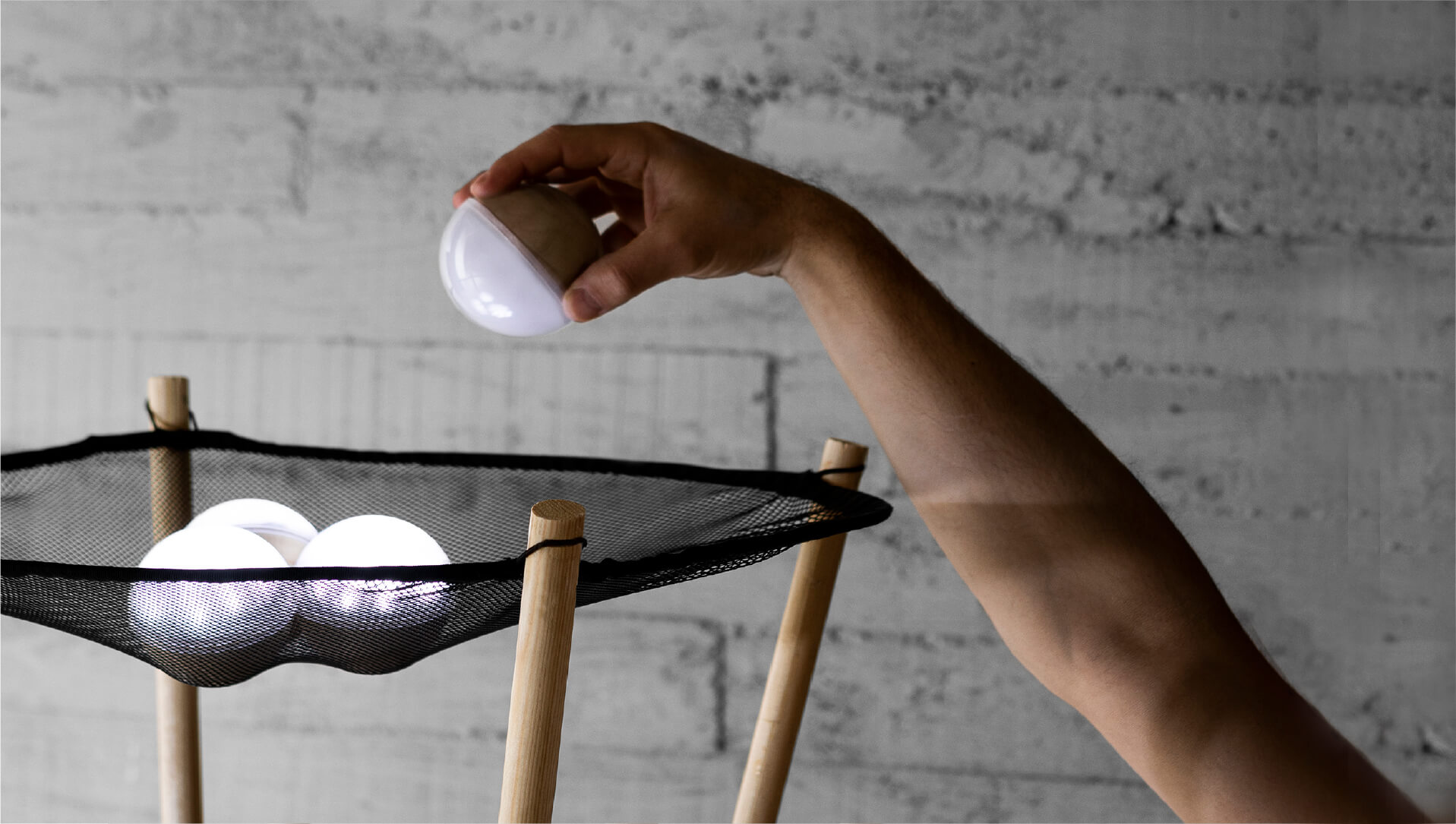 Jimmy De Angelis navigates art, technology and science to create products including the Nest floor lamp.
As humans, we have a fundamental attraction to light. It's called phototropism and on a very basic level, it is about vision. Like moths to a flame, we drift towards areas that are bright or well-lit, a simple instinct that designers—like Jimmy de Angelis—can use to draw our attention to a space.
At Milan Design Week, the multidisciplinary designer unveiled an interactive floor lamp that builds on this inherent attraction to light. Called Nest, the design features a stilted construction supporting a net in place of the lamp's head. That's because, unlike traditional lighting designs, Nest features no bulb or lampshade. Instead, light is provided in a series of balls that users can load or unload into the netted basket.
An interactive experience inspired by a bird's nest
It's definitely an interesting proposal. Without cables or batteries, the LED globes rely on electromagnetic induction that generates an electric current when they are placed in close proximity to the lamp. This creates a unique interactive experience of adding or subtracting light as if stoking a futuristic fire.
De Angelis explains that the lamp, as its name suggests, is actually inspired by a bird's nest: "It is a stylized representation of a nest placed on a tree," he says. "At a time when we can control everything through an application, I decided to propose an object with which we can interact, in fact, to adjust the brightness, it is enough to simply add or remove light balls."
Discover more lighting design presented at Milan Design Week 2021, don't miss Gritti debuts at Milan Design Week with "LUMINA NATURAE" exhibition showing Marc Sadler's creations.
A novel idea that evoked some questions
It's a novel idea that we can't help but want to interrogate a little. For example, where are supposed to store the balls? We've spotted some other limitations too. For example, users can only add up to ten balls, which by the looks of it wouldn't illuminate large spaces very well. That is unless each ball was delicately placed so that the LEDs are directed away from the center.
On closer inspection, some of the material choices aren't convincing either. The elongated teepee-like construction rooted in its matte steel base appears refined, almost premium. Whereas the netted basket and its basic loop fixtures lack the same care and attention.
Despite this, Nest is a powerful demonstration of design-provoking curiosity. Lighting isn't something that is just there. It's asking to be touched, used, altered and observed. If designers are responsible for creating spaces that compel interaction then we say, job well done.
Find out more about "Belgium is Design", check out Belgian designers highlight steel and sustainability at Milan Design Week.