Lighting design
Reinterpreting traditional icons with minimalism: Nappe collection by Masiero
Nappe is the trait d'union between classical style and contemporary design conceived by Marco Zito, that will give your home a timeless look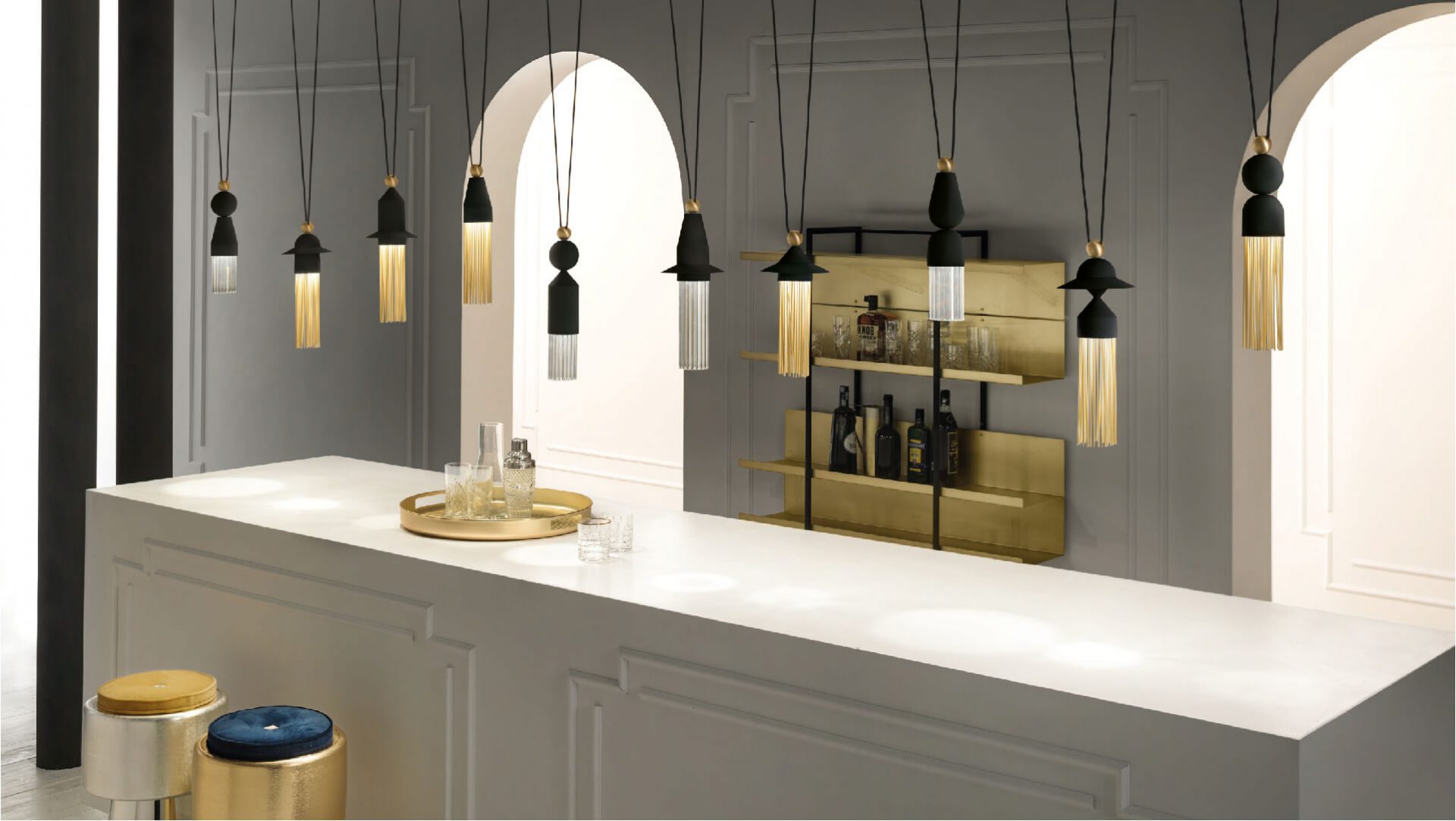 The big decorative tassels (called Nappe, in Italian) that bring together and adorn the historical palaces' curtains are reinterpreted, summarized and decomposed to delete every classical trait and outline contemporary designed elements.
The project consists of 10 pieces, different in shape, details or decorative elements, that can be combined together to obtain personalized compositions. The Metal turning's frame is enriched with brushed brass details and the traditional textile fringes are replaced with small varnished or gold metallic beams.
The characteristic technical element, that has been elaborated to be a distinctive aesthetic mark as well, is the ceiling fixing system: brass spheres are obtained from a single block wrought by numerical control routing machines and connect the power wire one to each other and fix the elements to the ceiling, drawing a lines plot between elements.
[ Read also Horo by MASIERO – Stylish contemporary lighting inspired by the sun ]
The tassels gave a very modern and minimalist design, intensified by the touch-effect matt pastel finishings, even if a total white finishing is available as well. The warm-light LED lighting system produces 750 lm and the light is amplified from metallic fringes or from a smooky striped borosilicate diffusor.
The project's development brought to draw even an Extra Large version, identifying 3 models that could be used to light up and decorate large spaces and living corners too.
"Designing a decorative product is both a challenge and a liberation. Breaking down the barrier which separates design lighting from decorative lighting enabled me to concentrate my attention on detail without sacrificing the value of a contemporary style" said Marco Zito, the designer.
He further explained that "To design a decorative product directly linked to tradition. I took my inspiration from tassels, objects with timeless craftsmanship, precious, opulent, almost baroque. We started from hyper-decorative forms to reinterpret, synthesise and break down to eliminate every hint of a classical legacy and obtain elements with a contemporary design."
"The project envisages obtaining small pendant lamps for use as modular elements. The synthesis led us to design 10 different elements differing in shape or decorative detail. In turn, the 10 elements can be combined to create a range of installations.
The turned metal structure is enhanced with details in brushed brass and the traditional fabric fringes of the tassel are replaced by tiny gilded or painted metal rods. The ceiling anchoring system is conceived to be both a characterising technical element and a distinctive aesthetic trait.
Obtained from a single block, the brass spheres are connected by the wires powering the elements, creating a web of lines." said designer Marco Zito while talking about the Nappe Collection.
"As the project developed, we also designed an extra-large version of the tassel, identifying three models which could be used to light large areas or furnish living corners as reading and ambience lights.
As well as studying shapes and sizes, here we also wanted to play with luminosity using a disc, a polycarbonate diffuser, able to create a three-dimensional effect. Looking at the lamp from below, the bottom element seems to float on a cushion of streaks of light".
[ Read also The sparkling lights of Vegas by MASIERO ]