Furniture design
Designing with a Valencian attitude – An interview with Yonoh
Proudly based in the Spanish city of Valencia, Yonoh studio demonstrates its attention to detail with their beautifully balanced objects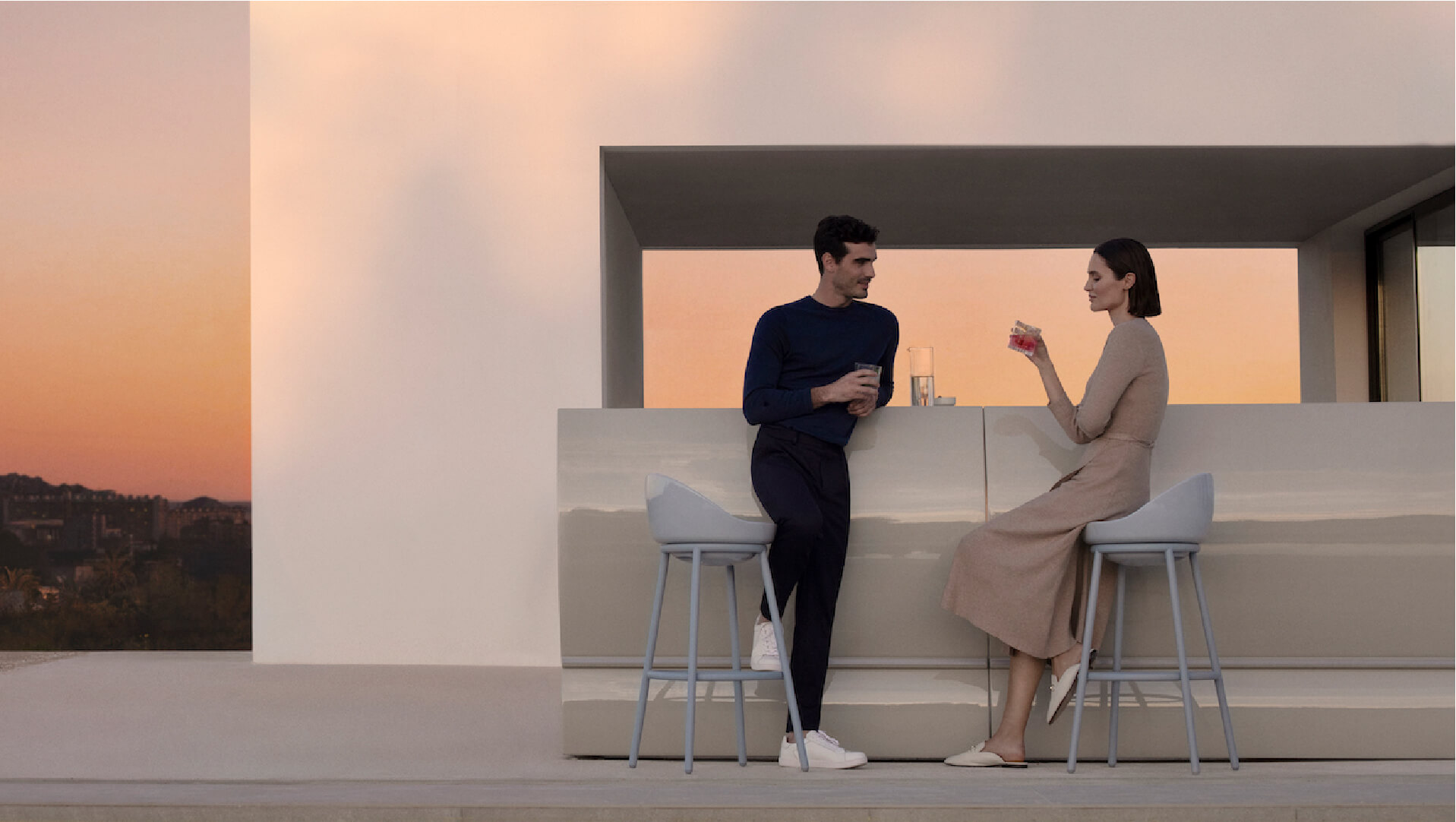 Now hosting lectures and workshops around the world, Clara del Portillo and Alex Selma originally met at a young designers exhibition in 2004. They presented their first collection in 2006 as Yonoh, founding their studio in Valencia, Spain.
As a representation of its founders' dualistic personality, Yonoh brings elegance and comfort together into their products resulting in carefully curated and highly aesthetic objects. The studio has been awarded some of the most prestigious design prizes worldwide such as Red Dot, IF design award, Design Award among others.
Who are Clara del Portillo and Alex Selma? How did the journey for Yonoh begin?
Clara and Alex:
"We are two design enthusiasts. We both studied industrial design at different universities in Valencia (next World Design Capital in 2022). When we finished our studies, we both started our careers separately until we met at an exhibition of young designers in 2004.
There we started to collaborate and a couple of years later we launched our common brand YONOH, an ambigram that shows our duality at work. We realized that working together was much better than working separately because the shortcomings of one were completed by the other."
Why Yonoh, why focusing on product design?
Clara and Alex:
"Surely by coincidence or luck, we both studied industrial design, we both knew that we were looking for a future in which engineering and creativity participated. Dedicating ourselves to product design was our goal from the beginning. It is a complex sector to establish, but it was our passion and that has led us to work tirelessly until we were able to make a niche for ourselves.
At the beginning we took on a graphic design assignment, also interior design, but we knew that our final point would be to dedicate all our effort to product design. YONOH is an ambigram, we wanted the brand to show the duality from which it was born, so a name that worked in both directions (almost) seemed appropriate."
Your work ranges from furniture to lighting and a variety of products. Which designers are you inspired or influenced by?
Clara and Alex:
"Inspiration comes from many places, the most important thing for us is to work constantly. Our key is to take small ideas or concepts of everything, perhaps a trip, a restaurant, an architecture or nature.
All this is macerating and intermingling until all our projects are born. We have many references, but we love the work of the Bouroullec, Urquiola, Grcic or Hayon (who set up their studio in our city)."
Yonoh projects present clear lines and a minimalist style that magnifies the materials and its textures. Which are the main values, core concepts or style inclinations that, above all, will always represent the studio and yourself?
Clara and Alex:
"Precisely that, being very detailed and quite direct in what we are looking for. We don't like superficial adornments, we like to mix form with technique. It all comes from having started working with small companies in the area where we had to be very creative to get products that stand out with a minimal investment.
We have been growing in development investments, but that experience has always followed us. We like to do Nordic projects but with a Mediterranean soul, surely that defines us."
[ Are you a fan of minimal product design? See Inga Sempé's wise approach to colour and functionality ]
With 16k followers on Instagram, what would you say is your relationship with social media? What is the impact of social media on your work as compared to the "real" world?
Clara and Alex:
"We like to show people what we do, to make all our friends participate in some way in the latest project that we have put on the market or in what we are involved in.
It is also true that we do not like to be aware of the social networks, so we take it as something we must do but without having to be too exposed.
It is also true that at the beginning of our career (although there were no social networks) we took it seriously to periodically make press releases so that they would know our work, this became a habit that we continue to do."
Earlier this year you collaborated on the project of a modular house with the Spanish brand Casas in Haus. Could you tell us more about this project and what were some of the challenges encountered?
Clara and Alex:
"This is a Project we are very proud of, a very complex but exciting project. In the studio we have always liked to vary the type of product – lighting, home, cutlery – but this was a drastic change in scale. For us, accustomed to working with small details, it was a big challenge and effort.
At first, the modular home issue seemed like a world where you couldn't do great things, but when we visited the factory and saw what they were doing, we understood that this was the future, premium, super-efficient, built homes in record time.
The truth is that we discussed a lot internally about how to face the project, what direction to take, how to solve a thousand details, but with the work and help of the company's technical team, we managed to make a line of houses that certainly reflected our style and from which we are very proud."
With clear experience in creating beautiful objects for home. What are the main trends & future directions you have found within furniture design and what do you think of them?
Clara and Alex:
"The situation that we live with COVID means that the projects have to be very accurate, we do not talk so much about ways or materials that are easier to clean, we say that each project is studied to the millimeter so that it is exactly what we "understand" seeks the market.
It seems that exhibitions, or large shows are going to be stagnant for a while, so what is launched will be out of necessity. We are all very focused on finding the best solutions, the most efficient and the ones that best accompany the user, each one from his point of view, we are always working on this."
Most recently, you presented the Turia sofa for the Pode Collection. What is the next step for Yonoh?
Clara and Alex:
"Now we are developing many different projects. We are working with the American market on various concepts that we hope will appear in 2021.
We will soon launch a project with a firm from Amsterdam, a project that we have been developing for a couple of years, and we really want to show. As for our website, although it is surely not appreciated, every year we implement it with improvements, but for now, we are very happy with the design it has."
[ Do you want to learn more about product design? Check out Challenging the market and consumer perceptions – Morrama's sustainable minimal products ]