Home decor
Dimore Studio unveils three-part initiative exploring "Past, Present and Future" of design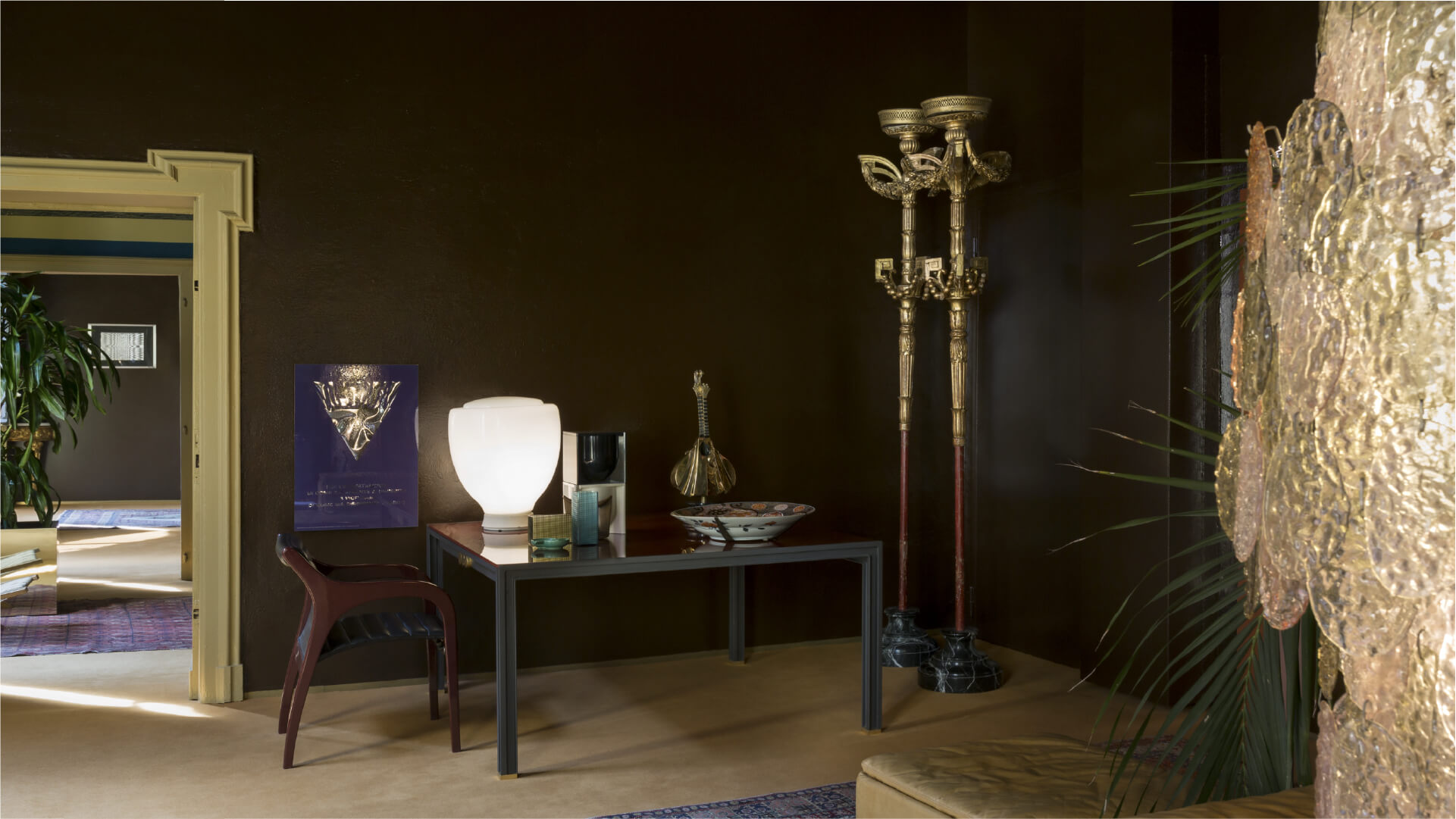 The studio has unveiled several projects during Milan Design Week including a celebration of Italian Rationalism and the first-ever retrospective on industrial designer Claudio Salocchi.
With an archival collection boasting the likes of Gio Ponti and Carlo Scarpa, and a highly curated collection of contemporary design objects, Dimore Studio designers Britt Moran and Emiliano Salci can fuse historical periods like no other. It's the perpetual link in their work between the past and the future, which informs a series of concurrent projects the design duo has unveiled inside their Brera Gallery during Milan Design Week.
Titled "Past, Present and Future", the project celebrates furniture by midcentury architects to evoke the past alongside the studio's new interior collection to reflect the present. Meanwhile, a retrospective dedicated to the rediscovery of the work of architect and designer Claudio Salocchi is intended to represent the future.
PAST
Featuring works completed during the 1930s by Italian architects Piero Portaluppi, Marcello Piacentini and Piero Bottoni, a museum-like exhibition celebrates Italian Rationalism inside the studio's gallery. Across several rooms, iconic designs by Portaluppi sit alongside pieces from the 1930's such as a rationalist desk or appliques by Ignazio Gardella and table lamps by Gae Aulenti.
The mathematically ordered design of rationalism meets with Dimore's unexpected approach blurring the lines between historical and contemporary resulting in combinations emphasising the variety of geometric forms that characterise the period. To complement, Dimore has carefully sourced wallpapers from de Gournay's extensive archive collection of Chinoiserie wallpapers, some painted as early as 1983 and never seen before.
It includes Faisans, a wallpaper inspired by a rare 18th Century design and featuring a sumptuous scene filled with brightly coloured pheasants; Lanesborough, featuring decorative balustrade and porcelain vases as seen in Chinese gardens; and Malmaison, a dense and energetic motif that maintains a fresh note with birds and butterflies darting amidst the foliage.
Each room is punctuated by unique Bitossi pieces—twenty-nine in total to be exact—selected from the Bitossi Archive Museum in Montelupo Fiorentino, which opens this weekend.
Discover more exhibitions presented at Milan Design Week, don't miss Five designs to see at "Masterly — The Dutch" as it returns to Fuorisalone 2021.
PRESENT
The present is defined by a digital premiere revealing the studio's latest furniture, fabrics, decorative and home collections, which can be seen below.
Featuring console tables, mirrors, chairs and much more, a campaign reveals a neo-romantic attitude, developed using cold and unusual materials. Furnishings boast deep-colour shades accentuated by flashes and textiles boast patterns with essential lines.
FUTURE
The third and final part of Dimore Studio's showcase is centered on the work of Claudio Salocchi. It's the first retrospective of the Italian architect and designer, an idea that came about when Moran and Salci met Claudio's son, Tommaso Salocchi, and discussed the importance of his modern and functional approach.
A roster of Salocchi's iconic designs is highlighted by Dimoregallery in the retrospective retracing the designer's successes throughout a selection of his most significant pieces. For example, a selection of geometric floor lamps designed by Claudio Salocchi between the 1960's and the 1970's are showcased throughout the gallery space to illustrate his natural evolution to a more futuristic design discipline where functionality and clean forms merge perfectly.
"Past, Present, and Future" isn't the only project by Dimore Studio at Milan Design Week. Moran and Salci have also contributed to a series of reinterpretations of Dior's signature 'Medallion' chair for a special exhibition.
Curious to know more about Milan Design Week? Don't miss Alcova presents a design evolution in Milan.