Design
From discarded seashells to diverse innovative projects, here are seven examples
Researchers and designers are now utilizing waste seafood shells to craft new materials and products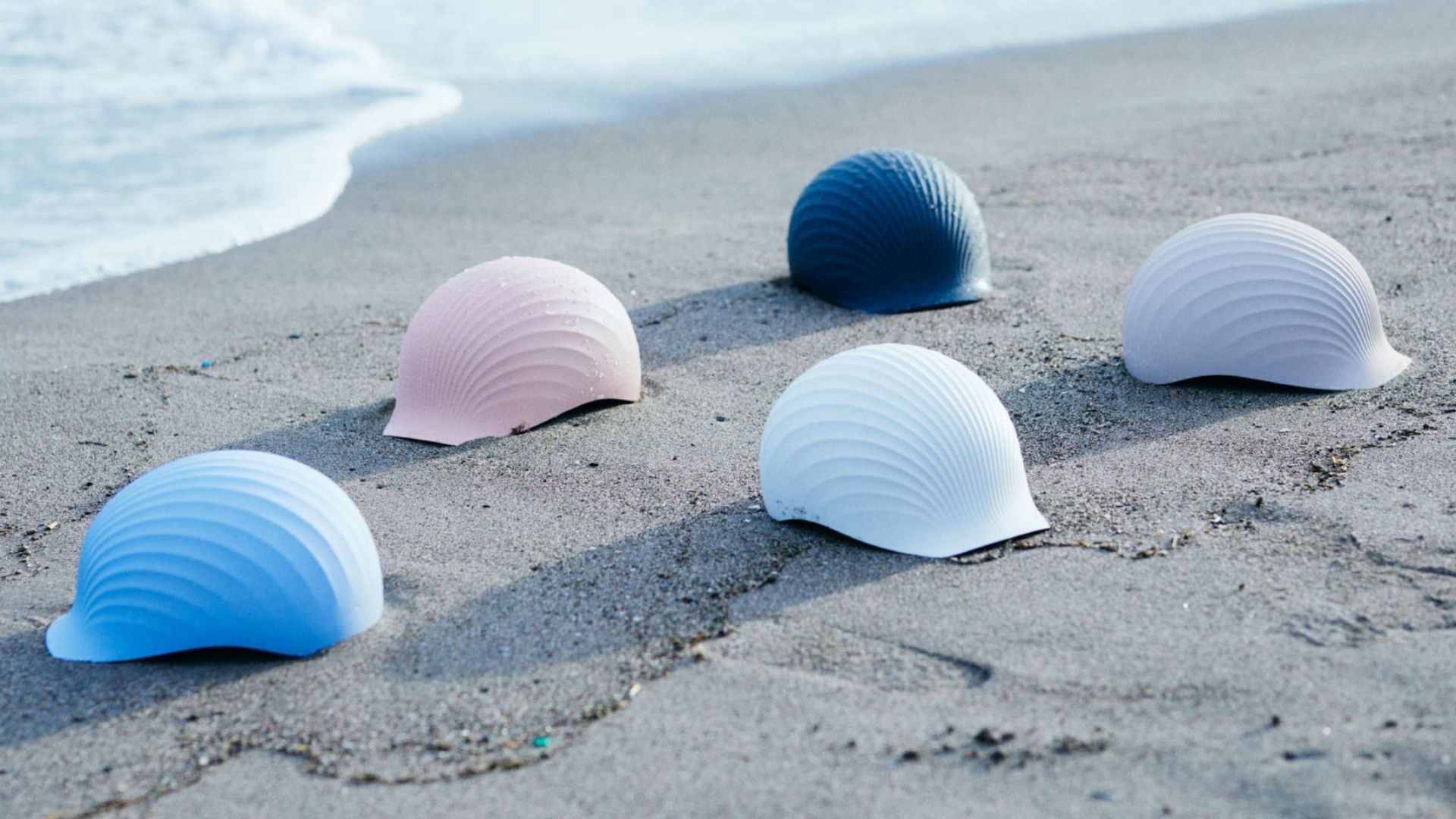 Building materials to leather alternatives, protective headgears, furniture and restaurant crockery made from the eateries' own food scraps – researchers and designers are exploring endless ways of creating materials and products from discarded seashells.
Every year, close to eight million tonnes of waste seafood shells are generated by the global food industry. Did you know?
These disposed shells are frequently dumped at sea or sent to landfills, where they modify soils, waters and marine ecosystems.
Brilliantly addressing the large volume of seashells thrown away annually – our generation understands the need for a sustainable future.
Seashells form the exoskeleton of crustaceans and mollusks and are mainly composed of calcium carbonate, which has similar properties to limestone – a common construction and emissions-intensive material utilized to make cement.
Oyster shells, for instance, consist of around 95 percent calcium carbonate and a growing number of designers have started using them as a durable biomaterial alternative to mined calcium carbonate in the form of limestone.
A major by-product – designers across the globe have noted the potential that shells have to form the basis of products by condensing and combining them with other materials. 
Here are seven extraordinary projects made from seashells:
Bio-concrete Tiles by Brigitte Kock and Irene Roca Moracia
Giving new economic and ecological value to invasive species that are among the top five threats to biodiversity worldwide – Central Saint Martins graduate Brigitte Kock and Irene Roca Moracia collaborate to create bio-concrete tiles.
Made from Japanese knotweed and shells from American signal crayfish, they were able to source both species from specialist removal companies.
"We wanted to create a positive impact – a regenerative material!" says Kock and Moracia.
The knotweed which is incinerated after removal acts as the ash binder, while pulverized crayfish shells are utilized as the aggregate instead of traditional rocks or sand, as these can contain fossilized carbon.
Seamlessly combined with water and gelatine – these ingredients form a strong homogenous material that cures and hardens without the need for added heat or synthetic coloring.
Additionally, through adjusting these variables, the material can take on a range of different finishes to replicate raw concrete or the delicate veining of stone or marble.
Its colors vary from a pale minty green created by firing the crayfish shell, to a deep burgundy hue that develops in the curing process when pieces of raw knotweed root are included alongside the ash.
[ Read also Projects using the potential of mycelium, a natural alternative to plastic ]
Architectural Tiles by Bureau De Change
London architecture studio Bureau de Change produces a range of patterned tiles using Thames Glass – a biomaterial crafted by artist Lulu Harrison from mussel shells.
A graduate of Central Saint Martins, Harrison made the bio-glass utilizing the ground-up shells of quagga mussels in combination with local sand as well as waste wood ash.
Bureau de Change founders Katerina Dionysopoulou and Billy Mavropoulos worked with Harrison to explore whether this material could be used to create eco-friendly cladding for buildings.
Skillfully featuring patterns inspired by 19th-century terracotta chimney pots – together, they have made a series of cast glass facade tiles.
"Glass as a material is already sustainable, as it's infinitely recyclable – however, Thames Glass offers an even more sustainable alternative, because it utilizes local waste materials!" says Mavropoulos.
Mavropoulos believes the naturally occurring texture and unique colouration are the material's best qualities and are what makes the tiles so effective.
Each tile has its own micro-texture that beautifully interacts with light – together with the material grain, the traces of the casting process create depth and enhances the Victorian motifs.
TômTex by Uyen Tran
A leather alternative fabricated from food waste that can be embossed with a variety of patterns – Vietnamese designer Uyen Tran develops a flexible bio-material TômTex.
The name tôm, translating to shrimp, references discarded seafood shells that are mixed with coffee grounds to form this textile.
"Leather is used in so many applications across different industries but people around the world are suffering from the pollution that the industry causes!" says Tran.
Killing two birds with one stone, she developed a substitute utilizing an abundant natural resource – food waste.
The biodegradable material is durable while remaining soft enough to be hand-stitched or machine-sewn.
This New York-based designer works with a supplier in Vietnam, who gathers waste shrimp, crab and lobster shells as well as fish scales to extract a biopolymer called chitin from them.
Combined with waste coffee from Tran's own kitchen and from local cafes – this forms the basis of Tômtex.
Additionally, when a Tômtex product has reached the end of its life – it can be either recycled or be left to biodegrade.
Shellmet by TBWA\Hakuhodo and Koushi Chemical Industry Co.
Made from discarded scallop shells and recycled plastic – Tokyo advertising agency TBWA\Hakuhodo and plastics manufacturer Koushi Chemical Industry Co. create Shellmet.
"This product was conceived as protective headgear for the fishing community in Japan's Sarufutsu village where around 40,000 tons of scallop shells go to waste every year!" say the creators.
Shellmet is fastened with a nylon chinstrap and shaped like an oversized, ridged seashell.
Its structure is made from Shellstic – a material developed with Koushi Chemical Industry Co. that combines scallop shells from the seafood industry with recycled plastic.
Shellmet's materials can be recycled to remake another helmet or reused separately as building materials.
Although the helmet was initially designed for Sarufutsu's fishing workers – it can be further utilized as a cycling helmet or a hard hat during disaster prevention work.
This helmet draws on biomimicry – a design strategy wherein systems found in nature are adopted by humans to solve problems.
[ Read also Exhale, the world's first living Bionic Chandelier which purifies indoor air ]
Gigas by Carolina Härdh
Oyster shells, fish bones and rice starch from the kitchen of Gothenburg restaurant Vrå were combined to form this dual-purpose stool and side table Gigas by local designer Carolina Härdh.
These one-of-a-kind versatile furniture pieces were crafted for use in the eatery that serves Japanese dishes made from local Swedish produce – in a bid to show its guests the unexpected value of food waste.
"Even before I started the project, I knew that I wanted to utilize the wild Crassostrea gigas oysters from the Swedish west coast because they are an abundant local resource!" says Härdh.
The material developed resembles a biobased version of terrazzo – instead of a cement base, it derives its strength from the crushed seashells, which are equally rich in calcium carbonate.
To create the material, Härdh ground the oyster shells into chunks of varying sizes and mixed them with dried bits of kombu.
Together, these two ingredients act as an aggregate as well as help form the speckled texture reminiscent of terrazzo.
In an attempt to make circular, zero-waste principles tangible and understandable for the restaurant's guests – the final designs can be recycled to create new objects or left to biodegrade.
Shellware by Natural Material Studio
Designer Bonnie Hvillum's Natural Material Studio crafts conceptual eclectic ceramics from clay made out of powdered seashells from Denmark's Noma restaurant.
The Copenhagen-based designer teamed up with the restaurant known for its locally sourced produce as well as ceramicist Esben Kaldahl to develop the seashell-based material.
This Shellware project used donated leftover scallop and other seafood shells from Noma to create the crockery.
Curious to work with seafood shells, explore the possibilities and how they could be brought back into the restaurant in a new narrative – "I connected with marine experts from Kristineberg Marine Center in Sweden to understand the shells better!" says Hvillum.
From the shells received from Noma, the scallop shells were the ones that contained the most calcium oxide.
Apart from scallop shells, Hvillum further received sea-snails, king crabs and sea urchin shells which she utilized to make ceramic glazes in different colors.
Off The Menu by Carly Breame
Plates created from oyster shells, fish bones and potato peelings feature in the work of Central Saint Martins graduate Carly Breame, who collaborated with a British seafood restaurant to make a menu of hyperlocal ceramics.
Breame wanted to support the future of the seaside town of Margate through localism – encouraging local production and consumption of goods.
Her Off The Menu ceramics collection is made from food scraps from Angela's of Margate and is intended to be used in the restaurant as well.
"I develop functional ceramic works that center around the dining table, acting as a representation of the local environment – the ambition and motivation is often how to reconsider the materials we use and work towards circular economy goals!" says Breame.
This crockery collection is designed to emulate a menu. – the starter dish, Seafood and Wine, is created utilizing oyster, mussel and scallop shells for the plate's body as well as crushed wine bottle glass for the glazing.
The process involves kiln-firing the ingredients and then grounding them into a fine powder that can be used to replace part of the clay or glaze material.
Breame hopes this project will serve as a manifesto for future restaurants interested in crafting their own ceramics within a closed-loop system.