Furniture design
If you do one thing, sleep in an Ennerev bed at Milan Design Week 2021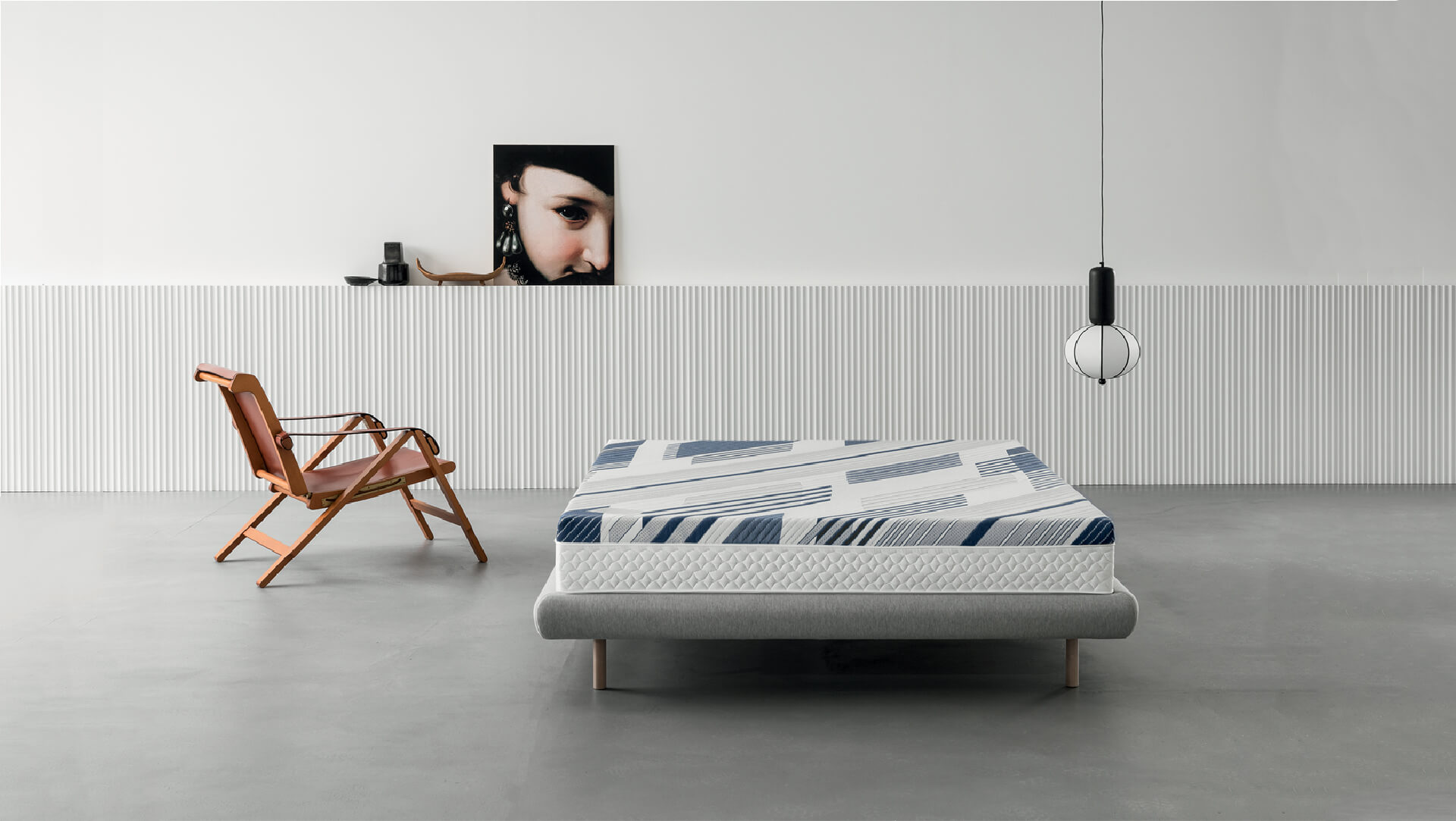 Ennerev unveils an oasis of relaxation inviting you to experience its latest collection of mattresses presented at bed&show in Tortona Design District.
In Italy there is the expression "Il Dolce Far Niente", which describes the sweetness of doing nothing, so it's not really surprising that an Italian company could master the act of sleeping so well. Since 1956, Ennerev has been on a mission to create a "good night's sleep" with its beds and mattresses, using its expertise in the sector to achieve and exceed it.
Cutting-edge materials, innovative ideas, and quality are the bases upon which Ennerev works in its search for an evolved comfort concept. The exclusive use of natural materials and the study of special allergenic treatments are the result of a precise and conscious choice. 
Those who sleep on an Ennerev bed literally sleep well at night knowing it's a certified Class I Medical Device, as is the case with all Ennerev products. But that's just the technical analysis, the real beauty is in the materials, which tell a story of comfort all by themselves.
Amongst the unique characteristics of an Ennerev mattress is an incredible use of fibers for the finishing, which includes a precious and sustainable yarn called Kapok derived from a tropical plant, and Makò cotton hand-picked in northern Egypt for its soft, silky, and breathable characteristics. 
Unfortunately, a written description doesn't do the comfort of an Ennerev mattress any justice, which is why the brand has invited visitors at this year's Milan Design Week to experience it for themselves asking design-goers to go to bed with them, the brand is opening the doors to an exciting two-house permanent installation located in the heart of the Tortona District. Called Experience Design, the concept was created to be available all year round as a boutique hotel to stay, inviting visitors to make bookings and spend the night resting on an Ennerev mattress in one of 3 dedicated rooms.  
"An Oasis of Relaxation" in a new concept showroom Tortona
In a storied neighbourhood in southwest Milan, Ennerev will create a special moment of relaxation amidst the frenzy of events set to take over the city. Its products will form part of the "bed&show" living concept in collaboration with various other brands to create an immersive experience. 
"In the loft, you can enter and climb to the upper floor," a description of the first house-showroom reads, "finding yourself projected into a reality made of sky and clouds." A combination of magical wallpapers and other design objects will transport visitors and make them feel as though they are floating amongst the clouds—a universal symbol of comfort.
Amongst the clouds, you will find the Hybrido mattress, an "avant-garde bed system" combining an eco-memory foam topper to stimulate muscle relaxation and blood circulation, with single pocket springs for active support. "It is a soul with two different and complementary technologies that work together to ensure the quality of rest and therefore of life," explains the brand. 
In the second house-showroom, visitors will be guided inside a secret oasis located in between two private gardens. Here, two rooms and two mattresses offer a quiet respite from the noise and frivolity of the Tortona district. 
Curious to know more about products designed to ensure the best quality of rest? Don't miss the LULA bed is designed for next-level power naps.
Etoile's massaging effect for good rest
Etoile boasts the comfort of memory foam and 1600 micro-pocket springs. Derived from raw materials, the upper side is in Fresh Memory, an Ennerev foam made from vegetal additives that dissipates the heat naturally produced by the body to produce a sensation of freshness and comfort. 
It is a foam-based on compounds of vegetable origin, worked in the form of sheets and profiles with a dense interweaving of grooves with differentiated zones for a massaging effect on the body, good air circulation, and fast disposal of moisture in excess. It also resists deformation well, guaranteeing a longer life of the mattress.
Masterpure and Ennerev's evolved foams
Meanwhile, Masterpure is Ennerev's most complete line of sleeping systems made with its latest generation foams, which combine hypoallergenic and ergonomic mattresses with wavy profiles and multi-zone lift. The finishes are precise and refined in detail with geometric embroideries highlighting the particularity of the three-dimensional upholstery. 
An Oasis Of Relaxation takes place at Experience Design bed&show Milano in the Tortona Design District from 5 to 10 September from 10.30 AM to 18.00 PM. Access is via a private entrance on Via Voghera opposite street number 4, Milano, prior to registration on Eventbrite.
Find out more about what will go on at Milan Design Week, don't miss Tortona Design Week presents the project IN-OUT, perception of sustainability.