Home decor
Extra Ordinary Metal Orchestra by Chiara Luzzana for Alessi
The Extra Ordinary Metal unites Alessi's manufacturing experience from the 1920's with Italian goldsmith tradition in a collection of brass metal tableware pieces signed by renowned designers and presented through a unique musical performance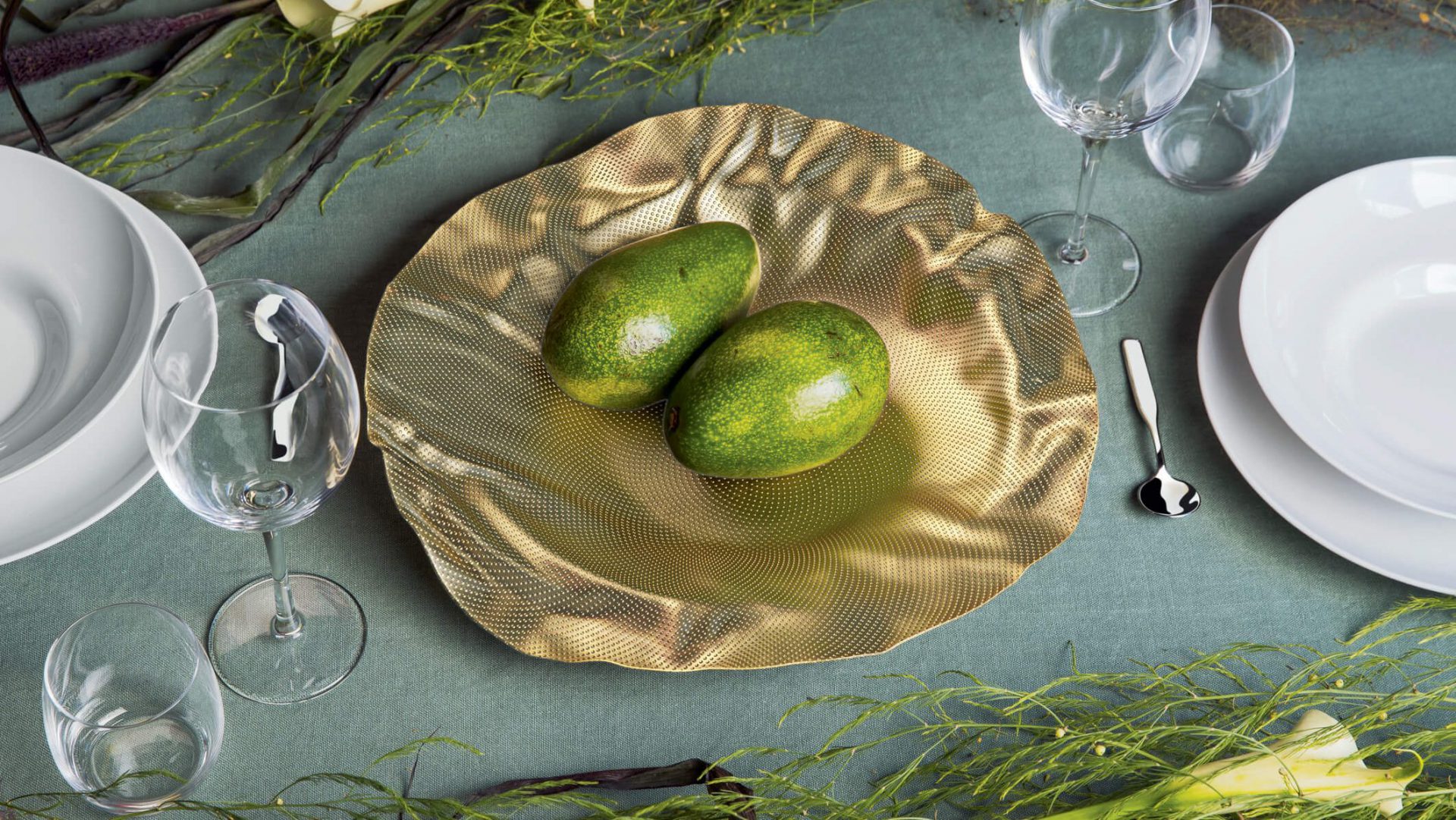 The "Extra Ordinary Metal Orchestra" performance by Chiara Luzzana is a real example of how Alessi challenges the impossible, daring to explore unusual strategies and forms of expression: the interpretation of precious design pieces through an ingenious language of dialogue creates a unique bonding with consumers.
Composer and performer Chiara Luzzana remarks: "I create music using sounds captured from everyday life. Everything you can see, you can hear".
Chiara Luzzana extracts sounds from all sorts of objects, gifting each one of them with a unique voice and personality. The interaction among these spontaneous instruments generates unexpected melodies and unexplored meanings behind all the design pieces involved.
An element of surprise is created when the two glorified worlds of a sound artist and a design company join forces in the creation of a precious and original language of expression:
The Extra Odinary Metal collection by Alessi defines brass in a new light with a series of table accessories designed by renowned names in the design industry. The products' finish is obtained through the age-old Etruscan Granulation technique traditionally used to decorate objects covering them in granules of precious metal.
In this collection, the granulation is attained through the cold milling of brass. This creates a glowing outer skin competent of flattering both complex shapes and simple lines. The end result is a texture with an iconic design that interacts with light to create a radiant aesthetic.
An unexpected and subtle participation to the Extra Ordinary Metal is by the Italian mathematician Fibonacci and his homonymous numeric series. The Fibonacci Sequence approximates the golden ratio, a codification of beauty through mathematics and geometry: it was applied to develop the patterns in the granulation process for Alessi's collection.
Out of the 13 pieces in the Extra Ordinary Metal collection, we selected a few to present you in detail alongside the designers behind their realisation.
Pieces:
Recinto by Alessandro Mendini
The Recinto tray by Alessandro Mendini unites Baroque forms and priceless reflections to enhance the table, presenting scalloped edges and handles. Alessandro Mendini was a celebrated architect, artist, designer, journalist and design manager was born in Milan in 1931. Mendini has been the protagonist of a real revolution in Italian design in the 1980's.
He had also worked, aside from his artistic career, for Casabella, Modo, and Domus magazines as Editor in Chief. Alessandro Mendini had also been awarded several international prizes, including Compasso d'Oro in 1979, 1981 and in 2014 for his exceptional work.
Tray Colombina by Fuksas Studio
Soft curves and a neat surface lead the design of the Colombina tray collection by Fuksas studio. Led by Massimiliano and Dorina, Fuksas Studio is one of the most global architectural firms, counting over 600 projects in 5 different countries.
As a leader in the industry, Fuksas Studio has developed an innovative approach through their vast range of works, ranging from urban interventions to convention centres, from museums to cultural spaces, offices and even design collections.
JM17/29 BR by Jasper Morrison
The JM17/29 BR plays with light and enhances its minimal shapes for a timeless beauty. Jasper Morison is an influential English designer who emphasizes on the functional elements while creating an object without compromising on its form. 
He has completed over 600 projects ranging from electronics to furniture to appliances. His designs are represented in New York's Museum of Modern Art. Jasper has curated exhibitions around the world, and is also the author of A Book of Things, Everything But The Walls and A World Without Words.