Home decor
Get switched on to Brutalism with Sekhina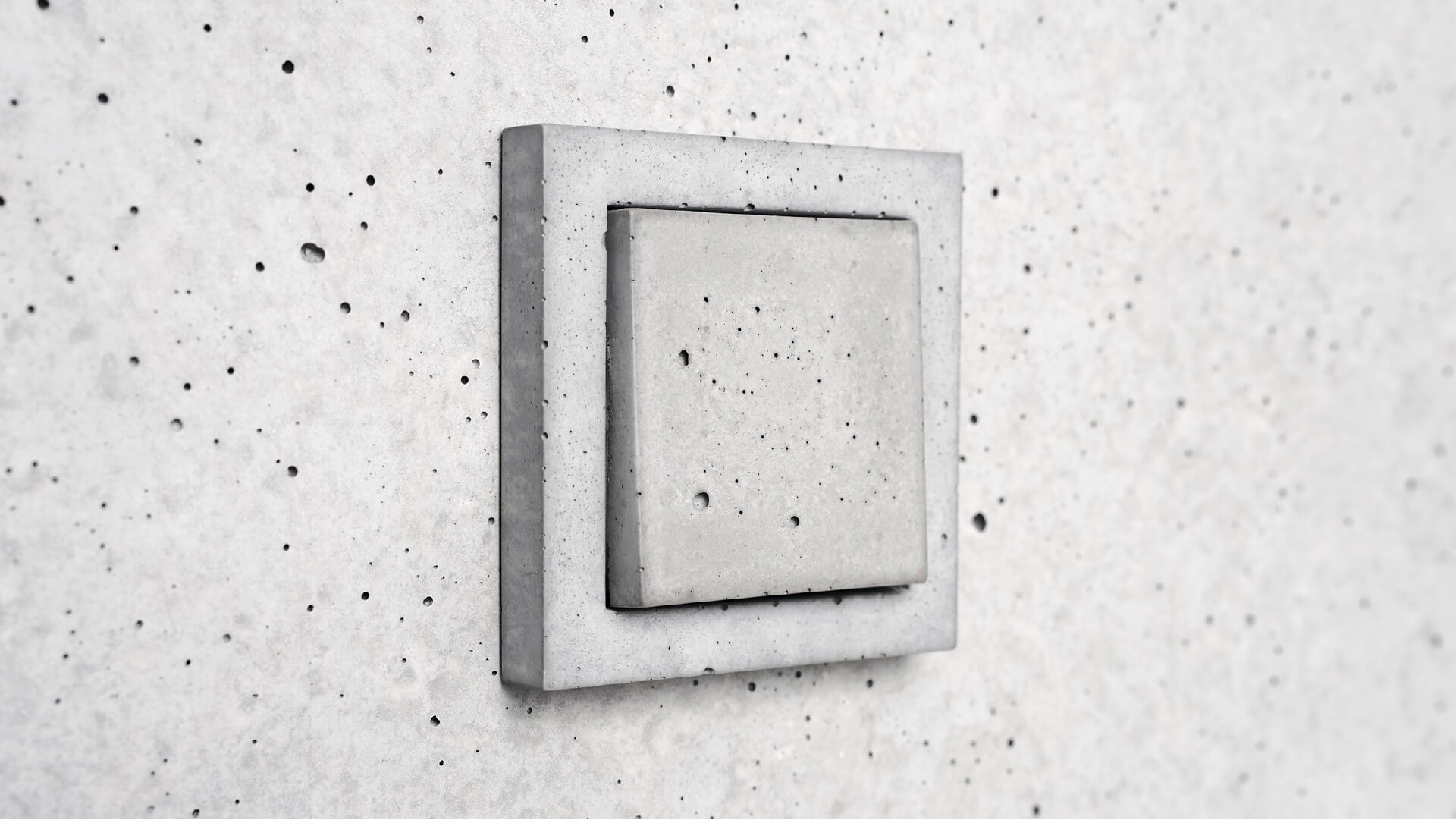 This range of concrete switches and wall sockets by Sekhina offers a minimal and eco-friendly alternative to plastic.
When designing or refurbishing, the one small detail that so often must remain is the standard electric sockets and switches on the walls. In plastic, typically. It is no wonder they are placed to be hidden as much as possible.
Now there is another choice. This is the first range available in concrete.
Why Sekhina? To provide unique wall sockets and switches crafted from concrete, as alternatives to plastic
Sekhina produces only the covers which sit over certified electrical components. They are supplied with electrical mechanisms from well-known manufacturing brands.
The minds behind Sekhina – Gábor Kasza
Sekhina was founded by Hungarian Gábor Kasza three years ago. He is a photographer and visual artist who began working with concrete when exploring materials in his artistic practice.
Most notably, Gábor collected a series of his images together in a highly considered and conceptual photobook. It is a limited edition and signed book titled, Concrete Passages About Closeness and Coldness… and a Couple of Songs. The poetic visual story is set in concrete spaces and the imagery abstract, geometric, and raw.
Keeping a strict adherence to theme, the book comes in a concrete slipcase lined with red paper. Prototyping the concrete cover took more than a year. And, in the process, Gábor learned a lot about concrete and its limits.
Sekhina has also worked in collaboration with architecture and design firms to showcase projects. They appeared in the Handwerk + Form '18 competition in Austria with some recessed sockets and switches.
Curious to know more about innovative uses of concrete in design? Don't miss Balloons full of concrete make 'Puffy Bricks'.
Materials & Techniques – Premium high-performance concrete, no toxic chemicals
Sekhina takes great care in its selection of materials. It is proud to be using high-quality materials that are chosen to keep its ecological footprint to a minimum. The pieces are hand made in small production runs.
A base of high-performance concrete is used, in a mix that contains only silicates. To improve the cementing properties and durability, metakaolin is added as a pozzolan. Micro-cracking is controlled by mixing in high-strength, alkali-resistant glass fiber.
To aid cleaning, Sekhina uses an eco-friendly water-repellent agent. It is invisible, fully integrated into the concrete, and prevents stains and greases from marking the products.
What is not added is just as important. No toxic chemicals. No epoxy, polyurethane, or artificial resins. PCE plasticizer is the only crucial chemical additive needed, and it is non-toxic.
The square rocker switch, plus the F & E types sockets are 80mm x 80mm x 11mm. The J type socket is 85mm x 85mm x 8 mm.
Style & Aesthetics – Refined brutalism with colorful options
Sekhina says that they aimed for "an aesthetic of refined brutalism that allows both simplicity and playfulness". They have achieved this with simple, clean lines. The sockets and switches available now are platonic square forms. They look great with the perfectly centered recessed plug holes.
Each product is polished to a smooth, matte finish. Due to the nature of the concrete, each piece will be unique. The fine aggregate pattern that emerges has been dubbed 'Mini Terrazzo' by the team. Cement colors include a range of greys, white or grey terrazzo, and a bubbly cement grey.
An industrial style dimmer is also available. These are concrete grey and classic in shape, with a contrasting brightly colored rotating button. Nine vivid colors are on offer, including cyan, green, pink, orange, and black.
It is also possible to create a huge array of other different looks. Pigments can be added to achieve soft pastels as well as intense hues. Sekhina claims they can deliver almost anything you can dream up.
Sekhina is inspired by dwelling in harmony
The name of the company offers a window into its underlying philosophy. 'Shekhinah' is an old Hebrew word that refers to the presence of God in the world and meant 'dwelling place'. It is also seen in Arabic as peace and tranquility.
The team describes: "the name 'Sekhina' signifies that special quality of objects accompanying our lives that add up to the experience of dwelling in harmony."
Design Memento – Develop materiality in a sustainable way
Materiality is the focus and driver of Sekhina. Born initially from a desire to craft a seemingly incompatible object from concrete, the material was pushed to its limits.
In the journey to master the material, Sekhina has nonetheless kept its eye firmly on sustainability. This can be seen in the selection to avoid harsh additives. The metakaolin used is the most sustainable choice of pozzolan available.
The persistence has allowed more everyday objects to be created now. And, to replace mass-produced plastic pieces with a more sustainable, durable, and unique object.
The writer's comment – Concrete lovers will swoon
Let's face it. These are quite probably the holy grail of sockets and switches for many architects. I am a big fan of concrete and love seeing this material of mass construction used perfectly on a small scale for crafted objects
Want to feel these delightful objects under your fingertips? Check out the options to support Sekhina on Ulule. Delivery is set for October 2020.
If you want to know more about sustainable products, don't miss Everloop Toothbrush – Beneficial for both the environment and your oral health.