Forme Life is a new digital personal trainer hiding behind a mirror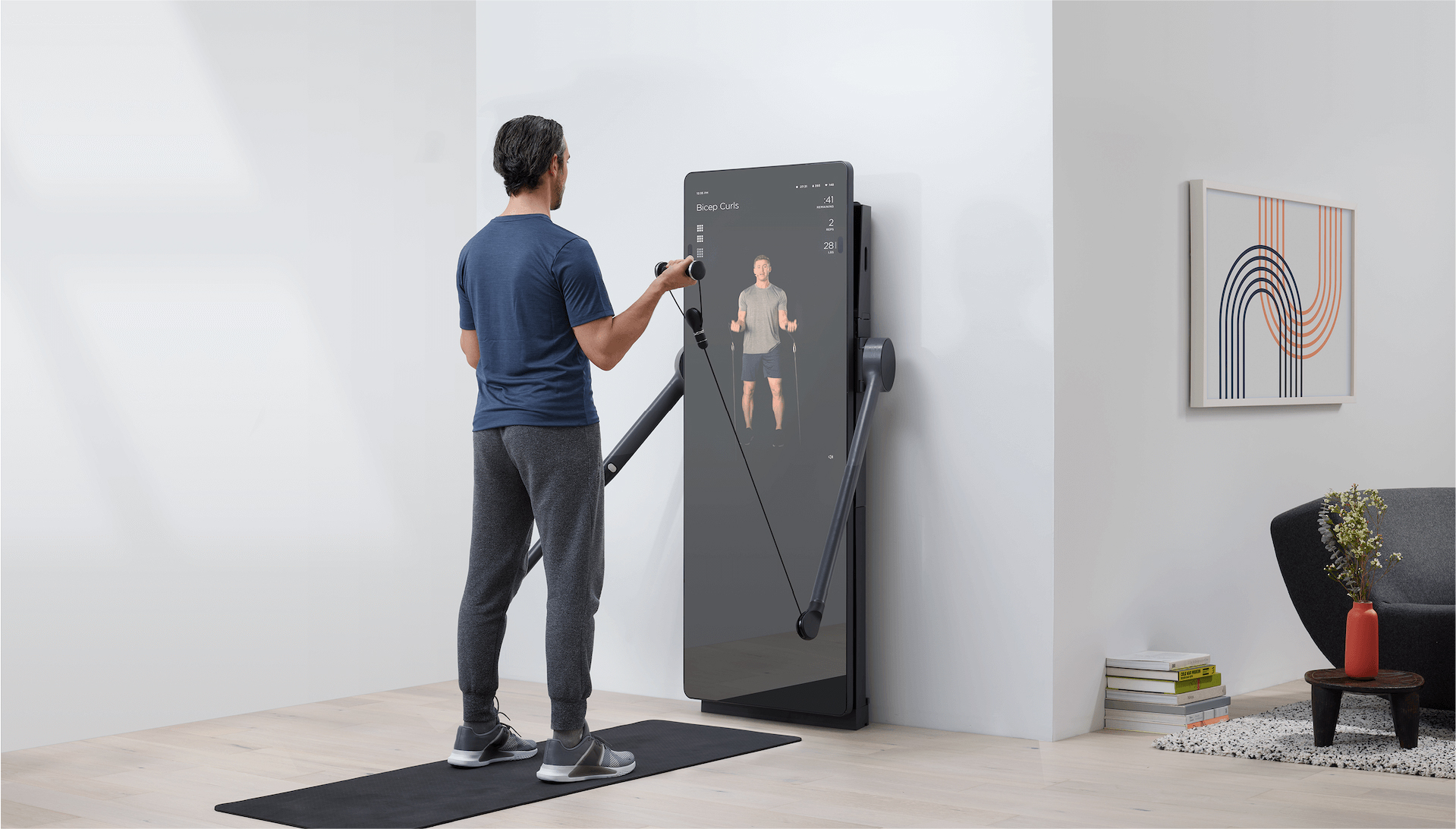 Using AI, 3D technology and a mirrored screen, Forme Life offers a personalised and interactive home workout experience with top LA trainers.
Fitting regular exercise classes into a busy schedule, or around unpredictable and lengthy workdays is a familiar challenge. And now, in the context of the current world health situation, and widespread social distancing measures, the imperativeness to find sustainable home workout options feel even more pressing.
Forme combines technology with traditional gym equipment functions into a single 6ft high mirrored unit. It is a futuristic home fitness solution designed to be motivating and less intimidating than attending a gym.
Why Forme Life? To provide a responsive and engaging fitness solution that blends into a home environment
To create the workouts and training content Forme has collaborated with trainers across many disciplines in LA. Users can select from resistance training, boxing, pilates, yoga, barre and meditation amongst others.
Preorders start on 6 May 2020 and it is set for release in fall 2020.
The minds behind Forme – Trent Ward and Yves Béhar
Forme Life is headed by entrepreneur Trent Ward and industrial designer Yves Béhar.
Forme designer Yves Béhar was born in Switzerland and completed his tertiary education in the US. He holds a Bachelor of Science in Industrial Design from the Art Center College of Design, California. In 1999 he founded Fuseproject: an industrial design and branding firm based in San Francisco and NewYork.
Fuseproject works across fashion, lifestyle, sport, and technology and has received numerous design awards. Clients include Kodak, Herman Miller, General Electric and Prada. Béhar worked with Samsung on 'The Frame' smart TV which displays artworks when off, and with Happiest Baby in developing the SNOO smart bassinet.
From 2005-2012 Béhar was the chair of the Industrial Design program at the California College of the Arts. He has also collaborated with numerous other companies and design startups, many with a focus on technology and sustainability. CEO Trent Ward has a background in investment and finance and graduated in 2003 with a BS in Engineering and BS in Finance from the University of Pennsylvania.
Materials & Techniques – Mirrored screen with hidden equipment
Forme could be described as a kind of gigantic smartphone with a mirrored screen and some additions. It is 70″ high and 26″ wide. The mirrored surface is 70% reflective and also a 43″ 4K UHD display.
Pullies and two arms of cast aluminum form the basic equipment that allows users to complete a range of exercises. The arms can be positioned up or down and the angle adjusted to accommodate all manner of pushing, pulling and lifting movements. Then, one press of a button and the arms retract behind the mirror until the next workout.
To simulate weights, Forme uses a hidden resistance system. The weight options are displayed on the screen and can be scrolled through and selected.
Forme is also a piece of smart technology, which is equipped with speakers, a microphone and two cameras to facilitate its data gathering and content delivery. Forme can be controlled via the touchscreen interface and also accepts voice commands.
Included are a range of accessories that can be attached and detached, to allow a variety of exercises. You can select from a short bar, rope handle, or ankle strap, plus work on the supplied yoga mat. A heart rate monitor helps to provide feedback on your workout. All of these items, along with the cleaning kit tuck neatly into the sliding storage cabinet at the back of the unit.
Additional accessories—a barre bar, long bar, and a bench—are available to extend the functionality.
Style & Aesthetics – Unobtrusive and discreet
Forme is specifically designed not to be a showpiece. It is discreet, won't scream 'home gym', nor take over your living room décor. It can be placed freestanding or wall-mounted.
From the front Forme looks simply like a full-length mirror, with a clean, slimline edge. From the side, it has some depth and is finished in a neutral matte dark grey. When Forme is in use, the mirrored surface transforms into a display screen but retains reflectivity to allow the user to see their movements.
Delivery and installation get you started immediately
Just because we love using smart technology does not mean we always enjoy setting it up. Recognizing this, Forme Life offers a "white glove delivery and installation service".
This is certainly going to ensure Forme is immediately up and running for use. It won't be left sitting in the box anywhere, and it will be safely installed. According to Forme Life, all you need is some open floor space and two wall studs if it is to be wall-mounted.
Design Memento – A digital fitness instructor
The unique aspect of Forme is its integration of mechanical equipment with technology. They work seamlessly together to create the overall design.
Forme effectively utilizes AI to personalize the training offered to each user and curates workouts based on ability, fitness goals and mood. The user is faced with an on-screen 'digital instructor', who delivers an interactive experience.
Machine learning and AI are harnessed to select the correct weights and adjust them as fitness improves. Utilizing its cameras and 3D motion tracking technology, guidance is given on form and technique, which improves the safety and effectiveness of working out at home. And, for anyone who prefers a bit more privacy, the designers have made sure that the cameras, sensors and workout history can all be disabled. Whilst, the library of content remains available to select from at any time.
The Writer's Comment – Fostering commitment to your home workout
Forme is part technology, part gym equipment, and part subscription plan. It is a powerful combination that rethinks home workouts and solves the key hurdles of unsightly equipment and lack of feedback on performance.
Having a mirror as its default form is also a sneaky way of always showing you how you look. You get to admire your improvements and it will likely act as a subtle prompt to you to keep working out regularly. That, along with the more than 3-year commitment and content plan that comes when you order.