Technology
Unleash emotions through sound experiences with acoustical engineering company Devialet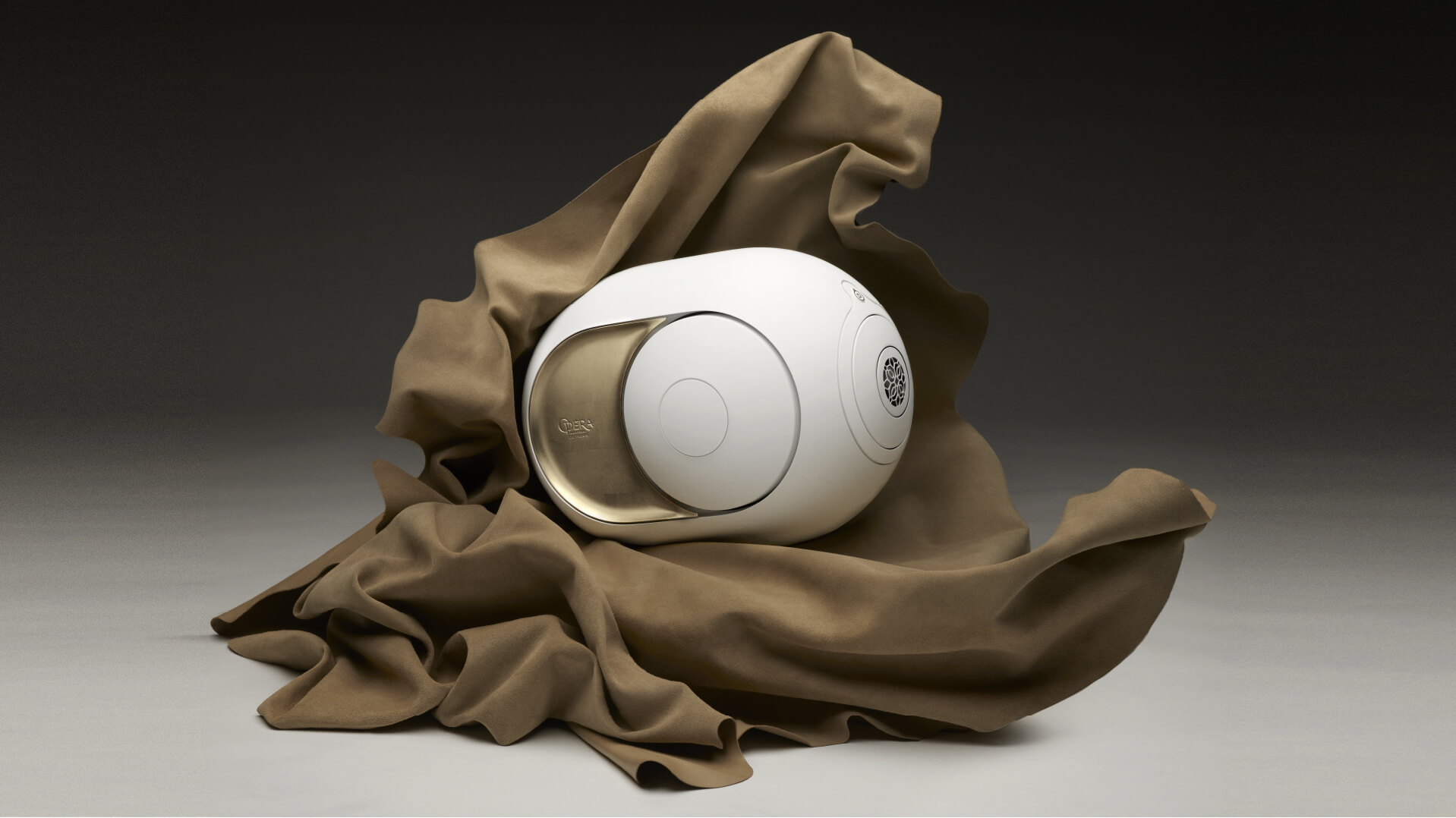 Counting over 200 patents and constantly pushing to better their groundbreaking technologies, Devialet strives to bring the emotion of high-fidelity sound back to people's lives. Co-founder and designer Emmanuel Nardin shares what's behind their mission.
"Sound restitution needs to be realistic in order to be strongly emotional", says Emmanuel Nardin, co-founder of the acoustical engineering company Devialet alongside engineer Pierre-Emmanuel Calmel and entrepreneur Quentin Sannié.
Together, they turned their obsession for emotions triggered by music into their mission, initiating a revolution in the world of audio. Operating at the intersection of luxury and cutting-edge technology, Devialet strives to elevate sound to its rightful place in people's lives by delivering uniquely meaningful audio experiences.
Emmanuel Nardin is a functionalist and minimalist designer, someone who considers design a tool to highlight technology: DesignWanted had the chance to interview him and find out more about his journey, mission, encountered challenges and further steps.
Who is Emmanuel Nardin? How did the journey for Devialet begin?
Emmanuel Nardin: "Emmanuel Nardin is one of Devialet s co-founder. Formation as a designer. He is a music lover. Creating Devialet was one of his dreams. He met Pierre-Emmanuel Calmel, then engineer, through a professional opportunity that brought them together around a common project. They realized they shared many passions and ideas, and also that they were both looking for a new professional project. And from these discussions, they decided to build a common new adventure together.
The brand was born from the ambition of those 2 men, and with the complementarity of Quentin Sannnié, strategic consultant, the third co-founder of Devialet. Driven by the same desire to make a highly technological audio product, ambitious enough to make it available to as many people as possible, with a strong identity. Balanced between tech and design, and for the design to highlight technology."
If you're passionate about technology, don't miss this interview with Lior Elgali, Application Engineer and Product Manager of Stratasys.
Why Devialet? Why focus on high-quality sound reproduction?
Emmanuel Nardin: "Sound restitution needs to be realistic in order to be strongly emotional. Like sounds in real life. It is the ability to render music in a way that is equivalent to reality that makes sound reproduction moving. This is only possible by reproducing all the details. Like a truth. And this is what we want to achieve with all sound devices, at Devialet.
It is exactly the same with the video. The more details and the fewer pixels, the more emotion it brings. And from the past 50 years, the sound quality not only of the music contents but also music devices has decreased – and this is what we fought against for the past 10 years. And we can see now that this trend is finally changing, proving us right.
I come from a family of architects so there is a sensibility in me for an artistic approach. But I am also attracted to objects, to the technique, and sensitive to their artistic dimension and dissemination purpose. That is why I chose a profession that straddles these two practices through industrial design. Besides, my vision of design is functionalist. To me, design must serve the function. Minimalist. And it is hard work to push a design in order to achieve this product expression."
Devialet brings high-quality sound to everyday life moments, often partnering with global leading brands such as Huawei, Sky and Belkin. How do you align your vision, mission and values with your partners' purposes?
Emmanuel Nardin: "Devialet's mission is to put back sound at its rightful place in people's lives, thanks to meaningful product experiences educating on good sound, to understand that ultimate pure sound has a totally different impact on their lives than what we can listen to in our everyday lives. We do that through our first party product, but we also think that providing a better sound quality to everyday products (cars, smart speakers, tv boxes) goes in the right direction.
Devialet does possess serious patents (+200) and all acoustic expertise fields that really can help other technological brands to improve sound quality in their amplified devices. In those licensing partnerships, our involvement is only technological. We do not interfere with the product's external design.
Our purpose is specifically to bring better sound to others – and also bring credibility and awareness to Devialet, which is still a super young brand but a serious challenger in a rather crowded market, thanks to partnering with tech leading brands passionate about innovation and technology, like us."
As a designer, can you tell us more about the role played by design while dealing with such an intangible matter as sound may seem?
Emmanuel Nardin: "Design plays a part in everyday objects. Sound is present in our everyday lives and sound is part of an emotional environment. The object that reproduces such an emotional moment must also play a visible emotional role at this moment.
We used the design to sublimate the techno and bring the expression of the sound transmission while intertwining with the engineers to produce the best sound possible. Either with the woofers of the Phantom speaker on both sides of the product, moving with low frequencies, and illustrate the music frequencies and aliveness; or with a poly mirror amplifier, Expert Pro, super thin, to disappear in front of the music, and underline our capabilities of lowest distortion, saturation or noise. Total transparency of the system. Just music in front of you."
Delivering diverse sound devices, including earbuds, speakers and amplifiers, which challenges do you encounter in balancing technological and aesthetic features?
Emmanuel Nardin: "At Devialet, our first challenge is compactness. Being able to miniaturize to offer better quality to smaller and practical devices. Our second challenge lies in our functionalist approach of design in the respect of the technologies, but always challenging the existing "common" features in order to push further our product into the path of simplification, always to leave more space for technology."
With the experience accumulated on over 200 patented technologies, how do you approach the prototyping phase?
Emmanuel Nardin: "We have countless tools of simulations in each domain necessary in making a product: in acoustic (materials resonance), in mechanics, in electronics, thermics, esthetics and design (with VR). And all those skills can be found at Devialet. That is also what makes the brand so specific.
The first phase is to push this simulation phase far in order to be aware of all the details and constraints. Here is "just" missing the in-hand / touch approach. We create dozens of simulations embedding all those stakeholders and their strong constraints (heat dissipation, power, max volume, woofer size to meet our requirements…) until we reach satisfaction for everyone. Input number one still being the design.
Most of the time, parties challenging each other push us further until we innovate. For the recall, Devialet has to date more than 200 patents filed, which is not to be a shame for a young fast-growing company. Then we come up with 2 to 3 design iterations of a product simulation on which we agreed, and start modeling."
What are the main trends & future directions within the field of sound devices, also considering the pandemic context? What do you think of them?
Emmanuel Nardin: "In our targeted markets, people are getting more aware and demanding regarding home equipment quality. I think that sound devices are the ones people use the most during the day. Good product (restitution) quality that eases your brain because of no distortion is super important.
Also, the other trend is the rise of the quality level of musical sources and files on the streaming side. Such companies as TIdal or Qobuz were on this channel for a long time now, but now the biggest players announced a hi-fi offer, with lossless files in 2021. It really accelerated the consideration for high-quality files. This trend is a good thing for Devialet as we do offer devices able to stream such quality. So we still believe that quality starts with the content, then people are gonna turn on the medium. Which is where we have a card to play.
The whole thing goes back to our mission statement: put back sound at its rightful place in people's lives and through meaningful experiences and innovations. We've been educating on how it can change your everyday life, and now we have other players, content creators, who help get the world into that direction."
What are the next steps for Emmanuel Nardin and for Devialet?
Emmanuel Nardin: "We've been willing to accelerate for the past 2 years now. We increase our ability to conceive and innovate on new tech and products and in parallel our international development specifically in the APAC region. The result for me and the design team is that we are kept busy in making a new iconic Devialet product, following Phantom's legacy."
Is our house becoming completely smart? Take a look at Adam Shen's Home Security Camera, the solution for your privacy concerns!