Design
Friction Stir Welding: the future of solid-state welding
Patented solid-state welding process makes joining metals more accurate and sustainable.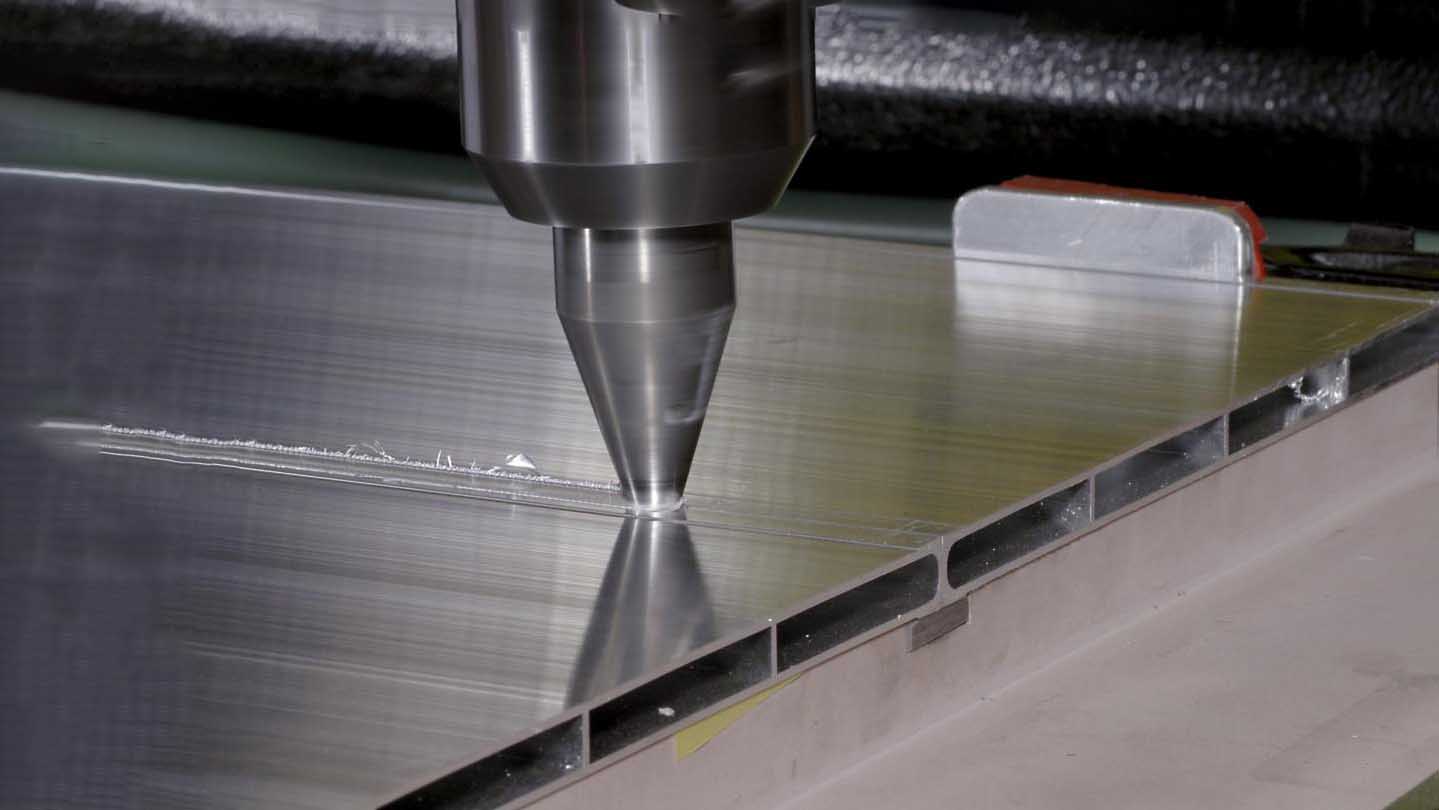 Energy efficient, environmentally friendly and versatile, friction stir welding joins materials in ways unexpected.
It's a patented process invented in the nineties, which has since been used to join high-strength aluminium as well as other materials without heat.
In place of consumable energy is a friction-generated alternative considered to be the most significant development in metal joining in the last 25 years.
What is Friction Stir Welding?
It is a technique for joining materials without heat.
As its name implies, the process uses the energy generated by friction to weld two materials together by softening their surfaces and allowing them to traverse.
What materials can be used with friction stir welding?
It was originally invented for welding aluminium and is to date used primarily in industries to join aluminum alloys as well as other metals such as magnesium, titanium, copper, zinc and steel.
More recently, successful experiments have also demonstrated the potential of using this technique to join polymers.
In principle, any material that can be hot worked should be weldable by this process.
What can I use this technique for?
Shipbuilding, aerospace, automotive and robotics are all industries in which friction stir welding can be applied, mainly in fabrication of high-strength aluminum alloy structures.
The various parts made using this technique range from large-volume fuel tanks to complex robotic components.
A popular example to demonstrate its use is the ultra-thin iMac, which Apple unveiled in 2012.
To achieve its slender profile, manufacturers used friction-stir welding to join the aluminum body along seams where the front and back pieces meet.
Give me a step-by-step
Friction stir welding generates frictional heat using a rotating tool known as a "shoulder", which runs along the joint of the different components.
At the end of the shoulder is a pin that approximates the thickness of the workpiece.
The pin is traversed through the joint line causing the material to melt and merge accurately.
Meanwhile, the shoulder remains in contact with the top surface of the workpiece to avoid the softened material spilling out.
Because of the low temperature inherent in the welding process, the metal sheets cool almost instantly, freezing in a new merged solid state.
And the machinery?
The rotating tool is an instrumental piece of equipment used in the friction stir welding process.
This hydraulically actuated element is made with a profiled pin, which is contained in a shoulder with a larger diameter than that of the pin.
Profiled pins can be specified and optimised for particular application to provide large tolerance envelopes.
Closely coupled to the pin tool is the weld schedule which defines the critical parameters such as position, loads, spindle rotation, and travel speeds.
Curious to know more about other manufacturing processes? Learn what Plastic Overmolding is all about
Can I do it at home?
Because of the tool related know-how, optimised welding parameters and clamping requirements, friction stir welding at an industrial scale would be difficult to replicate at home without the required machinery and safety requirements.
What are the pros & cons of friction stir welding?
This technique offers a number of advantages over conventional arc welding processes, mainly its ability to produce joints with low distortion in particularly challenging designs, such as Apple's ultra-thin iMac.
Although it uses a comparatively low heat input, the resulting joints show no welding defects like pores or cracks.
It is also cost-effective because it uses no consumables like shielding gas or filler wire.
Component optimization also promotes material savings.
Finally, friction stir welding is labeled as "green technology", environmentally friendly because it doesn't require the consumption of an energy source in order to melt materials.
On the other hand, it can be slower, less flexible and more complicated compared to other welding processes.
However, its two biggest barriers to FSW adoption have been equipment costs for custom equipment and costs from short-lived, expensive tools.
I want to know if it's sustainable…
Compared to regular welding processes, friction stir welding doesn't require a consumable tool in order to create joints.
The only energy comes from the rotation of the pin which is electric, which makes the process very sustainable in comparison.
Find out more about manufacturing techniques used to shape metal, head to What is Explosive Forming?
I want to know more!
There are several resources that are useful when it comes to building your knowledge around friction stir welding.
If you want to learn more check these out:
• A video exploring the capability of friction stir welding to strengthen metal
• A guide to the process and applications of friction stir welding
• An article on application of friction stir welding to create the Apple iMac
• A paper on friction stir welding and processing by R.S. Mishra
• A paper investigating the post-weld heat treatments of friction stir welding