Design
The Drop Store – your market for a world in water crisis has arrived
Publicis Groupe creates a webshop giving consumers a glimpse of what products may look like in a water-scarce future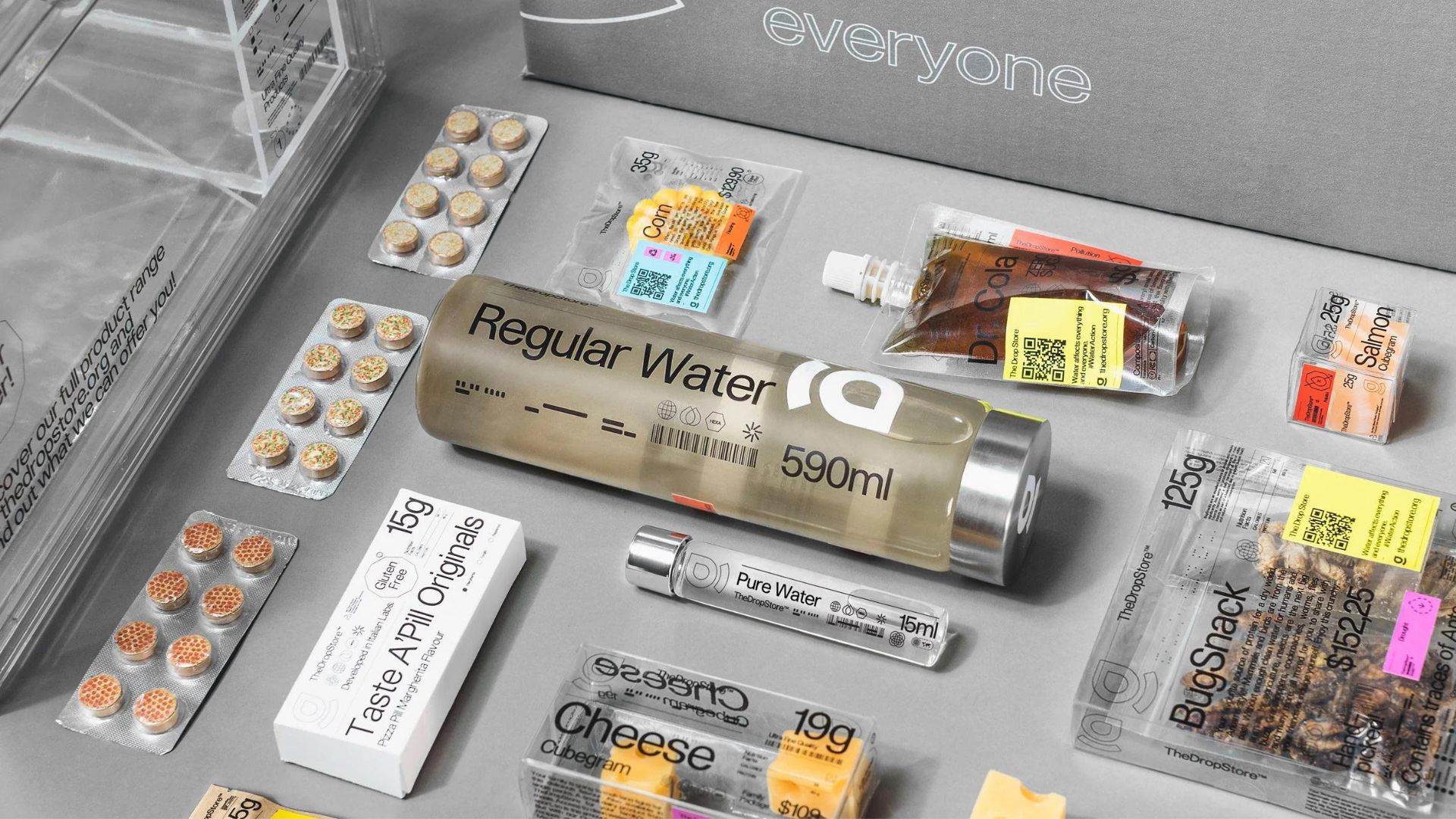 Welcoming you to a new shopping experience – Netherlands-based agency Publicis Groupe launches The Drop Store during the UN 2023 Water Conference in New York featuring a range of intriguing conceptual supermarket products that innovatively reflects what consumption could look like in a world with less water.
Flooding, drought and scarcity of clean drinking water may seem like a distant problem for some of us, but for half the world's population – 3.6 billion people – it's the daily reality.
And if we don't act now, a water crisis might impact us earlier than expected affecting everything and everyone.
Too much water, too little water and too dirty water can and will drastically change access to essential products – their availability, form, prices and even composition.
Striving to create awareness about possible water disasters and motivate people to act now, The Drop Store showcases products from pure water to soda, cheese, pizza pills and rice. 
"The United Nations wanted us to spread this message globally for people to understand the value of the water" says Eduardo Marques, Publicis Groupe COO.
The team brilliantly chose a product-oriented approach since seeing items in this context would make the realities of water scarcity more relatable.
This further led them to seamlessly make graphics and branding familiar to the younger generations who are more likely to be messengers for this initiative.
Reflecting the portions and prices that may become a reality if the water crisis continues – the design embodies packaging with small amounts of food and discolored water.
All of the items created for the supermarket comprises realistic branding and fictitious prices – a package of 15 grams of pizza pills is for $163 USD, for instance. 
[ Read also The Bug Factory launches internationally to re-shape the future of pet feed ]
Additionally, various labels display the types of water events that would lead to the need for each product – this includes drought for the production of bug protein when there is not enough water for livestock.
Through this visualization – the wide-reaching effects of water inaccessibility and pollution can be seen to impact wider aspects of the supply chain beyond just water itself.
"There is water in everything we eat and consume in our lives – so instead of having nutrition facts on the labels of the product, we have how many liters of water you need to produce that type of product!" Marques adds.
Affecting daily lives and calling for global action – mitigating these problems will require better conservation of wastewater and management of water resources.
"Drinkable and pure clean water will be very, very scarce. That's the message. We want people to understand that this is going to be a luxury in the future!" concludes Marques.