Furniture design
Galapagos: where daydreaming meets design, unleashing new worlds of creativity
Discovering the captivating world of Galapagos narrative-driven designs in an exclusive interview with Adriana Testaverde and Alessandro Pigoni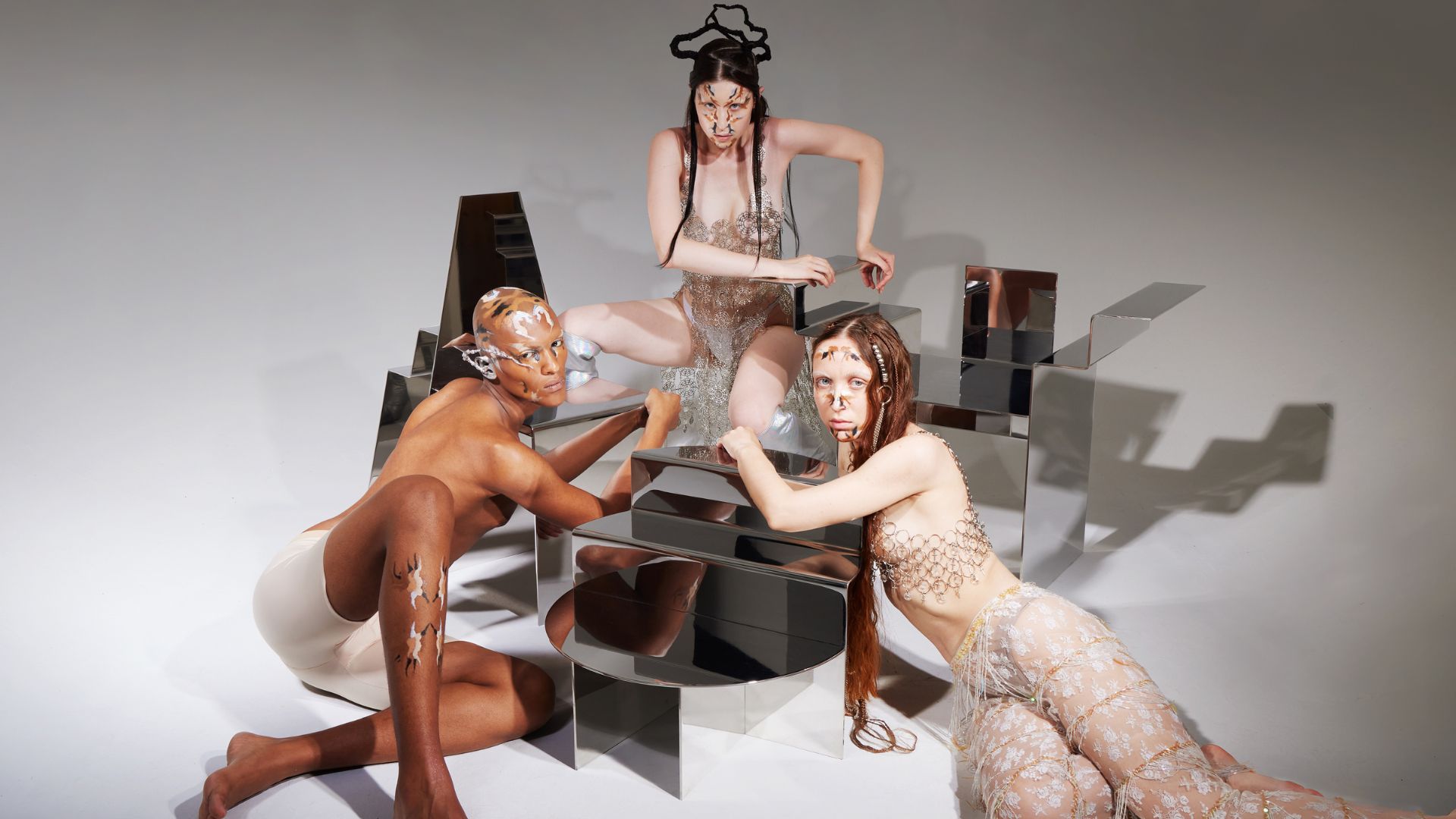 In the realm of design, there exists a brand that dares to explore the boundaries of imagination and storytelling. Galapagos, founded by Adriana Testaverde and Alessandro Pigoni, is a design brand that seamlessly combines the rationality of product design with the enchantment of daydreams.
During an interview with DesignWanted, Galapagos' founders shared their design vision on how "form follows fiction", a notion that prioritizes storytelling and narrative-building in their design process. As they prepare to launch their second collection in 2023, the anticipation is palpable.
The brand's upcoming projects promise to take its production to new heights, exploring different materials, themes, and narratives.
Their participation in EDIT Napoli this October, for the second consecutive year, will be a testament to their ever-evolving creativity and commitment to experimentation.
Who are Adriana Testaverde and Alessandro Pigoni? How did the journey for design guided by daydreaming begin?
Galapagos:
"Adriana and Alessandro are two designers who started their careers with different intents and met to find a common purpose. Adriana has an interior design background, and Alessandro has always worked in graphic design. We met working together in a big branding agency, where design was pivotal for every project, but we soon realized we wanted to experiment -and needed- something different.
During 2020, in full lockdown, we started feeling the urge to evade what can be called a 'familiar feeling', as we realized how the house space can be overwhelming, and how feeling good within one's own space is not something we could take for granted. So, how could we find or create happiness and a sense of belonging in a place we were forced to stay? This was the input, the urge of -to quote a song- "travelling without moving" and finding peace of mind.
From there, we started imagining how to use design to free imagination, envision new possible worlds and relive forgotten experiences out of space and time."
Why Galapagos, why focusing on product design as the materialization of your ideas?
Galapagos:
"Given the previous premises, we thought that Galapagos was the perfect archetype of a far remote place. We always brainstorm and think of new ideas with a very light heart. The filter of every new thought is laughter; if something said out loud makes us laugh, then probably -with all the due refinements – it is the right idea.
In this sense, product design is the best means to express what we feel because it is the most tangible and concrete form of expression.
We would like people to surround themselves with things that simply make them feel good, that bring them back to forgotten memories, events they may have never experienced, and distant but still happy dimensions.
This project started as a strictly personal necessity, an endemic need, but it does not want to remain individual in nature. We would love for it to become an expanded mission for our pieces to enter the lives of as many people as possible and convey the happiness that we ourselves seek."
We heard that you will participate this year in EDIT Napoli for the second year in a row, what should we expect to see?
Galapagos:
"Yes, we're thrilled to participate again, as EDIT was one of the most heart-whelming experiences we had last year. Also, for this reason, we're working to present new pieces, a brand-new collection that will open a new chapter of our production, changing materials, changing topics and above all, changing the story.
Every collection will be different, and even though this is a challenge for us, we keep recreating a loop of experimentation, local supplier research, and new production processes."
Last year we got to see the Mesoamerican Series, which is a really interesting collection of 2 chairs and a side table. Where does the inspiration for this series come from?
Galapagos:
"Being our first collection and, in a way, our manifesto, we wanted it to fully reflect our purpose. That's why the exploration theme had to be central and the flavor of it all reminds of old-fashion adventure and discovery novels. The Mesoamerican inspiration is not accidental. The close connection between the architecture and civilizations of that era fascinated us greatly.
In our eyes, it was the perfect example of the unexplored and mysterious, thus the archetype of escapism par excellence. Because it's a reality we still don't know much, all that remains are traces to be explored. What we did is modern archaeology; the pieces are declared tributes to archaeological sites, and this theme also guided the installations with which we presented the collection, designed as settings for discoveries and findings.
Ultimately, we have studied the history of these places extensively; and although we have never visited them physically, we have done so in a "Galapagos" manner, daydreaming."
The Mesoamerican series make use of stainless-steel sheets, cut and bent to the perfect shape. Is the choice of materials a reflection of the concept or of the functionality?
Galapagos:
"There's a clear functional rationale behind the choice of the materials since we wanted the pieces to be suitable both for interiors and exteriors. Nevertheless, the main reason behind this choice is heavily linked to the concept behind the series.
This inspiration comes directly from those ancient buildings' narrative function; they were massively decorated with lintels and engravings, narrating the stories of the sovereigns and the historical events that occurred over time.
In this sense, the idea was to create pieces that could physically bring the signs of time through scratches and imperfections that the polished steel is keen on developing, and that could literally reflect the surroundings and create ever-changing stories and memories according to the places they would be put in and the people they would be surrounded by."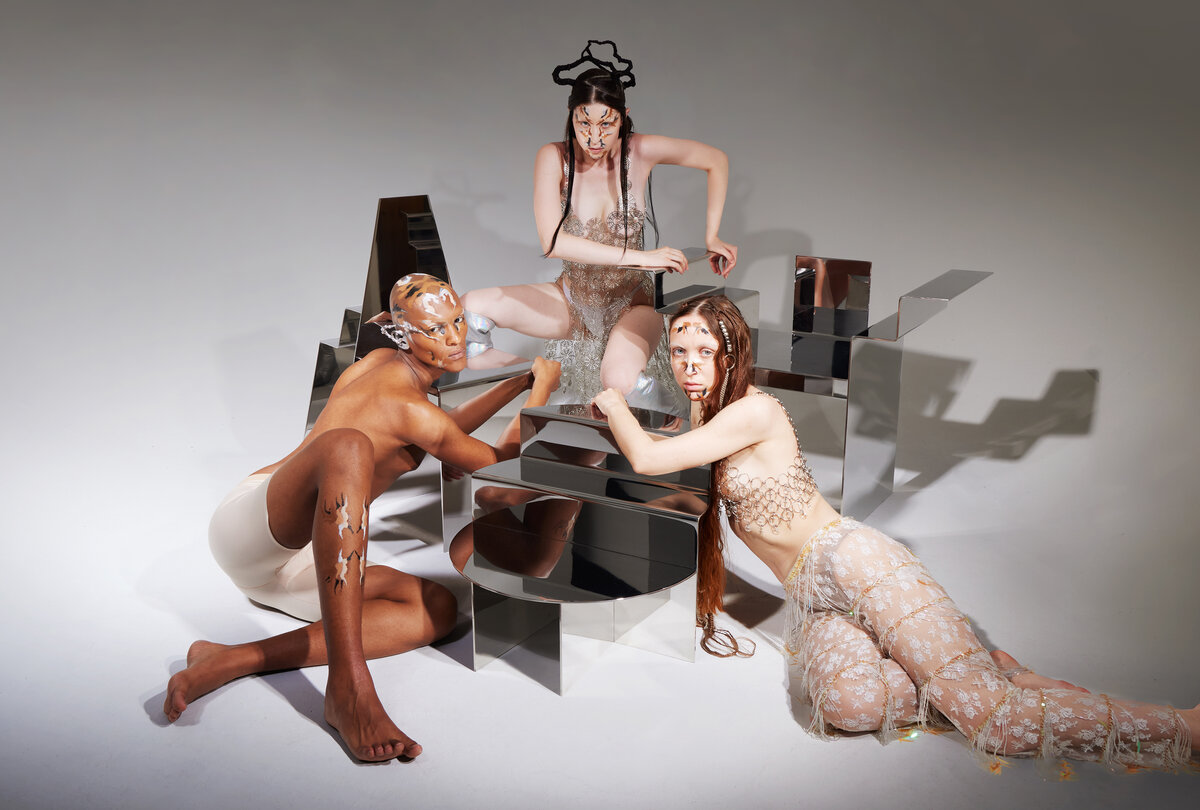 How would you describe the style of your brand?
Galapagos:
"This is an interesting question; we're not linked to a particular style if, by style, we mean the recurrent use of a specific material or being close to defined shapes. The reason is that as said, our production is fluid and changes according to the broader story we tell and the filter of everything we do is playfulness, in a way.
Rather than the style, what is recognizable is our approach to processes and design and the communication behind that, and there's a nice anecdote about this; when we designed our business cards, clearly, we wanted to convey as much as we could and will to literally enter the life -and spaces- of people with objects and narrations.
So, we researched the most recognizable communication styles and created door-to-door salesmen-like cards to properly sell our daydreams!"
Given the fact that for Galapagos "each project is a story even before being a product", would it be correct to say that form comes before function?
Galapagos:
"It is more than correct; we like to say the form follows fiction in this sense, meaning that everything we design comes from a whole narrative world that has been built before the single object. This doesn't mean we like to snob function; we want our products to still be usable and functioning, rather than art pieces.
We'll never be mass-oriented, and this is clear, but we're far from being a one-off product brand. Our products are thought to be reproducible, and that's why the production processes are set to be sustainable on a medium scale, thanks to the collaborations with skilled local suppliers who still value craftsmanship a lot."
With a series of captivating pieces, where do you envision your designs being placed?
Galapagos:
"The specific Mesoamerican series was born as an outdoor collection, but we realized it also gives its best in interior landscapes, with all the crazy reflections the pieces create. We certainly picture our pieces as in the homes of people, used, lived, there to keep company and change within spaces and people who own them.
Moreover, we conceived the pieces in a collection and always create collections because they better represent a story. Still, every piece has its meaning and single relevance, so we don't necessarily think they must be appreciated in groups but also as standalone elements."
Having an upcoming collection and a future exhibit in EDIT Napoli, what is the next step for the studio?
Galapagos:
"As a very new brand, we like taking our time to explore our own processes and focus on every single next step of our production. Many things are cooking up in our minds, and for sure, there will be further exhibitions, and we're going to work on further new collections that now lay partially explored in the back of our minds.
We will focus on finding the best way to allow people to discover our world. We're planning to build and launch our website, mainly to smooth and facilitate how people can get in touch with us and our products. We think it is the best way to get closer and create a sense of community that everyone can possibly embrace. For now, we can't wait to meet in Naples this October 2023."