Lighting design
The tree-inspired GAM lamp features light bulbs you can pick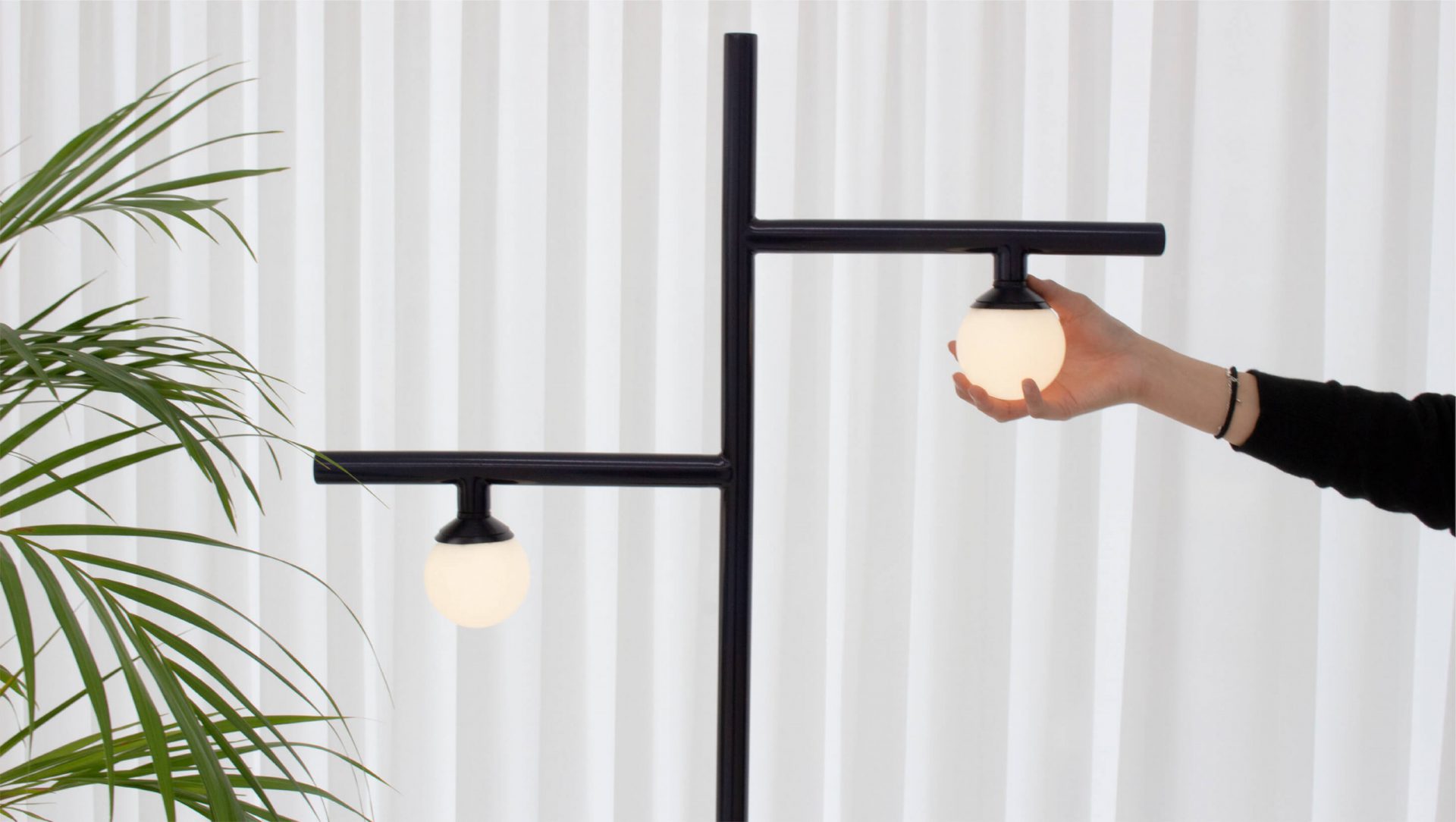 Designers like Hyogyeong Kang are finding new and exciting ways to switch the light on.
Through tactile play, South Korean designer Hyogyeong Kang enhances user interaction with her latest lighting concept. Called GAM, the design involves physical contact with the light source itself featuring two orb-like bulbs that users can "pick" and take with them wherever they go.
The concept was inspired by the Persimmon, a tree-growing fruit that is popular in Korea. As such, it features a black steel frame with two-tiered branches that support the bulbs, both of which are attached using magnets and can be removed. Kang has also designed a separate base suitable for tabletops and other flat surfaces where a single bulb can be fixed to create an entirely different lighting solution.
When we came across GAM, it reminded us of The Nest by Australian designer Jimmy De Angelis, which uses a similar orb-like design to create a unique interactive experience of adding or subtracting light as if stoking a futuristic fire.
It's not just balls of light encouraging users to interact with light in new and exciting ways. We recently published the Maya series by Brazilian designer Luiza Guidi, which comprises three rectangular frames that are switched on by opening them like windows.
Like GAM, they are two great examples of interactive lighting that seeks to cater to consumers' growing preference for experience over function.
"I wanted to create a multi-light that catches the senses (the senses, the persimmon)", explains Kang. "By using the meaning of the word, persimmon tree can be held and fruit-pulling, both longstand and single lighting can be used to suit the users".
The idea that light is something to be harvested was conceived in a different way by Jimmy De Angelis, don't miss As a part of "Belgium is design", Jimmy De Angelis presented "Nest" at Fuorisalone 2021.
"The concept of GAM is a Korean sentiment, but I wanted to give a modern feeling for the use of lighting."
The only thing we're not sure about is how the light is powered, especially if you can remove the light bulbs and take them around with you. Nevertheless, it's another brilliantly whimsical idea that demonstrates a different take on interactive design.
Only a few more days are left to apply, check out LIT Design Awards 2021 celebrate the highest quality of lighting design – Apply now!