Architecture
The new Givenchy flagship store in Seoul is a dynamic looking structure
It is located in the prestigious Cheongdam ward of Gangnamgu shopping and fashion district of Seoul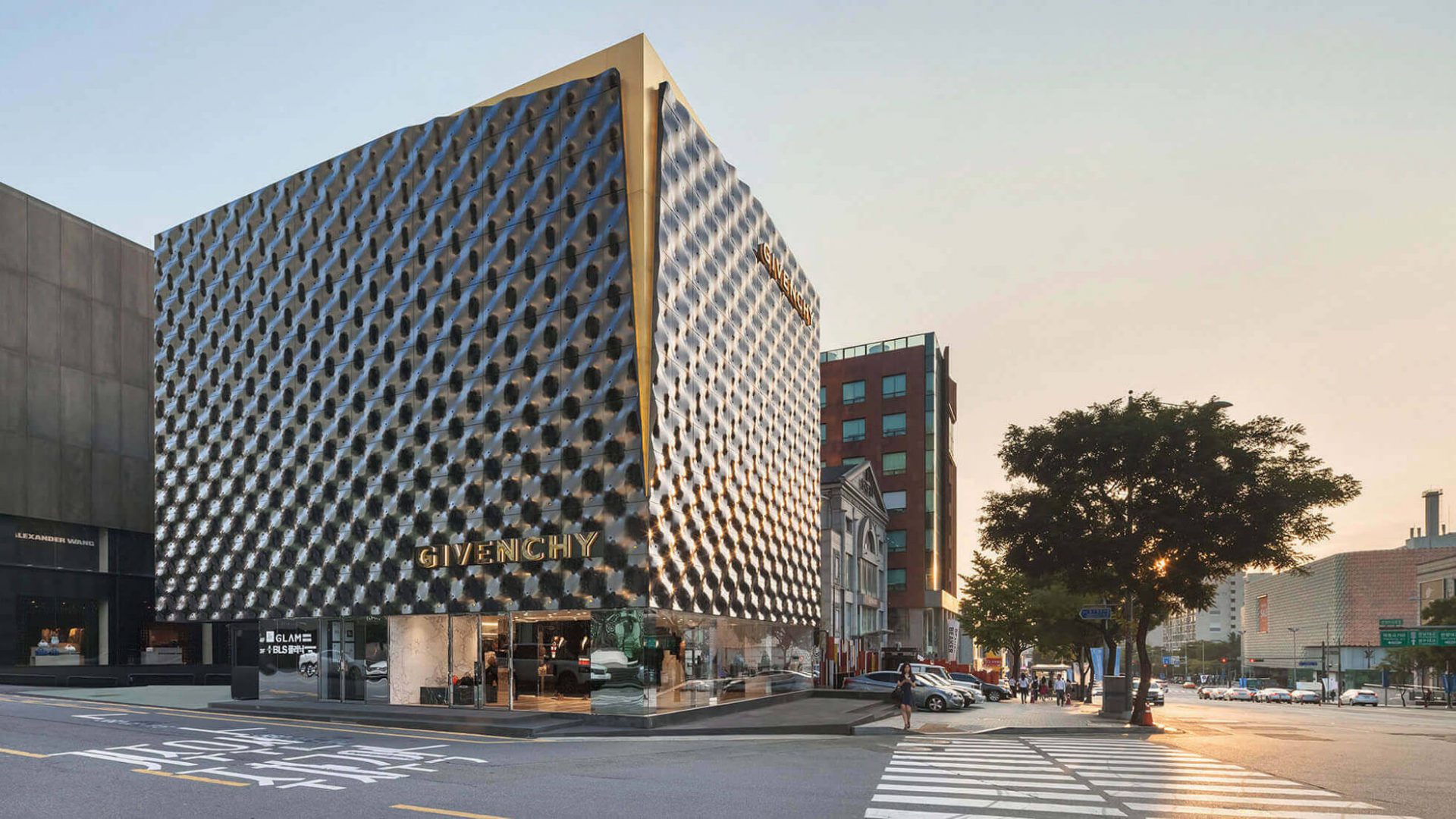 A building covered by a skin of dark colour­ed sheets of steel that changes with the light and rests on a glazed base revealing minimal­ist-style interiors. Designed by Piuarch in partnership with the creative di­rector of the French fashion house, Riccardo Tisci, the new Givenchy flagship store is located in the prestigious Cheongdam ward of Gangnamgu shopping and fashion district of Seoul.
The fashion house's space is built over four levels accommodating the various collec­tions. It features simple geometric forms: a cube-shaped structure resting on an all-glass ground floor. The structure is clad with electropolished steel sheets.
Its surface features some highly dis­tinctive sculptural traits: undulating, sinuous sheet metal perforated in a regular pattern. As the surrounding landscape changes through­out the day, the skin covering the building in a distinctive dark coloured shade reflects and deforms the light, so that the architecture is perceived in different ways.
The ashlar work on the flagship store's surface alludes to Givenchy's research and experimentation with fabrics and Italian art from the 1960s: optical art is embodied in the rounded metal cladding sheets.
The kinetic façade with an oil slick geometric graphic structure turns into an ur­ban landmark due to the cut at the top of the structure: its edge opens up to form a T-shape made of satin brass.
This architectural feature evokes Givenchy's trademark T cut. The struc­ture's shimmering, shiny skin (evoking the fab­rics in its latest collections) opens up in the shape of the brand's symbolic leitmotif.
The Givenchy flagship store, which is covered on the outside by a "soft and precious garment", features minimalist style, geometric spaces on the inside. A careful study into materials played a key part in the design of the interiors, se­lecting unusual stones with different chro­matic features: white Calacatta marble with grey coloured veining and brighter coloured basalt stone.
The ground floor shapes the inte­rior space: detached from the wall and made of ramps rising in different directions, it is cov­ered with black Sahara marble, a dark colour­ed fine stone with white and gold veining run­ning through it.
About Piuarch
Founded in 1996 by Francesco Fresa, Germán Fuenmayor, Gino Garbellini and Monica Tricario, Piuarch is a team of forty architects and engineers from all over the world led by four partners and 8 associates.
Piuarch develops public buildings, office complexes, residences, commercial spaces, boutique and urban plans, with a great attention to sustainability, the interaction between architecture and context and the relationship with art, use of natural materials and a focus on energy saving.
Awarded with the "2013 Italian Architect of the Year" prize and with two Gold Medals for "Honorable Mention" at the Milan Triennale, and several times exhibited at the Venice Biennale of Architecture, Piuarch's portfolio includes numerous architectural and interior design projects for prestigious fashion brands (Dolce & Gabbana, Gucci, Givenchy, Les Hommes) internationally built.