Technology
Design studio Gomi turns plastic waste in production material
Every year, worldwide, 150 billion kilograms of flexible plastic waste ends up burned or thrown in the oceans. "Non-recyclable" plastic includes plastic bags, bubble wrap, food, and pallet wrapping.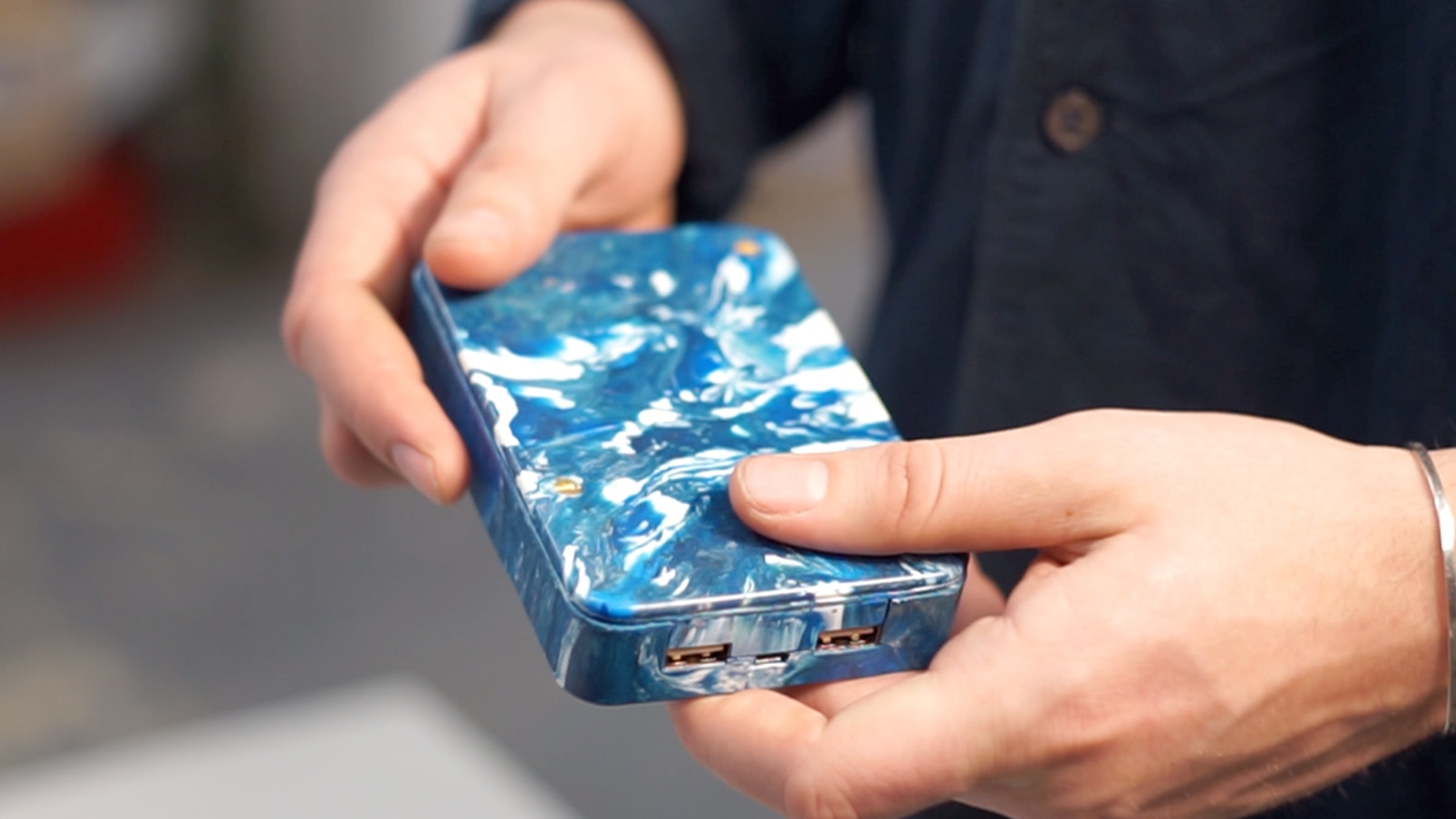 Gomi uses "non-recyclable" plastic waste and turns it into valuable material further implemented in making finished products for daily use. Battery waste is also becoming a growing issue worldwide. Every year we produce over 3 billion batteries with no real way to recycle or reuse them in commercial products.
That is exactly the type of waste Gomi uses as a production base.
Gomi's products are made from 100% recycled plastic, with power generated from 100% repurposed waste batteries. As a studio, they have their own in-house production, so they won't rely on outside resources. They get their supplies of plastic waste from many local manufacturers, eager to find a sustainable way to get rid of their "non-recyclable" waste.
Gomi's previous projects vary across multiple applications: a portable Bluetooth speaker, trophies for the Berlin Film Festival, soap dishes for a soap studio and beer taps for Jubel Beer, all made from 100% recycled plastic waste. Their latest innovation is a 12,000mAh portable charger, handmade from "non-recyclable" plastic waste and repurposed batteries.
 The minds behind Gomi – A small team of visionaries
Gomi's team met in 2017, in Brighton, UK, driven by the idea to turn plastic waste into consumer electronic products. Their focus was on finding new ways to have a positive impact on the environment, through reusing its waste. And creating recyclable products that people would love to have and use daily. 
Their first project was a Bluetooth speaker that required the equivalent of 100 plastic bags in its production. They have received many prestigious awards for eco-friendly product designs. 
Materials & Techniques – Handmade from 100% repurposed plastic waste and batteries
The materials used by Gomi as a production base are flexible and low-density PE (polyethylene from plastic bags and wraps), PP (polypropylene from plastic cups, containers, and pots) and PS (polystyrene from plastic boxes and cutlery).
The portable charger, their latest invention, delivers 100% of its stored power from repurposed batteries. The product is manufactured in their in-house workspace, to avoid outside sources and support the local economy.
When designing the portable charger, Gomi knew it had to cover a few basic principles. It has to be big enough to store the desired battery power, yet slim and light enough to fit easily in your pocket. Its design is easy to disassemble after use for further repurposing into new products.  
Style & Aesthetics – Eye-catching design with unique colors and patterns
Each of their portable chargers is handmade and has a special and unique color and pattern, due to using different plastic waste streams.
Gomi hasn't manufactured two identical portable chargers, so each owner will have the privilege to own something unique. The design of the case is simple and yet so striking because of the one-of-a-kind marbled patterns.
The Gomi portable charger is surprisingly powerful
This portable charger has over 12,000mAh of battery power, so it enables you to charge your smartphone up to five times. It has two USB ports so it can charge two devices at the same time. Gomi's portable charger is a functional and attractive piece of technology.
Design memento – Gomi's products are beneficial for both the environment and the owner's busy everyday life
Mobile phones and large-utilized electronic products have a crucial impact on the environment. With "non-recyclable" plastic as the base for manufacturing new products, Gomi is on a mission to tackle the issue of sustainability and set a tangible example for larger electronics manufacturers.
The writer's comment – Gomi shows us that tech products can be both sustainable and aesthetically pleasing
Nowadays, we have to act responsibly and take into account the impact we have on the environment with our consumption and consumer habits. The issue with "non-recyclable" plastic waste is growing by the day and we can't afford for it to become any bigger.
Gomi's vision is to be appreciated and followed by other manufacturing companies. We only have one planet and we need to give our best to preserve it.