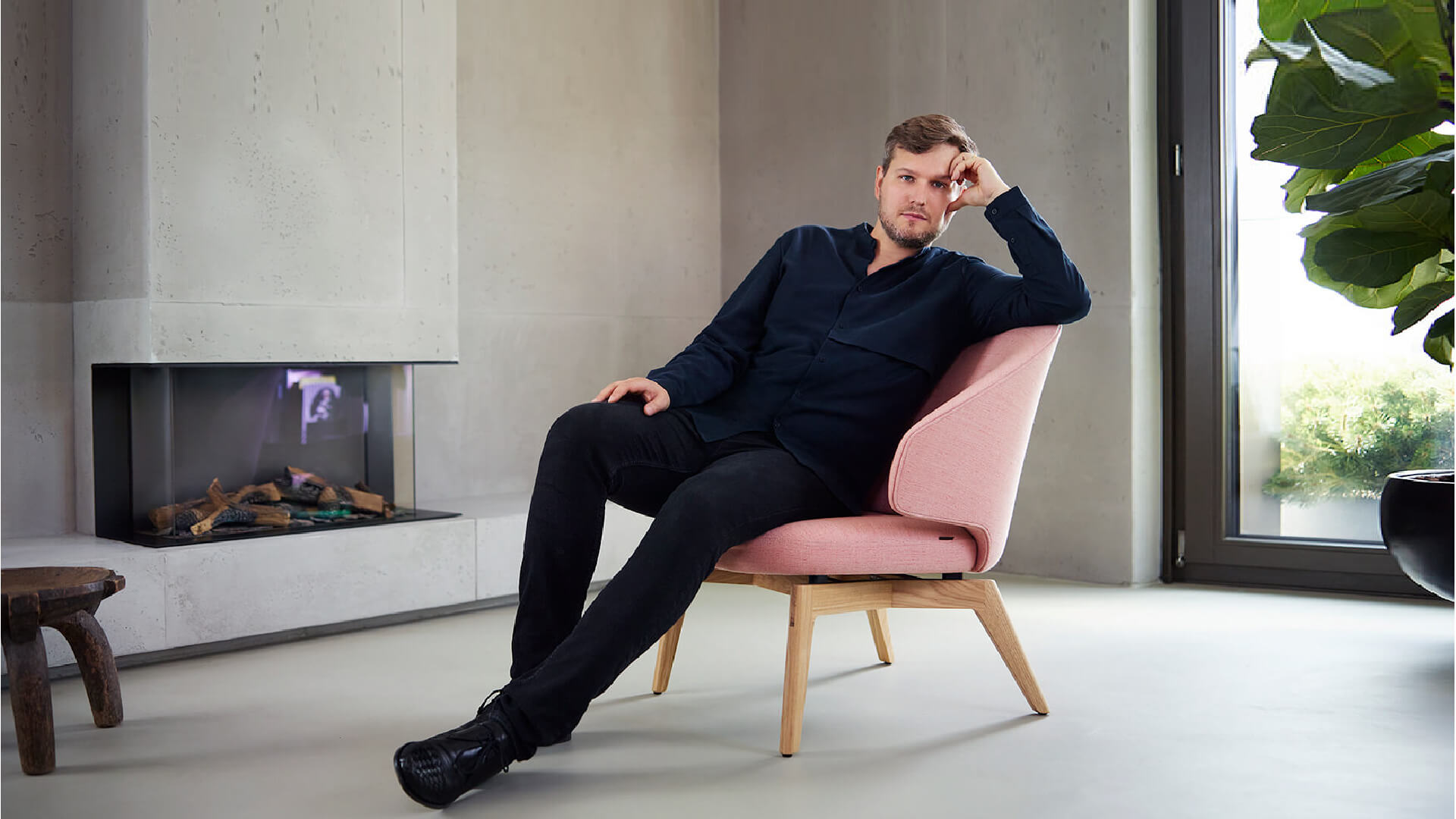 With an early passion for craftsmanship, Sebastian Herkner embraces the story behind every object and highlights its value.
As an international designer, traveler, and creator, Sebastian Herkner maintains a grand enthusiasm for hand-crafted beauty in everything he does and has developed a sharp sensitivity for designing honest and functional products. His incredible talent and design perspective have led him to collaborate with renowned brands like Thonet, Pedrali, Stellar Works, Cappellini, Fritz Hansens, James, and Pulpo to name a few.
His work and namesake studio focus on bringing together new technologies and traditional craftsmanship while combining different cultural contexts. Sebastian's renowned attention to detail brought him to be elected "Designer of the Year" at Maison & Objet in 2019, an honor that speaks volumes about his work, talent, and creativity.
Curious to know more about the celebrated designer, DesignWanted had the opportunity to interview Sebastian Herkner and learn more about his design process, inspiration and what is next.
Who is Sebastian Herkner? How did the journey for your self-named studio begin?
Sebastian Herkner: "I am Sebastian Herkner, a German designer working for international furniture and lighting brands as well as creating interiors. Actually, already when I was a child I had the dream to establish my own creative studio.
At that time I had no clue about product design, it was more about art and fashion. Later when I was a teenager my focus shifted in the direction of furniture whilst visiting an exhibition about Arne Jacobsen in the 1990s."
Why Sebastian Herkner Studio, why focusing on furniture, lighting and product design?
Sebastian Herkner: "During my studies at the University of Arts and Design Offenbach I did an internship at Stella McCartney in London. I was very much interested in fashion even though I studied product design.
I don't think in boxes, I am a creative person and want to think without borders. Curiosity is the main drive. With fashion, you think too much in season, there is spring summer and fall winter, and also the mid-seasons. It is more driven by trends.
I think this is somehow not very responsible or contemporary. About Stella, I really appreciate her attitude to doing pieces without fur and leather. I think nowadays it is necessary to have your own strong message, your own design philosophy. Thinking about my own way, I decided quite early (about 14 years ago) to focus on a balance between tradition and innovation, crafts and technology."
"Living in Offenbach you realize that the city has somehow lost its identity over the decades, and is now starting to find a new message to communicate. It used to be the German city of leather production where famous brands like Goldpfeil and Mont Blanc produced their bags, wallets etc. All those companies closed or moved their production somewhere else.
Many people lost their jobs and now empty factory buildings define the city. The area lost the material or profession which connected the families and citizens. This was actually the point in which I started to think about the value of crafts.
One of my first designs was the Bell Table 2009. A table which puts the standard typology upside town. A blown glass foot is balancing a brass table-top. Both elements are handmade in Bavaria. I was like a pioneer working with these materials which seemed to be kind of old-fashioned at that time when designers were thinking more about new materials and technologies."
Since the success of the Bell Table for ClassiCon in 2012, you have developed objects where beauty is cultivated within the process itself. Which designers are you inspired or influenced by?
Sebastian Herkner: "Actually the design is from 2009, but it took me 3 years to find a producer to put the table in his catalogue. ClassiCon was brave enough. Many companies denied the table because of its traditional materials.
Till today, I am so happy about the whole story of the table which has been very successful on the market for eight years. The producer of the glass feed is a manufacturer in its 16th generation, founded more than 450 years ago. They produce the bases every single day. This product supports the culture and crafts of glass-blowing essentially in that area.
I think handmade objects have a certain beauty. There is an imperfection like an air bubble inside the glass, but this tells the real story. There are well-educated people behind a product who put their power and passion into every single item."
"Craftsmen are my heroes and biggest source of inspiration. They are the ones waking up early in the morning to give birth to my sketches and ideas. Especially nowadays, in a digital world, where we can order everything online and have it delivered the next day, we need to appreciate them much more.
We do not have the right knowledge about the value of crafts, the making of things, about the time it takes to grow and people spend to do it. We have lost patience completely. This is something I really learned over the last years.
Good design takes time. It is a lot of work in development and also in manufacturing. Visiting workshops around the world is a huge source of inspiration, but also museums of art and fashion, architecture and culture. There is so much to discover and learn. I think in my life it is a huge privilege to travel this much and that far to meet amazing people and collaborate with them on unique projects."
Are you enjoying this article? We think you might be interested in All about simplicity and creating a special link between people & objects – Marc Venot interview
Having worked with clients such as Cappellini, Dedon, Fontana Arte, Moroso, Pulpo, Thonet, and Zanotta. Which are the main values, core concepts or style inclinations that, above all, will always represent Sebastian Herkner Studio?
Sebastian Herkner: "We collaborated with amazing partners from around the world, established ones but also new ones. Every company is a new challenge and wonderful journey.
At the beginning it is important for me to visit the companies, to meet the artistic directors but also to look behind the scenes. To understand their history but also if there is a common vision. Design is about communication, every project becomes a relationship.
I need to feel comfortable, otherwise I can not collaborate with a brand. There is not a standard road map I can use on each project. Thet are all too different, which is also fantastic. Every briefing starts with research and white paper. Our aim is to design the best suitable product for a brand which shows our vision and philosophy. This means a Moroso chair has its own character and could never be a Thonet one."
In 2019, you were elected "Designer of the Year" at Maison & Objet. What do you think have been the most important choices in your life that brought you where you are today?
Sebastian Herkner: "This was a great honor for my studio and team as well the brands we are working with. There was no specific choice which pushed me to the status of today.
I take my profession very serious with fun and passion. I would never describe it as my job, it has nothing to do with discipline. Creativity is my way of communicating. And it is important to mention that I have an amazing team at my side."
With curiosity for different cultures, embracing and integrating them in different projects, and taking responsibility for the things and people you are working with, what is your favourite part of the creative process?
Sebastian Herkner: "I love to work with my hands. I am a more analog person than a digital one, but both go hand in hand of course. It is important to find the right balance of both worlds like I did with the 118 chair for Thonet, which combines steam bent elements with CNC cut ones.
To understand the best way of production, I always enjoy the meetings with the engineers. Seeing the first prototype, discussing it, changing details, draw on them with a marker.
Working in countries with less design heritage like Colombia is different, but so inspiring. There are no factories, there are communities or families working with one specific technique like ceramic making, weaving, fabric dying etc.
With Zanat, from Bosnia and Herzegovina, the way of wood carving is UNESCO heritage listed. There is such a beauty of crafts out there and I love to discover it and give it a new interpretation. This is always a very personal process. To find inspiration is not the issue, it is my instinct and intuition to use it at the perfect moment, with the right people for the suitable project."
Your projects highlight the beauty of materials and draw renewed attention to small details. Do you have a preferred material to work with?
Sebastian Herkner: "Well glass is a fantastic material, it is very challenging but gives you endless possibilities to shape it. At the beginning it is a mineral, looking like cat litter, that you melt it with more than 1000°C, it becomes like elastic honey, you can blow, cast, fuse it, and after the cooling it is breakable, but you can cut it, draw on it. It gives you so many options.
I used it already for many designs like the Oda lamp, the Bent tables, the Alwa tables or the Pastille tables. If you look back in the history of glass I would say it is the most important material for human beings. Think about the importance of windows, how they changed the way of living. Think about the big evolution in the history of healthcare.
Microscopes and syringes would have never been possible without glass. Telecommunication needs glass fibers, we collect sun power with glass fields. These are just a few quick nominations about the importance of the material.
In general, I would say I love to work with natural materials like wood, wool, ceramic, stone, but I always have the way of sourcing and recycling in mind. We need to use those materials responsibly. That is why I do not believe in trendy and seasonal products. I want my designs to become companions for our life, actually for generations."
Constantly creating new design pieces, furniture and lighting, what is the next step for Sebastian Herkner studio?
Sebastian Herkner: "Well we are more than happy that we have strong and reliable partners we work with for a couple of years already. This is also gives the advantage of a relationship in which you share a future together, working on designs for the next few years.
On the other hand, the studio is shifting more in the direction of interior architecture which is very interesting. We can understand our products in another way by adding them in the projects. This helps us also a lot for new commissions.
We select all the projects carefully and there is no stress or not really a bucket list of what we have to do. There is now the big question of how to present and promote novelties to the market without fairs. Which digital channels can we use to spread the news in a kind of intimate setting.
I really miss the personal contact and dialogue at the moment while staying most of the time in the studio because of the Covid-19 lockdown. Design needs to stay in contact with all senses, so I hope we will have physical meetings soon again."
Are you a fan of Sebastian Herkner? You will definitely enjoy reading Design Icon – Konstantin Grcic