Furniture design
Making work more naturally human and less stressful – Interview with Herman Miller Insight Group
Formed by Oliver Baxter, Bertie van Wyk, and Mark Catchlove, the Herman Miller Insight Group enables the creation of better workspaces through specialized research and a humanistic approach.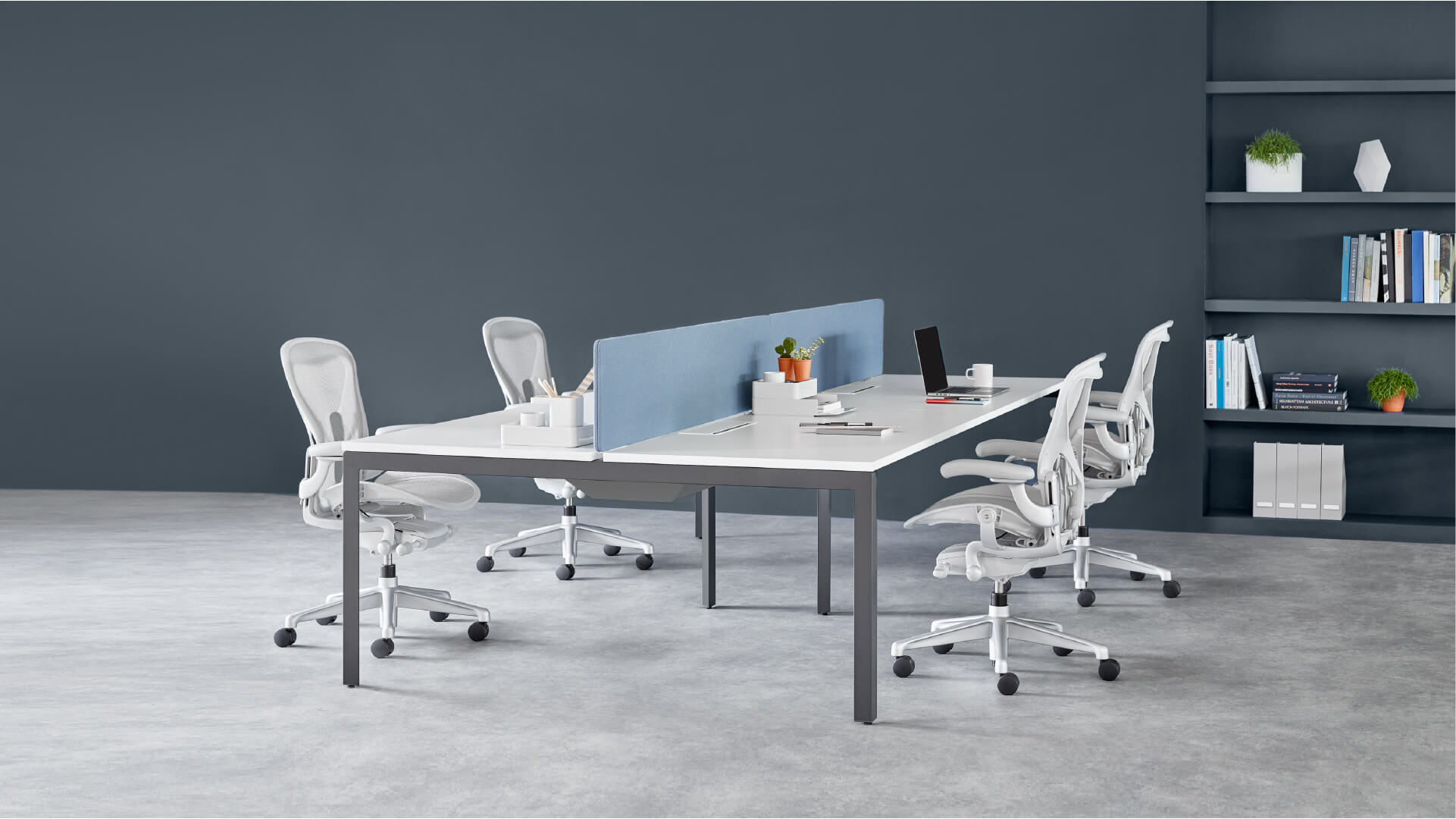 If there is a synonym to modern furniture it is definitely Herman Miller.
The legendary, company has been in the game for 100-plus years collaborating with renowned designers and creating with them iconic pieces that have stood the test of time.
As a company, Herman Miller places great importance on design, the environment, and the health and well-being of its clients, that is why delivering innovative outputs and initiatives that solve problems for people wherever they live, learn, work and heal has been its hallmark. 
Among Herman Miller's many initiatives, we find the Herman Miller Insight Group formed by Oliver Baxter, Bertie van Wyk, and Mark Catchlove.
Specializing in workplace and to ensure all office design begins with the occupiers at heart, the Insight Group performs thorough research in the sector and shares it with their customers and partners enabling them to create great working environments.
Curious to know everything about workspaces, DesignWanted interviewed Bertie van Wyk and Mark Catchlove and found out more about the Herman Miller Insight Group , their research, and what will be the future of the workplace.
Who are Mark Catchlove and Bertie Van Wyk? How did your journey in Herman Miller begin?
Mark Catchlove: "I have been at Herman Miller for over 20 years and in the office furniture industry for over 35. 
I joined Herman Miller to promote the company to the Architect and Design Community – and began to get more involved with sharing the research that led to the product solutions.
This eventually led to the formation of the Herman Miller Insight Group.
Bertie van Wyk: "I joined Herman Miller 15 years ago in the marketing department and enjoyed continued development in multiple departments.
I am a critical thinking problem solver and I love to challenge our clients to become more productive, healthy, and connected."
About the Herman Miller EMEA Insight Group, could you tell us more about it and the personal vision you pursue within the group?
Mark Catchlove: "The aim of the Insight Group is to share workplace research to enable our customers and partners to create great places to work.
We do this to ensure that all workplaces begin with the occupiers at the heart.
As people often spend more time working than they do with family – we need to ensure their experience is a rich and varied one."
Curious to know more about great workspaces? Don't miss BIG designs 'world's most sustainable furniture factory' for Vestre in Norway.
Being researchers within the field of human centric design and workplace development, what is your opinion about this trending question: if we can work from anywhere, why should we have an office?
Mark Catchlove: "First of all, let me clarify that I am the sharer of Herman Miller's research – my colleagues and some external people are the ones that put together the extensive research.
It's like they write the songs and we are just the singers! I continually read that "the office is dead" – and of course I disagree with this.
However, the office will be different.
Companies are forming a new value proposition around the reason for having an office.
That reason can vary extensively.
For some companies, they need to give those employees who struggle to work from home somewhere to go – either to collaborate or to work alone.
A city hub will also be important as a meeting place, whether to collaborate and innovate in conjunction with virtual tools, or just connect and belong.
Our research at Herman Miller established that Belonging is a key Fundamental Human Need.
What the office will become is another place to work rather than what has been for many the only place to work."
Within the work of the Herman Miller Insight Group, there is particular mention about the importance of a well designed floor plan and the flexibility of having shared workpoints. With the shift we are living nowadays, what are the main changes we can expect to find at the workplace?
Mark Catchlove: "Whilst at the moment there will be limited use of shared work points, this requirement will not go away, especially if companies choose to reduce their physical footprint. 
A well-designed floor plan will always be important – and a key part of that will be flexibility.
Companies that adopted good flexibility within the floor plan before COVID 19, will be coping better as people begin to return to the workplace.
Choice has been important for a long while, but many companies have been slow in implementing this.
That choice and autonomy will have a much bigger focus as companies look to support the wellbeing and productivity of their employees.
To do this you need to have a flexible workplace as well as working practices.
Herman identified Autonomy as another major Fundamental Human Need."
When talking about the working environment, wellbeing is one of the most significant aspects being considered. What are the main insights and trends for the design of future offices regarding cognitive wellness and wellbeing in general?
Bertie van Wyk: "We look at wellness as science and focus on physical, social, and cognitive wellness through ergonomics.
Our physical health at home and in the office can not be overlooked.
How we sit today will affect your body for the rest of your life, so we need to police our postures through great furniture design and technology support. 
We use cognitive and social ergonomics to create an experience that makes work more naturally human and less stressful.
The floorplan influences how people move through the workplace, and that affects how they interact with each other.
The furniture determines how often and how easily people will change their posture, and that affects their physical and emotional wellbeing.
The colours and materials can help make it easier for people to understand what a particular area is for, so they can move through the office landscape intuitively."
Regarding sustainable workplaces, what are the main considerations any office design should consider?
Bertie van Wyk:
"1. The products you choose should help to create healthy buildings and users.
Herman Miller's Living office and ergonomic design can help users comfort and health.
2. It is all about the durability of the product.
Cheaply manufactured products need to be replaced more frequently creating more landfills and increasing your carbon footprint.
Our products last longer than those from our competitors, extending the product life cycle with a 12-year warranty.
3. Work with suppliers that care about the impacts of our supply chain.
Our FSC and PEFC certification ensure our timber supply chain provides protection for forests and the wildlife and indigenous communities that depend on them.
SMEs make up 40% of our supply chain or 33.6% by total spend.
4. Our products can help clients to meet their sustainability objectives and contribute to certification such as LEED, BREEAM, SKA, and WELL building standards.
5. Encourage innovative solutions.
People have amazing ideas and you will be amazed to see what solutions you can deliver in your workplace by getting more of your employees involved."
Constantly sharing Herman Miller research to clients and designers and always being up to date about the latest trends. What should we expect to see next from the Herman Miller Insight Group?
Bertie van Wyk: "Next we are sharing insights on The Future Experience of Work where we cover 3 themes of Communities on Companies, The Machines Work For Us and We Want Control.
We will share the indicators for the future experience of work and workspaces by focusing on:
People – Who is doing the work and why
Process – What the work is, how it will be done, and when is it happening
and Place – Where that work is being done and how those places are created
We will discuss the impact of each of these elements on the work experience, workspace design, and management, giving actionable takeaways on how to respond to optimise the working environment."
Know more on the company's official website.
Kristen Murray has shared Olson Kundig's visions with us for a more pleasant and functional workspace.