Design
How wearable technology is revolutionizing healthcare with endless possibilities
Researchers are creating wearable technologies that – monitor health and wellness in real time, detect issues early and provide personalized recommendations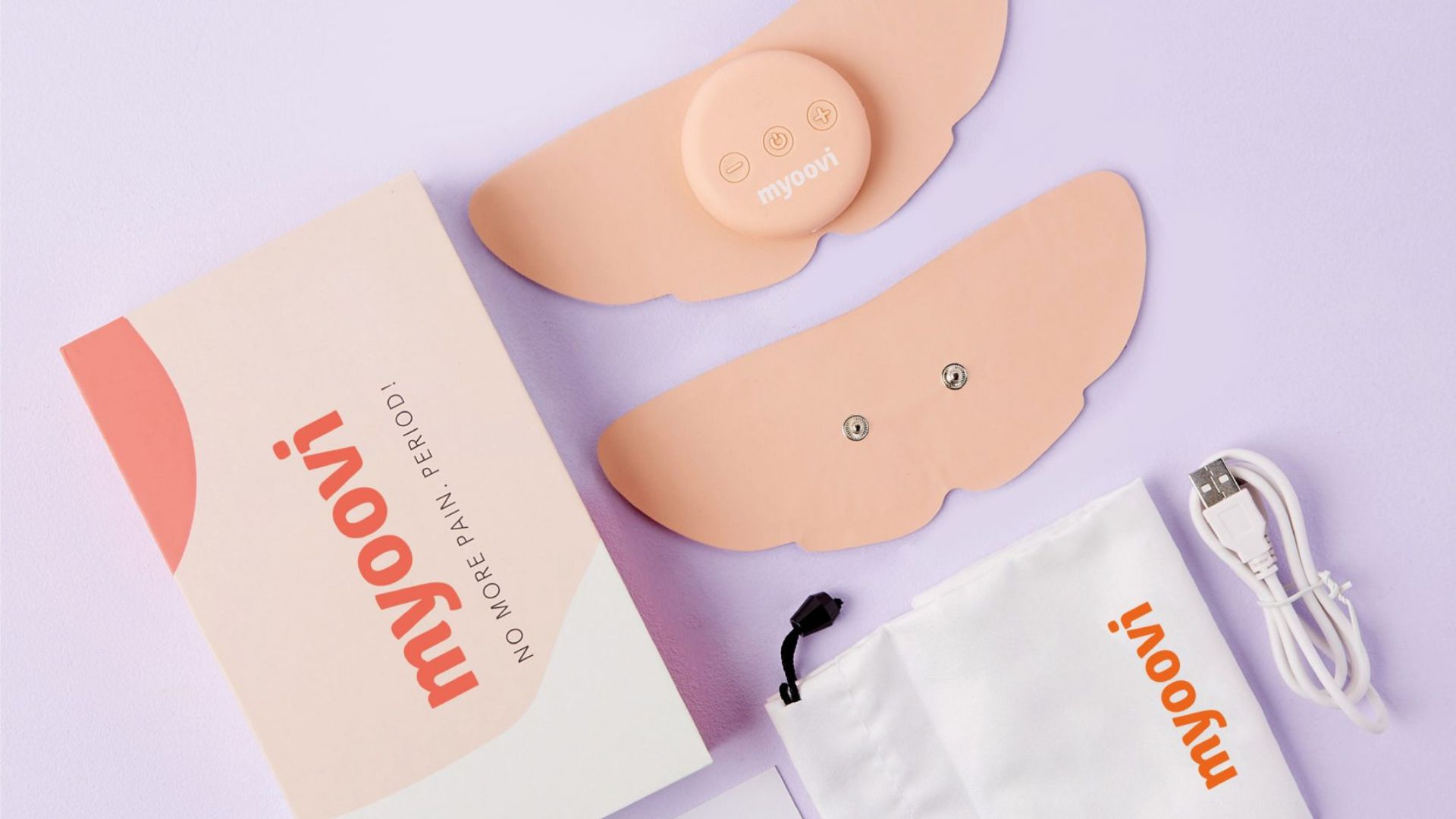 From Nowatch to Myoovi, Wear A+ and Neural Sleeve – the future of wearable technology in healthcare is here, presenting powerful opportunities and altering our way of life. Intrigued?
Healthcare is seamlessly transforming into a patient-centric, consumer-led model and digital wellness is playing a bigger part in our everyday lives, influencing the medical industry.
Impactful with innovative solutions, today the wearable health tech market is surging and is one of the fastest growing and largest – for instance, according to Insider Intelligence research, the number of health and fitness app users will grow to 91.3 million through 2023, up from 88.5 million in 2022.
With an increasing demand from consumers to take control of their own health – researchers are creating wearable technologies that monitor several aspects of health and wellness in real time, detect issues early and provide personalized recommendations.
Such as Nowatch by Hylke Muntinga and Timothée Manschot in collaboration with Philips is a health-focused smartwatch that doesn't tell the time. "People are more stressed than ever and need simple but powerful solutions that help them stay mindful of their emotions and health!" says Muntinga.
On the other hand, Myoovi by Adam Hamdi is a wearable device skillfully designed to alleviate period pain. This product idea was born while he was working in general practice for the UK's national health service (NHS), where he noticed that over-the-counter pain relief wasn't working for everyone.
Furthermore with over 400 million people worldwide affected by allergies – the age of wearable air purification has arrived as Respiray brilliantly develops Wear A+, an air-purifying collar for allergy sufferers. "It's clear that many existing remedies such as antihistamine medications are often insufficient and can have side effects such as drowsiness!" says Karl Gustav Annus, Respiray CEO.
Lastly, with the use of artificial intelligence booming in healthcare and medicine – Neural Sleeve by Cionic and Fuseproject is a bionic leg wrap that utilizes AI to correct walking patterns.
"With more than 35 million Americans living with mobility impairments and over 200 million worldwide – the need for customisable full-spectrum solutions is growing, particularly within the aging population!" says Cionic.
Read on to discover these eclectic but one-of-a-kind groundbreaking products further!
1. Nowatch by Hylke Muntinga and Timothée Manschot in collaboration with Philips
Improving health and reducing stress without becoming a distraction, Amsterdam-based entrepreneurs Hylke Muntinga and Timothée Manschot in collaboration with electronics brand Philips launches Nowatch – a screen-less smartwatch.
A health tracker prioritizing mental and physical well being above everything else – Muntinga came up with this idea after being diagnosed with pseudoxanthoma elasticum (PXE), a rare genetic condition.
Allowing users to get the most out of every moment – he wanted to design a device to break the cycle of overstimulation and anxiety typically caused by smart devices.
"It is a powerful tool to help people stay grounded in the present and achieve well being!" says Muntinga.
Without a screen, this device can't display the time or deliver digital notifications but it instead features an interchangeable gemstone face and utilizes gentle vibrations to deliver key information.
The wearable's vibrations are made to be supportive rather than anxiety-inducing so that users can recognise when stress is building and manage it better.
It's equipped with Philips Biosensing technology, which uses electrodermal activity (EDA) sensors to measure sweat gland activity.
This device combines this information with readings of the wearer's heart rate, physical movements and sleep patterns to help build a picture of their mental and physical state.
Additionally, it's supported by a companion iOS and Android app that displays detailed information about the wearer's physiology and makes personalized recommendations to improve wellbeing.
The app creates dynamic graphics to visualize the user's current state and further offers guided breathing exercises.
Users can also pinpoint specific stress moments in the day by pressing the watch crown – creating a time stamp in the app that users can later review and add notes to.
Waterproof and temperature-resistant with a battery that can last up to four days without charging – Nowatch is available with a watch band in leather or woven recycled plastic, while the face comes in a range of gemstones from amethyst to white agate, malachite and rose quartz.
2. Myoovi by Adam Hamdi
Raising awareness, British doctor Adam Hamdi develops a discreet wearable pad that can be secured to the skin to help relieve the wearer's menstruation cramps – Myoovi.
"I saw many patients with period pain and endometriosis for whom painkillers were not helping!" says Hamdi.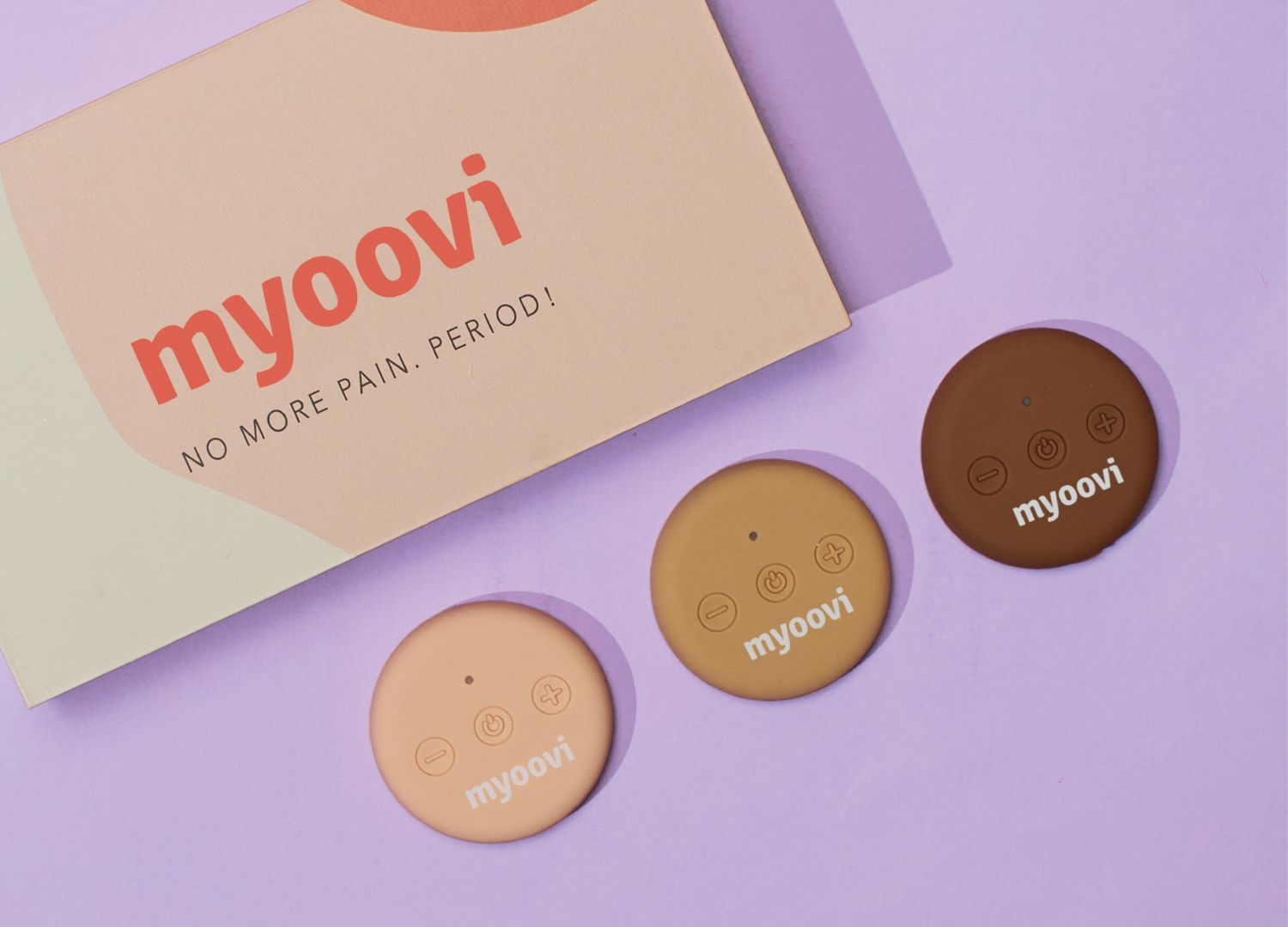 Wireless and portable – this disc-shaped device incorporates a transcutaneous electrical nerve stimulation (TENS) machine, a USB-charged battery as well as three control buttons, which adjust the strength and pattern of the pulses.
The TENS machine works by sending small electrical pulses from pads attached to the skin above the source of pain.
These pulses work by blocking or reducing the pain signals going to the spinal cord and brain – which can reduce pain for the wearer.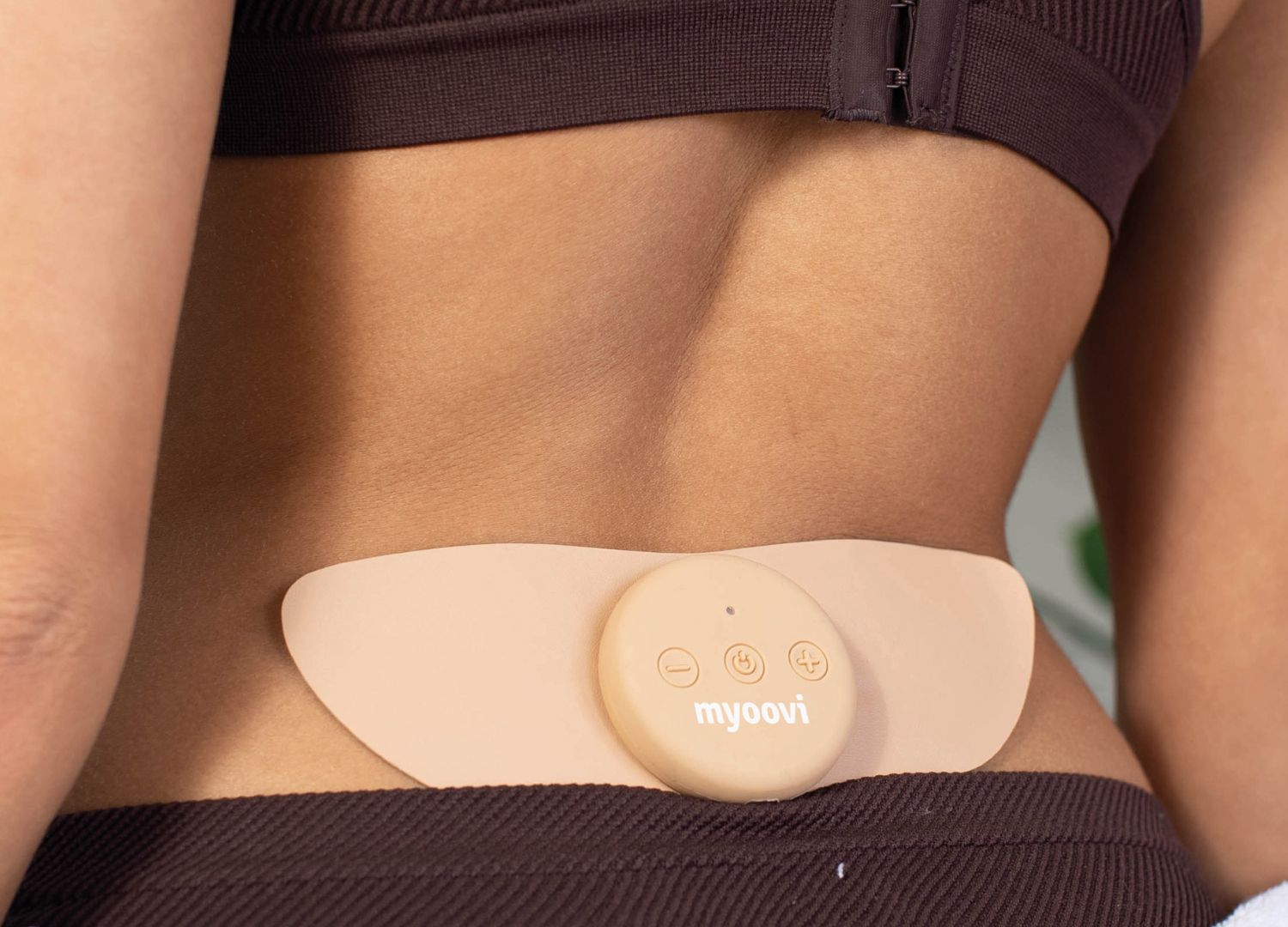 Myoovi can last for up to ten hours on a single charge and comes in a kit that additionally includes two butterfly-shaped pads made from synthetic polyurethane (PU) leather.
The 7.5-centimetre-long pads – which are available in three different skin-tone shades – are further attached like a plaster to the place of pain via biocompatible self-adhesive conductive hydrogel on the underside of the pad.
The gel pads underneath clothes usually last between 20-30 uses or up until they are no longer sticky, which usually translates to two months of wear.
[ Read also Switch off period pain with the WIM heating pad ]
3. Wear A+ by Respiray
Made to fend off allergens by creating a bubble of clean air around the user's face, health tech company Respiray launches a wearable air purifier – Wear A+.
Worn around the neck like a collar and reducing allergy symptoms such as sneezing, nasal congestion and watery eyes – this device filters out irritants from pet dander to dust, pollen and mold and instead blows clean air towards the wearer.
The Estonian company crafted the product to offer a drug-free way of managing symptoms in indoor environments, while also keeping the nose and mouth free so users can eat, drink and stay comfortable for longer.
"Having personally experienced the challenges of airborne allergies, I understand the significant impact this condition can have on one's quality of life!" says Karl Gustav Annus, Respiray CEO.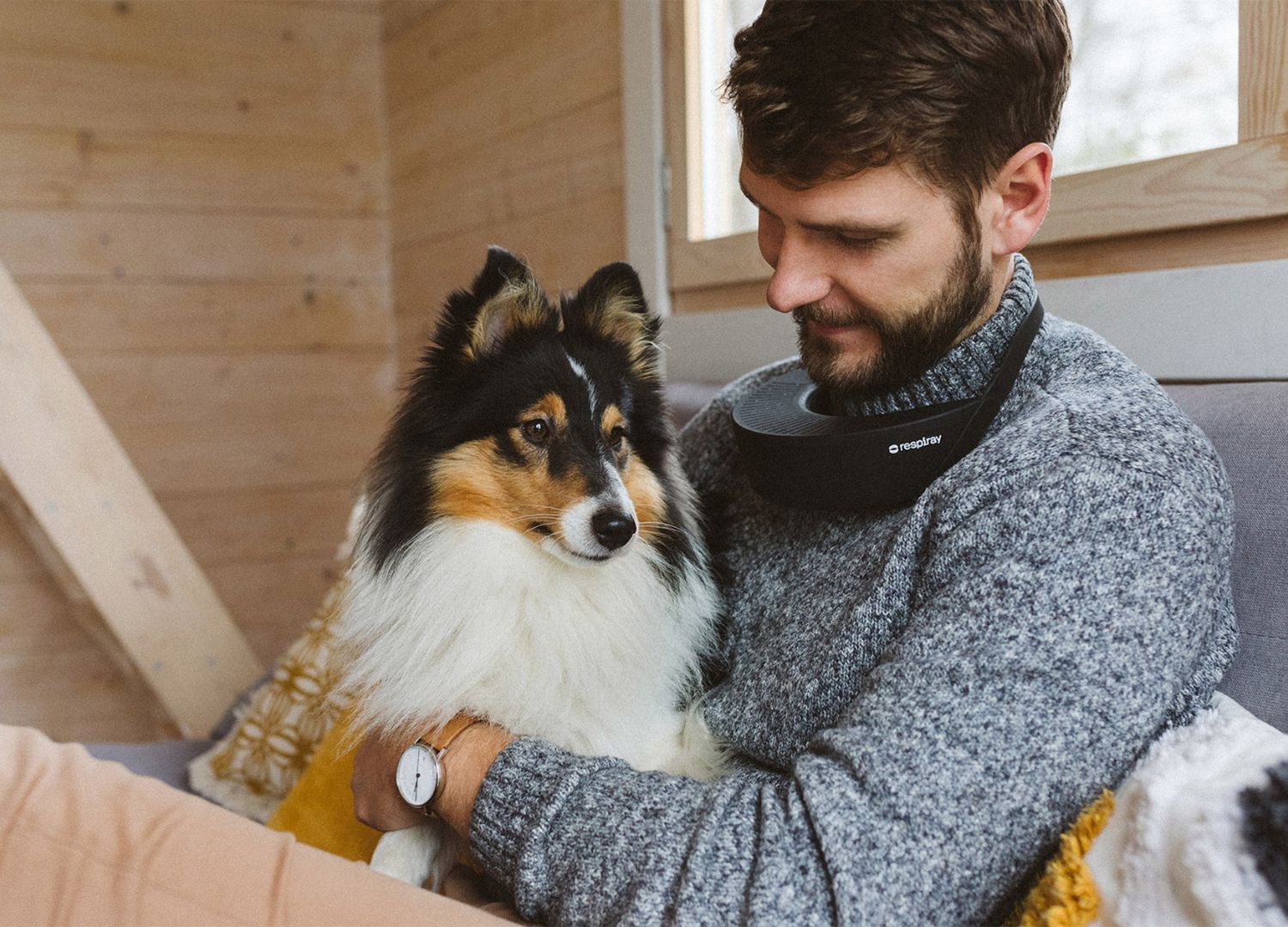 Weighing in at 250 grams – its hardware was made in-house by Respiray's product designer Annamaria Rennel, with the focus placed on aesthetics and ergonomics, along with the optimisation of airflow and speed to create an allergen-free zone around the user's face.
It embodies an adjustable magnetic strap and an indicator light that lets the user know when to replace the HEPA filter, which is usually after about 200 hours.
Wear A+ is found to be effective in clinical tests by the European Centre for Allergy Research Foundation and laboratory tests at SGS Michigan.
In its own trial of more than 200 participants – Respiray found that the Wear A+ helped 90 percent of people to overcome or reduce their airborne allergic reactions.
4. Neural Sleeve by Cionic and Fuseproject
California startup Cionic and Yves Béhar's design studio Fuseproject develops Neural Sleeve – a bionic wearable that utilizes electric pulses and artificial intelligence to correct muscle movements in people with limited mobility.
It's created to be wrapped around the leg and uses functional electrical stimulation (FES) which helps with walking difficulties that can be caused by – multiple sclerosis, cerebral palsy, spinal cord injuries and strokes.
"What the algorithms do and what the electrodes do is they deliver that right sequence. And when the brain has relearned and re-acquired the knowledge of how to fire those muscles, the sleeve is not needed anymore!" says Béhar.
This wearable comprises a lightweight fabric sleeve that wraps around the user's leg – holding a series of electrodes in place above the muscles.
A receptor module, tucked away in an integrated pocket on the thigh, picks up information on the user's gait pattern and transfers this to the electrodes, which stimulate the muscles to elicit micro-corrections in their movement.
Additionally allowing the user a degree of control over the process – the whole process is managed by an app.
For Béhar this project was challenging since the electrodes had to be placed precisely while also ensuring that people with limited mobility find the device comfortable and easy to put on.
This is what informed the sleeve's wrap-around design – fastened in place using a simple Velcro closure.
To stop the wearable from feeling too much like a medical product, the team fabricated a variety of different colourways for wearers.
"Not only has reported mobility improved for many of these users but the number of users experiencing moderate to severe pain was reduced by 60 percent and the number of users experiencing moderate to severe anxiety or depression was reduced by 75 percent!" adds Cionic.
Cionic believes that this technology could further be carried over to other areas of the body!